Germany Franckenstein, Li-Tai-Pe: Soloists, Chorus and Extra Chorus of Theater Bonn (chorus director: Marco Medved), Beethoven Orchester Bonn / Hermes Helfricht (conductor). Bonn Opera House, Bonn, 4.6.2022. (MB)
Production:
Director – Adriana Altaras
Set designs – Christoph Schubiger
Costumes – Nina Lepilina
Lighting – Boris Kahnert
Dramaturgy – Andreas K.W. Meyer
Cast:
Emperor Hüan-Tsung – Mark Morouse
Poet Li-Tai-Pe – Mirko Roschkowski
Ho-Tschi-Tschang, Doctor of the Imperial Academy – Giorgos Kanaris
Yang-Kewi-Tschung. First Minister – Tobias Schabel
Kao-Li-Tse, Commandant of the Garden – Johannes Mertes
Herald – Martin Tzonev
Shepherd – Kieran Carrel
Soldier – Pavel Kudinov
Fei-Yen, Korean princess – Ava Gesell
Yang-Guy-Fe – Anna Princeva
Mandarins – Tae-Hwan Yun, Alexander Kalina, Juhwan Cho, Ricardo Llamas Marquez
An opera you have never heard of, let alone heard, by a composer you have probably never heard of either: experience teaches us scepticism. 'Unjustly neglected' can readily prove all-too-justly neglected. Not, however, in this case. It may sound as though I am inventing the figure of Clemens Erwein Georg Heinrich Bonaventura von und zu Franckenstein (1875-1942), known to his friends simply as 'Clé'; or is he a rejected character from an ill-advised attempt at a sequel to Der Rosenkavalier? But no, not only did Franckenstein exist; he played a far from inconsiderable role in German musical life, serving twice as Director of the Bavarian Court/State Opera (1912-18 and 1924-34), at the beginning of that second term appointing Hans Knappertsbusch as music director. He was also a composer of five operas, one, Die Biene, to a libretto by Hugo von Hofmannsthal, and Li-Tai-Pe, his last, a popular work in theatres across Germany following its 1920 premiere until 1944: after which, until now, silence. Engaged in a long-term project, Fokus '33, examining German operas that disappeared from the repertoire either in 1933 or 1945, Theater Bonn has successfully returned Li-Tai-Pe to the stage and also begun to explore other works by the composer.
It was a strange coincidence to go from Das Lied von der Erde (review here) one evening to an opera concerning the poet of four of its songs the next, yet, however we wish to transliterate the poet's name, we are probably better keeping these two incarnations apart, save for his fondness for drink. Ultimately, this is an historical folktale, albeit with little of the edge we might associate with the Brothers Grimm et al. What instead it offers is a tale well told, with some degree of post-Meistersinger reflection on the creative process of song. The Emperor calls upon the provincial, unclubbable Li-Tao-Pe to turn feelings of love into song, which he does with great success, thus creating enemies who come close to engineering his downfall, only for the poet to be saved by his acknowledged, yet truest love from home, with whom he leaves to build a new life. The role of song in love and politics, as well as 'for itself' and vis-à-vis the public, is lightly yet interestingly examined during the course of a three-act opera that is well proportioned, lasts under two hours, and in no sense overstays its welcome. Rudolf Lothar's skilful libretto plays no small role in that; operagoers may know him from Eugen d'Albert's Tiefland, but there is clearly more to his œuvre, from novels and plays to a libretto (for Paul Graener) on the subject of Wilhelm Friedemann Bach.
What of Franckenstein? It seems — and here I must note Juliane Brandes's helpful programme essay — that a crucial figure in placing his musical language is his teacher, Ludwig Thuille, now likewise little known as a composer though he retained currency in German post-war conservatories through his decidedly non-Schoenbergian Harmonielehre. Historically, though, Thuille, whose other pupils included Hermann Abendroth, Walter Braunfels, Rudi Stephan, Ernest Bloch, and Paul von Klenau, was accounted a key figure in the so-called Munich School of composers, from whom Richard Strauss now dwarfs all others, but which also includes Hans Pfitzner, Max Schillings, and Alexander Ritter. Lest this become a game of 'degrees of separation', perhaps it is best to say that Wagnerisms in harmonic language were not necessarily matched by Wagnerian technique, let alone by the techniques of composers such as Mahler, Strauss, Debussy, and Schoenberg whom we have come to consider next in historical line. Motifs are employed, largely associated, it seems, with people or objects, but they do not really create harmony and form.
In fact, in Franckenstein, Germanised Puccini often came to mind. There is no fathomless depth beneath the surface. Orchestration, textures, and even melody have something in common with the Italian master, whether through influence or common background. This was not the Puccini of Turandot, which in any case had yet to be written, but nonetheless later works, such as La rondine and Il trittico. Harmonic progressions from Il tabarro and the whirlwind scherzo-writing of Gianni Schicchi haunted the pit. Well-nigh inevitable pentatonic writing tended to be melodic rather than penetrating more conventional, even conservative structure. It is well-made music, though, clearly born of theatrical experience and, like the libretto, falls clearly and meaningfully into three well-proportioned, shortish acts. Nothing cries out for an editor (in a welcome contrast to another recent rarity The Wreckers, as revived at Glyndebourne: more ambitious, yet showing cruelly that ambition need not equal achievement.)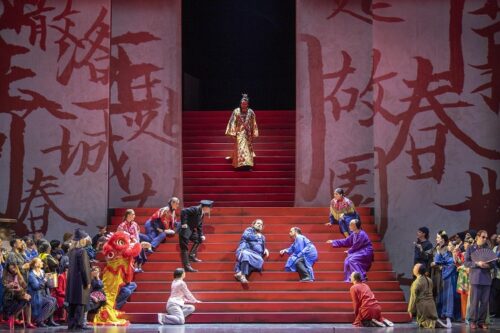 Adriana Altaras's production is similarly well judged. Altaras knows that she cannot simply present such orientalism for a modern audience without a degree of framing. Film initially takes us to a modern Chinese city, transformed, even transmuted, into the stage on which the opera takes place. Clichés of orientalism are present, almost inevitably, for instance in the absurdly stylised presentation of the mandarins, but they are italicised and left for us to judge, without much in the way of danger of our swallowing them whole. The fairy-tale is far from absent, though; rather, it and its images — garden, river, boat, the art of painting as well as that of song — are framed.
Hermes Helfricht's conducting of the excellent Beethoven Orchester Bonn similarly made a strong case for the work, 'in itself' but also as something eminently viable for the modern stage. Textures, balances, and tempi all convinced, in another crucial element of assuring us this was no mere act of musical archaeology. Mirko Roschkowski's assumption of the title role, poised somewhere between lyrical tenor and something more heroic, struck just the right note. So too did Anna Princeva's thoughtful, committed portrayal of his love, the ever-faithful Yang-Guy-Fe. Mark Morouse's Emperor likewise impressed in a reading rooted in, yet never limited by, the text. There was no weak link in the cast, though, its members coming together strongly as the sum of more of its parts. The large chorus deserves special mention, for musical and stage response alike; that was clearly born of keen direction, yet direction can only take one so far.
Last but not least, I should praise Theater Bonn for its outstanding documentation, the programme booklet including several essays, including musical examples, excerpts from other writing, images, and a full libretto. More please.
Mark Berry