United Kingdom Galuppi, Mozart, CPE Bach, Cimarosa, and Haydn: Vikingur Ólafsson (piano). Snape Maltings Concert Hall, Aldeburgh 13.6.2022. (CSa)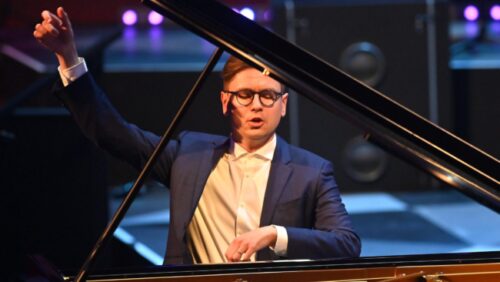 Baldassare Galuppi – Piano Sonata No.9 in F minor, Andante spiritoso; Sonata No.34 in C minor, Larghetto
Mozart – Rondo in F, K.494; Fantasie for Piano No.3 in D minor, K.397; Rondo in D, K.485; Kleine Gigue in G, K.574; Sonata for Piano No.16 in C; Sonata facile, K.545; String Quintet No.3 in G minor, K516, Adagio in E flat (arr.Ólafsson); Sonata No.14 in C minor, K.457; Adagio for Piano in B minor, K.540; Ave verum corpus, K.618 (transcr. Franz Liszt)
CPE Bach – Rondo for keyboard in D minor, Wq 61/4
Domenico Cimarosa (arr. Ólafsson) – Keyboard Sonata No 42 in D minor; Keyboard Sonata No.55 in A minor
Haydn – Sonata in B minor No.47 Hob XVI:32
Glaciers, volcanoes and geysers are among the most celebrated natural wonders of Iceland. A lesser known, but equally awe-inspiring phenomenon is 38-year-old Reykjavik-born pianist Víkingur Ólafsson. Since his exclusive 2016 signing with Deutsche Grammophon, Ólafsson's award-winning CDs of the piano works of Philip Glass, his transcriptions of Bach organ works, and his fresh renditions of pieces by Debussy and Rameau have heralded the arrival of a major new talent. Ólafsson's most recent album, Mozart and Contemporaries, contextualises the master's piano works with those of other composers of the period, specifically 'Papa' Haydn, CPE Bach, Domenico Cimarosa and Baldassare Galuppi. The contents of this CD, played in the same order, comprised Ólafsson's debut Aldeburgh recital which was divided into two seamless halves, each of which was uninterrupted by applause until the conclusion. This made for a fluid performance which combined flawless technique and luminous beauty.
Like a stand-up comedian, microphone in hand, Ólafsson warms up his audience with a droll, self-effacing introduction to the world of 'Wolfie and Co'. He endearingly recounts how, as a child pianist of equivalent age, he was overwhelmed by stories of Mozart the child prodigy. It took years of practice, he confesses, to divest himself of the accumulated 'baggage,' to 'deconstruct the Mozart myth', to confront himself 'in the mirror of Mozart's music', and only then to pay homage to the man he only half-jokingly described as 'a late bloomer'. Ólafsson is described by some as Iceland's Glenn Gould, but the comparison is inapt. There is nothing wayward or eccentric in his interpretations or performance, he doesn't hum along to the music, and most importantly, unlike Gould, he loves playing Mozart.
The first part of the programme, Ólafsson informed us, would represent Mozart 'at his most playful and experimental', although he chose to begin his recital with a shimmering, almost spectral account of the Andante spiritoso from Galuppi's Piano Sonata No.9 in F minor. He turned next to Mozart's deceptively simple Rondo in F, K.494, its opening bars familiar to those with painful memories of childhood piano lessons. In Ólafsson's hands, the piece was played with crystalline purity and effortless precision. He then embarked on Rondo 11 in D minor by CPE Bach, a composer greatly revered by Mozart. With bowed head close to the keyboard, powerful fingering and subtle modulation, Ólafsson managed to capture the rich texture of a mighty organ as the work's grand toccata-like structure gradually unfolded. Cimarosa's Keyboard Sonata No.42 in D minor, arranged by Ólafsson came next, providing a contrasting mood of sweet serenity. This served as a period of calm before the storm; an intensely emotional and deeply expressive performance of Mozart's dark Fantasie No.3 in the dramatic key of D minor K.397. Haydn's B minor Sonata was deftly executed, sandwiched between a dazzling account of Mozart's delicately wrought Rondo in D K.485, and a joyous realisation of Mozart's ebullient Kleine Gigue, K.574. The first half concluded with more Mozart; a penetrating interpretation of the three-movement Sonata facile in C (K.545), which conveyed, in turn, steely precision, heart-rending tenderness and child-like innocence.
The second part of the evening, quipped Ólafsson, 'would take a turn for the worse'. Apart from the rippling stillness of the Larghetto from Galuppi's Sonata No.34 in C, the rest of the programme was dominated by ever more complex works written by Mozart in the last ten years of his life, including three brooding adagios, beginning with the pianist's adaptation of the Adagio from the String Quintet in G minor, K.516. Here Ólafsson conjured from his piano, a muted, translucent, and silky timbre. In vivid contrast and closer in texture and intensity to late Beethoven came Sonata No.14 in C minor K.457 with its urgent and dramatic Molto allegro first movement, poignant Adagio, and introspective Allegro assai finale, each phrase lustrous and perfectly crafted. The evening ended -well almost – on a deeply reverential note, with Liszt's serenely beautiful transcription of Ave Verum Corpus. As Mozart said, 'The music is not the notes, but the silence in between.'
'After Ave Verum, it's hard to play an encore' said Ólafsson, before dedicating one to the memory of the great Rumanian concert pianist Radu Lupu who died in April of this year. He chose neither Mozart nor one of his contemporaries, but Bartók and a wistful account of his Three Hungarian Dances. These were played with uncommon lightness of touch, and provided a phenomenal, dare one say awe-inspiring conclusion to a mesmerizing evening.
Chris Sallon