United States Various: Artists of the Pacific Northwest Ballet and Orchestra / Emil de Cou and Josh Archibald-Seiffer (conductors). Dorothy Chandler Pavilion, Los Angeles, 17.7.2022. (JRo)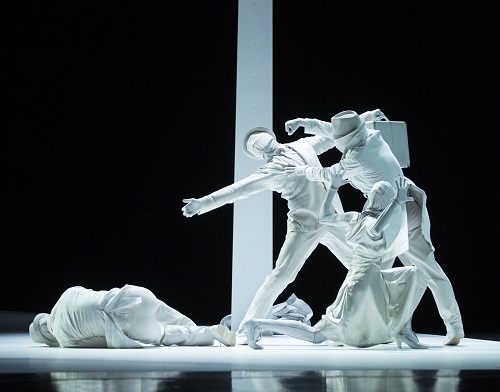 Little mortal jump
Choreography & Sets – Alejandro Cerrudo
Music – Beirut, Andrew Bird's Bowl of Fire, Alexandre Desplat, Philip Glass, Hans Otte, Max Richter, Tom Waits & Kathleen Brennan
Staging – Pablo Piantino
Costumes – Branimira Ivanova
Lighting – Michael Korsch
Plot Point 
Choreography – Crystal Pite
Music – Bernard Hermann (from Psycho, 1960), with additional sound design by Owen Belton
Staging – Sandra Marín Garcia
Sets – Jay Gower Taylor
Costumes – Nancy Bryant
Lighting – Alan Brodie
Waiting at the Station 
Choreography – Twyla Tharp
Music – Allen Toussaint
Staging – Kiyon Gaines
Sets & Costumes – Santo Loquasto
Lighting – James F. Ingalls
The three dances in the Pacific Northwest Ballet's absorbing program were tied together by a streak of whimsy that turned bittersweet in Little mortal jump, grew dark in Plot Point and burst into unalloyed glee in Waiting at the Station.
Choreographed by Alejandro Cerrudo and performed here in 2013 by Hubbard Street Dance Chicago, Little mortal jump is a poetic evocation of man's frailty. Large movable black blocks served as backdrop, doorway, partitions and, in one wildly inventive case, a sort of bulletin board. On it, two dancers, male and female, were mounted helplessly, just out of reach of each other. Their fluttering fingers struggled to touch but, in an inspired moment, they realized they could emerge from their cocoons by unzipping the jumpsuits that velcroed them to the block. Then, like butterflies leaving the chrysalis, they took their first experimental movements into a new world.
The dance was set to compositions by Beirut, Andrew Bird, Alexandre Desplat, Philip Glass, Hans Otte, Max Richter, Tom Waits and Kathleen Brennan that complemented each section. Of particular note was 'Beware' by Andrew Bird's Bowl of Fire, which was paired with charming choreography for a flirtatious couple danced by Sarah-Gabrielle Ryan and Ezra Thomson. They put me in mind of a Pierrot and Pierrette or a pair of love-struck puppets. Black and white costumes by Branimira Ivanova harmonized with sets by Cerrudo and lighting by Michael Korsch, creating an integrated piece.
Plot Point by Crystal Pite is a high-concept dance drama. Grappling with the notion of translating a screenplay, and more specifically a storyboard, into dance, she has created a non-linear hybrid of pantomime, stylized movement, dance, narrative and, one might even say, sculpture. Surely the most startling images in the production were the ghostly figures of shadow dancers covered from head to toe in white. Faces and necks were masked with what felt like surgical gauze, and hats, clothes, arms, legs and shoes were brilliant white.  The dancers had the appearance of life-sized George Segal sculptures: white plaster casts of figures posed in scenes of daily life.
The lives of Pite's characters were inspired by Alfred Hitchcock's films, specifically Psycho, but references to Vertigo, Rear Window and North by Northwest were there. Bernard Hermann's music for Psycho was played to eerily marvelous effect by Pacific Northwest Ballet Orchestra, conducted by Emil de Cou, reminding me that Hermann and Hitchcock created a dazzling partnership of sight, sound and drama.
Pite's use of the movie score was coupled with Owen Belton's mesmerizing sound effects of footsteps, breaking glass, snapping briefcase locks, cocktail party conversation and the echo of pummeling fists. Sets were a vivid white: tall narrow panels represented trees in a forest, window and door frames, abstracted street lamps. Alan Brodie's consummate lighting design was as integral to the action on stage as the costumes of Nancy Bryant and the set design of Jay Gower Taylor.
It was as if the cinematic world (represented by the white figures) determined the fate of the human world (represented by their flesh and blood counterparts) who seemed to have no independent life and either engaged with the ghostly figures or danced on their own. I saw the ghost figures as screenwriters plotting the action, or perhaps the Fates of Greek mythology presiding over human life. It was a delicate balance of heightened fantasy, ghost story and soap opera, and compelling even when it became overly complicated.
The movement of the 'ghost' dancers was absolutely unique and superbly realized. The men stepped heel to toe, much like marionettes, creating a chain reaction in their legs and torsos that ended with bobbing heads. The female ghost walked delicately toe to heel, arms bending mechanically at the elbows, often pausing to pose like a store mannequin. Choreography for the more human dancers was less interesting but furthered the dramatic tension and centered the action.
There were elements of humor despite the darkness. Some moments were punctuated by large placards with typewritten slug lines, action lines and character cues.  Another clever moment came when a woman screamed onstage and pointed to the pit where a ghostly mock conductor used a white kitchen knife as a baton.
With Plot Point, Pite may have created a unique counterpart to the experience of reading a script and watching a film. But the complexity of the material left me feeling that I had watched a series of tableaux vivants rather than a dance performance. This thought was reinforced by the sudden uplift of seeing dance in all its glory in the last piece on the program: Twyla Tharp's Waiting at the Station.
Set to the R&B music of Allen Toussaint, Waiting at the Station has a loose plot: knowing his days are numbered, a father teaches and bequeaths his dance steps to his son. Three Fates appear who partner with the father, fomenting his urgency to leave this legacy. Two principal couples dance – love, bickering and jealousy erupting between them – and the corps dances joyously behind, savoring life in all its contradictions. After the father's funeral, he appears astride a train that may be the vehicle taking him to eternity, perhaps a witty reference to the apotheosis of Odette and Siegfried in Act IV of Swan Lake. The plot, however, seems of less importance than the atmosphere created by the music and choreography.
This is a true American ballet, and the wholly original Tharp is our foremost living American choreographer. Her ability to mix the jazzy gestures of everyday life with the rigor of ballet is her calling card, and she moves in a realm of her own – a shrug of the shoulder or the tip of a hat holds as much meaning as a soaring jeté or an elegant arabesque. No dancer better exemplified Tharp's choreography on Sunday than Ezra Thomson as the father. Delightful to watch, with the easy grace of a true Tharp dancer, he had the versatility to swim in Tharp waters like a fish in a pond. As the son, Kuu Sakuragi had the balletic chops but was less convincing as the inheritor of his father's breezy style.
Sets and costumes by Santo Loquasto captured the grittiness and charm of New Orleans. And though in sharp contrast to the workaday attire of the ensemble, the glittering gold outfits for the Three Fates was a nod to Mardi Gras and the gaudy costumes worn for balls and floats. The music by Toussaint was fluently conducted by Josh Archibald-Seiffer on piano, supported by terrific soloists who did justice to the rhythms and joy of Toussaint's music.
This was a dance bursting with vitality, celebrating American life in the tradition of Balanchine's Stars and Stripes and Robbins's Fancy Free, and a fitting showcase for the talents of the Pacific Northwest Company.
Jane Rosenberg