Argentina Grand Gala: Soloists, Chorus and Orchestra of Juventus Lyrica / Hernán Sánchez Arteaga and Hernán Schvartzman (conductors). Teatro Avenida, Buenos Aires. 1.7.2022. (JSJ)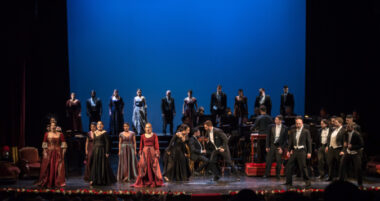 Production:
Directors – Ana D'Anna, María Jaunarena
Costumes – María Jaunarena
Lighting – Gonzalo Córdova
Chorus director – Hernán Sánchez Arteaga
Just two months short of the three years since its 20th anniversary Gala, Juventus Lyrica has celebrated its ongoing presence with another Grand Gala.
Not that the company has been idle in the interim, and although obviously unable to put on any staged works has focussed instead on online vocal and stage training for new young artists. In total over 800 classes, not only in Argentina – including some in the poorest areas of Buenos Aires – but across Latin America and as far away as France.
Galas are a staple for Juventus Lyrica, which they always do well and this was no exception, held in the newly restored Teatro Avenida and dedicated to maestro Antonio Maria Russo, a co-founder of the company to whom it owes much of its success and who died aged 87 years in May 2021.
For this occasion two dozen soloists were gathered, along with an 18 strong chorus and similar size orchestra for a wide-ranging programme of no less than 30 arias and other extracts from works by Handel, Donizetti, Gounod, Verdi, Puccini, Leoncavallo, Mozart, Rossini, Dvořák, Bellini, Offenbach, Lehár, Johann Strauss and Bizet.
With such a large group, which notably included not only some of the longer standing soloists but also some of the new scholarship holders, inevitably some would be stronger and their performances more memorable than others but overall everyone gave of their best and there is much to praise.
The only quibble personally was with the programme, which with so many pieces tended towards a 'disjointed' feel and some longer extracts, while not offering as many solo opportunities, would have provided a welcome balance.
That said, some highlights were 'Un di se bem rammentomi' from Rigoletto, when Rigoletto and Gilda overhear the Duke with Maddalena (Ivana Ledesma, Sebastian Russo, Estefania Cap, Ernesto Bauer), and Mimì and Rodolfo's 'O soave fanciulla' from La bohème (Dario Sayegh, Monserrat Maldonado) and in the second half the 'C'est toi, c'est moi' from Carmen (Rocio Arbizu, Marcelo Gomez).
And one of the scholars Karen Brandan's 'Je veux vivre dans ce rêve' from Gounod's Roméo et Juliette singled her out as a voice to watch.
Both halves were ended with ensembles from Rossini – 'Venez amis' from Le Comte Ory the first and 'Mi par d'essere con la testa' from Il barbiere di Siviglia the second – and with the inevitable 'Brindisi' from La traviata as encore to round off a wonderful evening of much missed live music in sparkling form.
And what a pleasure to see so many long unseen faces among the singers, musicians and attendees alike – and not least the theatre personnel and Juventus Lyrica team whose energy and enthusiasm is apparently unbounded.
Jonathan Spencer Jones