United Kingdom Jette Parker Young Artists Summer Celebration: Soloists, Elaine Kidd (presenter), Orchestra of the Royal Opera House / Sir Antonio Pappano, Michael Papadopoulos, Edo Frenkel (conductors). Royal Opera House, Covent Garden, 23.7.2022 (CC)
Director – Mathilda du Tillieul McNicol
Lighting Designer – Allan Ramsay
Fight Director – Rich Gittins
Massenet, Manon, Act II, Scene and Aria of Manon. Alexandra Lowe (Manon), Alan Pingarrón (Des Grieux), Chuma Sijeqa (Lescaut), Grant Doyle (De Brétigny). Conductor: Antonio Pappano.
Puccini, Madama Butterfly, Act III, Trio Pinkerton's Aria. Ksenia Nikolaeva (Suzuki), Andrés Presno (Pinkerton), Grant Doyle (Sharpless). Conductor: Michael Papadopoulos.
Verdi, Luisa Miller, Act II, Quartet. Masabane Cecilia Rangwanasha (Luisa), Ksenia Nikolaeva (Federica), Blaise Malaba (Walter), Chuma Sijeqa (Wurm). Conductor Antonio Pappano.
Prokofiev, Romeo and Juliet, excerpt from Balcony Scene. Conductor: Edo Frenkel.
Rachmaninov, Aleko (excerpt). Blaise Malaba (Aleko), April Koyejo-Audiger (Zemfira), Egor Zhuravskii (Zemfira's Lover). Conductor: Antonio Pappano.
Lara (arr. Hazell), Granada. Aigul Akhmetshina, Alan Pingarrón. Conductor: Antonio Pappano.
J. Strauss II, Die Fledermaus (excerpt from finale of Act II): Masabane Cecilia Rangwanasha (Rosalinde), Alexandra Lowe (Adele), Aigul Akhmetshina (Orlofsky), Egor Zhuravskii (Eisenstein), Grant Doyle (Falke), April Koyejo-Audiger (Ida), Chuma Sijeqa (Frank), Blaise Malaba, Ksenia Nikolaeva, Alan Pingarrón, Andrés Presno (Guests). Conductor: Antonio Pappano.
Amazingly, with this performance, the Jette Parker Young Artists Scheme reaches the end of its 20th season. Over 140 singers, stage directors, repetiteurs and conductors have benefited; an international roster of artists joining the company for two years to work in this unique environment. In celebration, the evening included bonus interviews and film screenings, celebrating achievements from the stage of the Royal Opera House to its stalls space (during lockdown, seats removed) to King's Cross St Pancras station.
The Jette Parker Young Artists (henceforth renamed the Jette Parker Artists Programme) was established in 200/1 by Elaine Padmore, then Director of Opera, and the first intake of six 'Vilar Young Artists' occurred in 2001/2, expanding almost immediately (the next year) to include conductors and repetiteurs, with stage directors added in 2003/4. Across the years, achievements have been many: in 2012/3 Haydn's L'isola disabitata was nominated for two Helpmann Awards; in 2018/19 artists from the programme performed with Sir Bryn Terfel at Prince Charles's 70th birthday; a nomination for an Oliver Award in 2019/20; the live stream-only production of Weill's The Seven Deadly Sins and Mahagonny Singspiel as well as Solo Stories; a celebration of International Women's Day in 2022 at St Pancras International in Lost & Found, seven mini-operas commissioned from all-female writing teams.
Glancing through the list of Jette Parker Artists since inception brings a list of familiar names, from Alfie Boe in the first intake which also saw Sally Matthews and Edgaras Montvidas) through Ailish Tynan (2002-4), Matthew Rose (2003-5), Marina Poplavskaya (2005-7), Jacques Imbrailo (2006-8), Kostas Smoriginas (2007-9), Eri Nakamura (2008-10), David Butt Philip (2012-14), Anush Hovhanissyan (2013-15), Yuriy Yurchuk (2014-16) and skipping to the most recent, Masabane Cecilia Rangwanasha (2019-21), already a star in the making after her BBC Proms First Night Verdi Requiem (review click here) and Blaise Malaba (2022-22). From the most recent (2022-3) company, we met director Mathilda du Tillieul McNicol and conductor Edo Frenkel.
The evening worked with split-second precision, inspiring videos complementing a host of interviews and stories about the project. The proof of the pudding is in the eating, of course, and the spread they put on was delicious indeed, from Massenet to Johann Strauss II, from operatic staple to Italian song. Lighting (Allan Ramsay) was superbly managed, as was the direction of scenes (Mathilda Du Tillieul McNicol, with fight scenes beautifully done by Rich Gittins). It was the freshness of Massenet's Manon that seemed the perfect opener. With Antonio Pappano at the helm, the orchestra was predictably well-disciplined. It was Alexandra Lowe, recently heard in Pierrot Lunaire ( Mark Berry's review here), who impressed most, delivering an expansive, heartfelt 'Adieu, mon petit table'. Grant Doyle brought experience to the role of De Brétigny, and Chuma Sijeqa was a strong Lescaut (Sijeqa was due to sing the Forester Vixen at OHP last summer but was indisposed, so good to hear him on this occasion). As Des Grieux, tenor Alan Pingarrón was less pleasing, his voice somewhat bleaty.
The heart-breaking third act of Madama Butterfly under Jette Parker's Michael Papadopoulos brought with it the finest of the programme's singers on display: the force of nature that is Kseniia Nikolaeva, who performed previously as Giovanna in Pappano's superb Rigoletto in February this year. Taking the role of Suzuki here, her fine, strong, yet rounded voice, almost a contralto, is capable of the most profound statements. It was Andrés Presno who sang the big aria, though, 'Addio, fiorito asil', nicely strong of voice but perhaps not as emotionally convincing or compelling. Grant Doyle was a reliable Sharpless.
The highlight of the first half, and of the entire evening for that matter, was the Act II Quartet from Verdi's Luisa Miller, with Masabane Cecilia Rangwanasha in the title role, Nikolaeva as Federica, Blaise Malaba as Walter and Chuma Sijeqa as Wurm. To have Pappano in Verdi – the composer that finds him surely at his greatest – is a treat for both audience and singers (in spite of the fact that there is a long passage for the four singers minus orchestra – how accurate was the return of the orchestra, and how well the singers kept pitch).
The second part began with part of the Balcony Scene from Prokofiev's ballet Romeo and Juliet. Not the most confident of performances I have heard – the conductor was Edo Frenkel, who continues in 2022/23 as a ballet conductor/répétiteur. Pappano was a firmer hand for Rachmaninov's Aleko, a simply brilliant account from all concerned: Blaise Malaba a superbly strong and ardent Aleko, April Koyejo-Audiger a firm and believable Zemfira. If Egor Zhuravskii, as Zemfira's lover, was perhaps a touch less impressive – surprising given he just the other day excelled in the ROH's concert performance of Attila (review click here).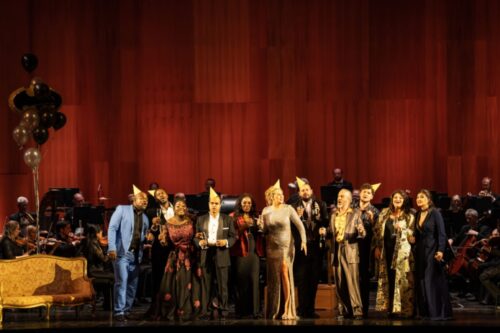 There seemed a slight mismatching of soloists in Augustin Lara's evergreen Granada, Aigul Akhmetshina on peak form, Pingarrón certainly giving all he has but not quiet equalling her excellence. How does one follow that? With Die Fledermaus, obviously, the second act finale, a grand opportunity for festivities and bags of fun that included everybody performing on the night. It seemed the perfect choice, Rangwanasha shining as Rosalinde, and with Doyle playing Falke to the rafters.
The Jette Parker scheme maintains a valuable presence on YouTube; there is no doubt from this event that the JPYA Programme is in vibrant shape. Allowing these voices to shine in major roles fleshes out what we, the audience, might experience when they take on more minor roles in the major season productions. A most valuable – and enjoyable – occasion.
Colin Clarke