Switzerland Puccini, Turandot: Grand Théâtre de Genève Chorus, Orchestre de la Suisse Romande / Antonino Fogliani (conductor). Recorded (directed by Jérémie Cuvillier) at Grand Théâtre de Genève, 22.6.2022 and available on OperaVision until 22.1.2023. (JPr)
Production:
Stage director – Daniel Kramer
Scenography, Digital and Light Art – teamLab
Stage design – teamLab Architects
Costumes – Kimie Nakano
Lighting designer – Simon Trottet
Choreographer – Tim Claydon
Dramaturgy – Stephan Müller
Choir director – Alan Woodbridge
Cast:
Turandot – Ingela Brimberg
Calaf – Teodor Ilincăi
Liù – Francesca Dotto
Timur – Liang Li
Ping – Simone Del Savio
Pang – Sam Furness
Pong – Julien Henric
Emperor Altoum – Chris Merritt
Mandarin – Michael Mofidian
Puccini was attracted to Carlo Gozzi's 1762 play about Turandot because an exotic setting had already proved successful for Madama Butterfly and the plot was less realistic than usual for him. He was also fascinated by the icily cruel princess who is very different to his other principal female characters most of whom had been sweet and obedient creations doomed to suffer and sometimes die for love. The composer was particularly taken by 'The Unknown Prince' Calaf's 'journey' and how he ends the opera. In addition, he wanted from his librettists, Giuseppe Adami and Renato Simoni, a wide variety of characters; Ping, Pang and Pong provide some light, comic – albeit heavily ironic – relief as Turandot's ministers, and the doomed slave girl Liù (who is not in the original Gozzi story) was created to counterbalance the princess's character. Finally, there are the possible autobiographical elements: is Calaf a picture of Puccini himself, is Turandot his wife Elvira and is Liù, the tragic Doria Manfredi of the infamous scandal?
Writing and composing Turandot proved troublesome and took almost five years. The orchestration was almost complete and only the final duet (after Liù's death and the scene in which Turandot is transformed by Calaf's kiss into a warm-hearted human being capable of love) was missing early in 1924. On 4th November that year, Puccini went to Brussels to be treated for a tumour in his throat and died on the 29th following an unsuccessful operation. So Turandot shared a common fate with a number of notable twentieth-century operas such as Busoni's Doktor Faust, Schoenberg's Moses und Aron and Alban Berg's Lulu, all of them left unfinished when their composers died.
Puccini's music for Turandot is in many respects his most advanced and modern in style. While he was composing it, Puccini saw the world première of Schoenberg's Pierrot Lunaire in Florence an event which undoubtedly influenced him. Turandot is the product of early twentieth-century Orientalism – the fascination of the West with the 'exotic' cultures of the East – and in order to create a more 'realistic' Chinese atmosphere, Puccini read many books on the culture and ceremonies of China and he also sought out real Chinese music to imitate. Overall, he used at least eight authentic Chinese tunes in Turandot and the pentatonic scale – the scale you get when you play just the black keys on the piano – creates an 'eastern' sound and 'oriental' sounding harmonies are produced by juxtaposing the major with the minor. There are also a lot of percussion effects.
Obviously in 2022 the focus is on Madama Butterfly for exactly that orientalism, as well as its story of the sexual exploitation of a 15-year-old. While the ethnic exoticism of Turandot is not debated quite so much at present, it can only be a matter of time. Although this new production in Geneva from Daniel Kramer – who was briefly an underwhelming artistic director of English National Opera – does not on the surface address any of the opera's issues it is sufficiently neutral and no one should feel guilty watching it. Of course, having gone to see it they may have wondered why they bothered as it's Turandot, Jim, but not as we know it!
What we see is the brainchild of teamLab who were founded in Japan in 2001 and now describe themselves as 'an international art collective, an interdisciplinary group of various specialists such as artists, programmers, engineers, CG animators, mathematicians and architects whose collaborative practice seeks to navigate the confluence of art, science, technology, and the natural world' and costume designer Kimie Nakano. (A short trailer with some of the collaborators – including Kramer himself – about this Turandot that is available might give you some better idea of what you will see or have seen.)
Rotating on stage is a two-sided art installation from teamLab, on one side there is an implied hierarchical social pyramidal structure of emperor, Turandot, as well as servants and prisoners appearing as shadowy figures in wide display cases across the stage, one on top of the other. Surrounded by some shallow water there appears to be a slab of rock that will have a number of uses during the opera; on it the Prince of Persia is executed, Ping, Pang, Pong will enjoy sake and sushi, the emperor laid to rest, and much more besides. The executioners look like they are auditioning for Magic Mike but have feathered head pieces and the imperial guards (if that is what they are?) are cloaked in black wearing masks with extended beaks. The servants – and Liù emerges from amongst them – are enshrouded in white and suggest nuns, though more disturbingly Ku Kluk Klan members, and the men below are in simple black clothing, including Calaf and Timur initially.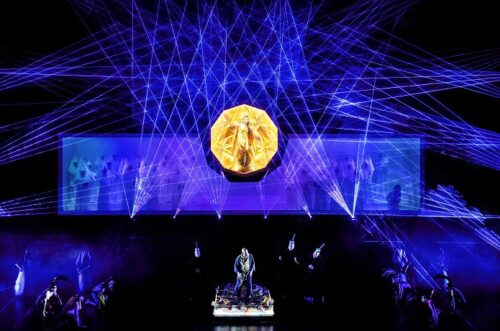 This apparently is a futuristic, dystopian, game show where if you do not answer three questions correctly, you don't lose your head, you lose your genitals. At one point Turandot appears like a monstrous black larva to emasculate the prince. It is a sadomasochistic world and Ping, Pang, Pong are, at the very least, eunuchs with clown faces (the sight of them seemingly naked at one point is not easily forgotten!) while the Mandarin is a white-faced mime with a reflector dish around his neck. For the pivotal riddle scene Turandot appears from high above the stage encased and dressed in gold within a ten-sided polyhedron. When Calaf gets his answers right Turandot will be put into a stylised white wedding dress which when later discarded – as she appears to be in mourning and wearing black – is fetishised over by Ping, Pang and Pong (who appear in gaily-coloured dresses at one point). Meanwhile Calaf now looks like a one of the terracotta warriors.
In an interesting twist to the familiar tale it is Calaf who is tortured so that Liù might be forced to reveal his name; as along with Timur she is suspended above the stage and with knives in both of their separate perspex cages, first Liù slits her wrist and then Timur stabs himself. Later Turandot will prevent Calaf using a further knife to castrate himself, or worse.
When everything turns round there is a huge pyramid subdivided into smaller ones which is described as a kaleidoscopic, disorientating, subconscious world for – as Kramer described it – 'Calaf's internal journey' as he is not ready for Turandot and she is not ready for him. This apparently was created by a LED screen, many mirrors and myriad laser and lighting effects. Among all the various – almost hallucinogenic – project images perhaps the best was saved for the concluding Turandot/Calaf duet with its burst of colourful chrysanthemums. Everything concludes with Turandot and Calaf as angelic visions on high with the Mandarin dying on stage and everyone mourning their dead emperor.
It is much easier to comment on what I saw than what I heard as I was hearing the music and singing through my TV. The experienced Antonino Fogliani has been Principal Guest Conductor at the Deutsche Oper am Rhein since 2017 and Musical Director of the Rossini Festival in Wildbad – Belcanto Opera Festival since 2012. Every detail seemed to be illuminated by Fogliani's conducting of the virtuosic Orchestre de la Suisse Romande which appeared to perfectly blend brash dissonances with textural power and suitably impactful climaxes, whilst allowing for refined detail such as the episode when the moon rises in Act I, Ping, Pang, Pong's lamentations at the start of Act II and Liù's funeral in Act III. The Grand Théâtre de Genève's chorus sang out lustily and helped – together with the conductor and musicians – to provide a rich dramatic background for the soloists.
None of the leading singers could erase the ghosts of the past but all seemed committed to Kramer's Konzept. Ingela Brimberg concentrated on Turandot's cruelty, petulance, and fear, rather than any heart-melting love and burgeoning humanity. Brimberg's 'In questa reggia' and much else besides was sung with suitably imperious effect. Teodor Ilincăi's performance was relatively subdued and unshowy despite his character having to endue torture and not be as willing as most Calafs to 'happily' let Liù die so that he can continue to climb the social ladder. Ilincăi's voice sounded more lyrical than dramatic or robust and culminated in an assuredly ardent, if somewhat strangely reflective, 'Nessun dorma'. Liù was Francesca Dotto who sang with more steel than radiance, though 'Signore, ascolta' and 'Tu che di gel sei cinta' embraced Liù's plight and were sung with great feeling. Michael Mofidian fully embraced Kramer's quirky ideas for the Mandarin and sang authoritatively. Liang Li brought considerable gravitas to – a not as blind as usual – Timur. Simone Del Savio, Sam Furness and Julien Henric camped it up energetically as Ping, Pang, Pong. The great Rossini tenor of a previous generation, Chris Merritt, returned to the stage as the venerable Emperor.
Apparently, Puccini would have preferred composer Riccardo Zandonai to complete the unfinished opera from the remaining sketches but Puccini's son chose Franco Alfano. His first attempt was rejected but his second version was accepted and first heard in 1926 and is what we usually hear today. However, in 2002, Puccini's publishers, Ricordi, asked the Italian composer Luciano Berio to create another ending using the same materials that Alfano had available, and this is what Kramer and his conductor Fogliani preferred. I was not, of course, hearing it for this first time 'live' so I will limit my comments, but my initial reaction is that I don't actually want to hear it again! Okay, Alfano has Turandot succumb too easily to Calaf's advances but Berio's ending references Puccini while fragmenting and simply dissipating in a miasma of music which alludes to Wagner, Mahler and Schoenberg. My overall response was … meh!
Jim Pritchard