United Kingdom The Bamber Season 2022 – Verdi, Otello: Soloists, Chorus, The Gascoigne Orchestra / Gianluca Marcianò (conductor). Grange Park Opera, West Horsley, 3.7.2022. (JPr)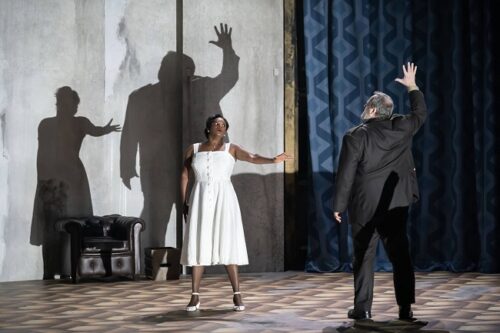 Production:
Director ∙ David Alden
Set designer ∙ Charlie Edwards
Costume designer ∙ Gabrielle Dalton
Lighting designer ∙ Tim Mitchell
Movement ∙ Lynne Hockney
Fight director ∙ Billy Bilham
Cast:
Otello ∙ Gwyn Hughes Jones
Iago ∙ Simon Keenlyside
Desdemona ∙ Elizabeth Llewellyn
Emilia ∙ Olivia Ray
Cassio ∙ Elgan Llŷr Thomas
Roderigo ∙ Anthony Flaum
Lodovico ∙ Matthew Brook
Montano ∙ Alan Ewing
Following on from their new production of La Gioconda (review here) is a new staging of the (rightly) more famous opera, Otello, which is intriguingly also set in Venice. Interestingly the late Michael Fontes in Grange Park Opera's wonderful programme book reveals how 'There's even a moment in one version of La Gioconda where Alvise, looking at the, as he supposes, dead Laura says "Vola su lei la morte. La morte è il nulla e vecchia fola è il ciel" (Death is hovering over her. Death is nothingness and heaven an old wives' tale), words familiar to us as the end of Iago's Credo in Otello, written ten years later.' The connection of course it that both opera's share the same librettist Arrigo Boito.
As is usual these days David Alden presents Otello as a psychological, somewhat intimate, character study of jealousy and betrayal rather than the exploration of the outsider that is the basis of Shakespeare's original play. The original Othello/Otello in Shakespeare is an 'outsider' because he is a Moor appointed by Venice to be the governor of Cyprus and his ensign Iago, a hateful, envious and manipulative man, is not happy about this to say the least. He begins plotting against Cassio, who has been promoted to Captain instead of him, and also Otello himself by impugning the innocence of his new bride, Desdemona, by suggesting she is having an affair with Cassio. Because of Iago's mind games Otello flips rather too conveniently – though this is opera after all – from a valiant commander into a paranoid, broken, pitiable figure.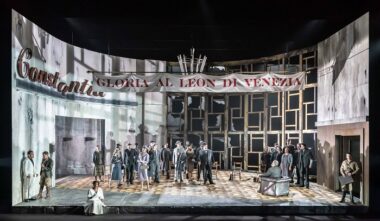 Charlie Edwards's single semi-circular set gives the impression of a bullring for Iago and Otello to faceoff in. More realistically it turns into a bunker for (the increasingly beleaguered) Otello and the troops under his command, the walls show signs of shelling and it is clear that a campaign is being waged from here probably during the 1940s fascist Italy of Mussolini. There are entrances to either side and huge windows at the back covered by a curtain where characters can conceal themselves. A wonky sign says 'Constantia' (which is a Roman city on Cyprus) and is seen throughout and overlooks the revelries in the Officers' Mess to celebrate Otello's safe arrival in the first act when we see how it is mostly an oppressive world of soldiers confined together and engaged in much macho posturing, into which a single black clad dancer intrudes and gyrates. In Act II there are some maps, tables and chairs for a war room, then a couple of comfortable Chesterfield leather chairs for Act III and a sign across top of stage proclaiming 'Gloria al Leone di Venezia'. At the end on the essentially bare stage there is just a simple metal bed for Desdemona.
Tim Mitchell's lighting fascinatingly often casts the protagonists as huge shadows on the walls allowing Alden to show how events are overwhelming them, or in Iago's case, has him hovering over everything as the puppet master. This is emphasised by his leather-jacketed presence virtually throughout the opera, at the start of each act and always on the fringes of the action. Quite what happens to Iago at the end is unclear as he remains sitting still as the lights dim. Alden overemphasises Desdemona-as-the Madonna, since with so little on stage a picture of the Virgin Mary has particular prominence and is used as a dartboard at one point when Iago discusses Cassio's success with women in order to make Otello believe Desdemona has been unfaithful. I am not sure why Iago liked to light small fires and why Otello at the end shoots Desdemona but then briefly produces a sword from somewhere before despatching himself. These were minor head-scratching moments in a compelling production from first note till last.
Thankfully, having a white singer darken his skin with makeup is a thing of the past, though colour-blind casting does essentially undermine Otello's difference to all those surrounding him, a crucial aspect of the story. He just now becomes a fairly 'stock' character, someone lacking emotional strength and easily influenced. When Otello's downward spiral is portrayed as well as Gwyn Hughes Jones does this doesn't seem to matter too much. While he was very much the general in Act I, Hughes Jones's interpretation gained strength as his character descended into the humiliation, despair and forgiveness he needed for his final moments and his 'Niun mi tema' was as good as it gets. Though Hughes Jones lacked the baritonal heft of some famous Otellos he nevertheless sang the role with much refined lyricism and wonderful security to ensure 'Esultate!' on his entrance rang out and wasn't glossed over or garbled as I have heard many do, Domingo and Kaufmann included.
Our sympathies lie with Elizabeth Llewellyn's Desdemona and it even more thought-provoking to watch this Otello belittle, bully and abuse her. With just a hint of a vibrato, there was a sincerity, a pureness of tone and a flexibility of phrasing exactly as singing Verdi requires. Alden has Llewellyn's Desdemona have an inner strength whilst clearly the odds are against her. Llewellyn was at her very best – and angelic in all senses of the word since she was always in white – in Act IV as she recognised her death was approaching, her 'Willow Song' was plangent and plaintive and her 'Ave Maria' dignified, profoundly moving and emotional.
The best of the trio of leading characters was Sir Simon Keenlyside's Iago and he clearly relished singing this role debut so much that he stepped-in to a performance of Otello in Munich the night before this one! He was evil incarnate and his baritone had – as you would expect from such an accomplished singer – exactly the right Verdian ring and emotional bite for the character: 'Credo' was almost messianic in its poisonous hatred and all his Mephistophelean conniving and insinuating was totally convincing.
Verdi does not give anyone else much to work with and Elgan Llŷr Thomas's Cassio was a suitably reckless, outspoken and innocent patsy with a bright sounding voice; Anthony Flaum was a bit of a cypher as Roderigo and looked as if he had wandered in from Britten's Death in Venice and Matthew Brook gave Lodovico considerable gravitas. However, Olivia Ray stood out as a concerned and caring Emilia to make this small role seem significantly more important than it is. Philip White's chorus were in stentorian voice and in the pit, there were none of the longueurs of the previous night's La Gioconda as Gianluca Marcianò never allowed dramatic tension to flag in the arc from The Gascoigne Orchestra's thunderously visceral opening storm to the heartrending poignancy of Otello's dying 'un altro bacio' ('another kiss') as the opera ended.
Jim Pritchard