United Kingdom Suzie Miller's Prima Facie: Recorded (directed for the screen by Matthew Amos) at London's Harold Pinter Theatre and broadcast by NT Live to Cineworld Basildon, Essex, 21.7.2022. (JPr)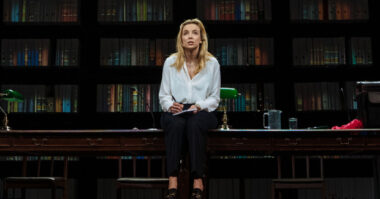 Cast:
Tessa – Jodie Comer
Production:
Director – Justin Martin
Set and Costume designer – Miriam Buether
Lighting designer – Natasha Chivers
Sound designers – Ben & Max Ringham
Composer – Rebecca Lucy Taylor
Video – Willie Williams (for Treatment Studio)
In her introduction Emily Maitlis said: We are thrilled to be bringing you this award-winning play from Empire Street Productions written by Suzie Miller, directed by Justin Martin, and starring the Emmy and Bafta award winner Jodie Comer as she makes her West End debut. Jodie plays the role of Tessa a young brilliant barrister who loves to win, she has worked her way up from working class origins to be the top of her game defending, cross examining, lighting up the shadows of doubt in any case. But when an unexpected event occurs, she is forced to confront the lines where the patriarchal power of the law, burden of proof, and morals diverge.'
Calling it a 'blistering drama' – which proved to be no mere hyperbole – Maitlis went on to describe the play's 'partnership with the incredible charity the Schools Consent Project … set up by the barrister Kate Parker and is a charity dedicated to educating and empowering young people to understand and engage with the issues surrounding consent and sexual assault. Their volunteers lead workshops around the legal definitions of consent and assault in secondary schools and youth groups. Their purpose is to empower young people with the skills, confidence and knowledge they need to make safe, healthy choices around sexual consent. The work that Kate and her team continue to do is extremely important and Empire Street Productions are incredibly proud to partner such a fantastic charity.' (For more information about the charity click here.)
The shocking facts are that 1 in 3 women throughout the world are believed to have experienced physical or sexual violence and this a significant ratio which permeates Prima Facie. The 100-minute play was first seen in Miller's native Australia in 2019 and no doubt has been fine-tuned to reflect the UK's class and legal systems and presumably there will be further changes before it reaches Broadway in 2023. Tessa Ensler rises above her upbringing in Liverpool and a state school education to study law at Cambridge and when she meets those on the course for the first time she is told to 'Look to the person to your left … now look to the person to your right … one of the three of you will not make it, one of the three of you will fail make no mistake.'
The expectation is that it will be Tessa rather than those either side of her who went to private schools. However, she becomes very successful as an adversarial defence barrister who has honed her skills to use every legal trick in the book – or the floor-to-ceiling files that line Miriam Buether's utilitarian set on three sides – to undermine witnesses and get her client off. It involves lulling them into a false sense of security so that they will trip themselves up – often without realising it – before she goes in for the metaphorical kill. As Tessa says at one point, 'A good lawyer is told the best version of their client's story, nothing more, nothing else, just a storyteller, a voice piece, never judge, never ever judge, never decide, the minute you do that you are f**ked, you've lost.' These are just the opening moments of Miller's monologue as Comer embraces Tessa's arrogant single-mindedness that winning is everything, no matter what the cost.
We soon realise we are witnessing a tour de force of a tour de force from Comer. We already know about her innate ability for accents from TV's Killing Eve and much else and here she modulates her natural Scouse accent depending on whether she is in court, with colleagues or her family, or in deep despair. Comer brings to life all the characters Miller wants us to encounter and she is even tasked with moving the stage furniture – the heavy chairs and tables of her chambers – about on the stage from time to time. She also changes her clothes and even snacks from a packet that gets discarded into the theatre audience. Tessa works hard and plays hard but after casually hooking-up in the office with her barrister colleague, Julian, it later leads to an alcohol-fuelled evening which ends up with a virtually comatose Tessa being raped by Julian in her own flat.
The nominal second half of Prima Facie then takes a (literally) darker turn and while Miller has occasionally made us laugh and smile earlier, there are no more laughs in her thought-provoking – and often emotionally draining – denouement. Tessa now makes the first of a number of wrong choices which will undermine her case later in court and this begins with her taking a shower before heading out into a deluge recreated onstage. Comer now shows her totally lack of conceit as she gets absolutely soaked as the distressed and tearful Tessa hunts for a cab, initially intending to escape back to her mum, before deciding to go to the police and endure their intimidating procedures.
A short pause marks the passing of 782 days before Tessa gets her day in court and now barefooted she seems bowed by past events. However, we are led to believe she is still working as a barrister having been earlier offered a room in a rival chambers leaving her wondering how she would pay for it. Tessa is up against a judicial system where the accused is presumed innocent unless it is proved otherwise and has an institutionalised male bias. Her reliability as a witness unravels when face to face with a lawyer playing her at her own game and Tessa realises that the jury won't believe her but – supported by her mother and a friendly woman police officer – she eventually finds her voice once again railing in a closing polemic how: 'The legal system it seems faulty and mixed up, the legal system it feels broken, look to your left, look to your right, I am broken too, but I am still here and I will not be silenced … somewhere, sometime, somehow, something has to change.'
Justin Martin rarely lets the pace flag and isn't so much a director as a choreographer since it is Comer's physical movement that captivates along with her amazingly expressive face – captured in Matthew Amos's close-up camerawork for the screen – as she lives every single moment of Prima Facie, as well as her vocal trickery. There is stark, evocative lighting from Natasha Chivers that helps delineate the 'past' from the 'present' and a disturbing, pulsating score from Rebecca Lucy Taylor (aka singer-songwriter Self Esteem).
Despite the sermonising at the end, Miller's message is clear and something must change! Regardless this is an absolute triumph for Jodie Comer who – if she is not swallowed up by Hollywood and/or TV – has it in her to be one of the outstanding stage actors of her generation.
Jim Pritchard
For more about National Theatre Live click here.