United Kingdom Opera Holland Park 2022 [2] – Delius, Margot la Rouge / Puccini, Le Villi: Soloists, Opera Holland Park Chorus (chorus director: Dominic Ellis-Peckham), City of London Sinfonia / Francesco Cilluffo (conductor). Holland Park, London, 23.7.2022. (MB)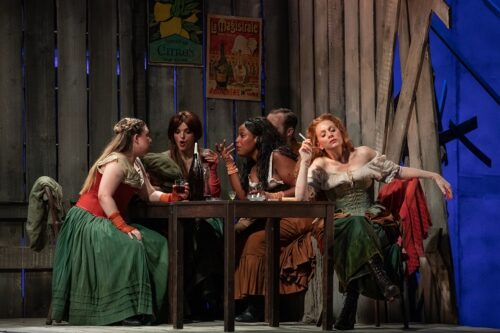 Production:
Director – Martin Lloyd-Evans
Designer – takis
Lighting – Jake Wiltshire
Movement – Jami Reid-Quarrell
Cast:
Margot, Anna – Anne Sophie Duprels
Sergeant Thibault – Samuel Sakker
L'Artiste – Paul Carey Jones
Lili Béguin – Sarah Minns
Nini – Laura Lolita Perešivana
La Patronne – Laura Woods
First Soldier – George von Bergen
La Poigne – Jack Holton
Second Soldier – Alistair Sutherland
Totor – David Woloszko
First Woman – Chloé Pardoe
First Drinker – Sean Webster
Second Drinker – Matthew Duncan
Third Drinker, A Man – Peter Lidbetter
Waiter – Richard Moore
Police Inspector – Dragoş Andrei Ionel
Roberto – Peter Auty
Guglielmo – Stephen Gadd
Dancers – Fern Grimbley, Isabel Le Cras, Gabriella Schmidt
Opera Holland Park's new double-bill of operatic rarities proves a great success, highly recommended to anyone slightly curious to hear works off the beaten track. Delius's Margot la Rouge, written from 1901-2 but unperformed until 1983, and Puccini's first opera, Le Villi, here given in its 1884 two-act revision, were both unsuccessful entrants in the Milan publisher Sonzogno's competition for new one-act operas. In Martin Lloyd-Evans's production, both open with a father and his daughter, the unfortunate tales to follow initiated by the latter leaving the former. (Make of that what you will.)
Delius's 45 minutes or so tell a straightforward story in which the woman Marguerite/Margot, fallen into Parisian prostitution, has a chance meeting with her childhood sweetheart, Thibauld, which rekindles their relationship, only for her pimp-lover, L'Artiste, to explode with anger, stab Thibauld, and in turn be stabbed by Margot, who is arrested. There is little in the way of dramatic conflict or surprise; people act precisely as one might expect them to. There is a frankly absurd number of cast-members for a work so short. But it is musically interesting, Delius not only at his most Wagnerian, but far more directed (or conventionally directed) than many of the composer's more wandering scores. Lloyd Evans and his team summon up a seedy Paris bar, a storm, and various comings and goings with a gutsy verismo spirit that matches what one hears from orchestra and singers alike. If ultimately Margot la Rouge comes across more as a sketch in search of expansion, it certainly does not outstay its welcome and has much to fascinate audiences of various tastes.
Le Villi is, unsurprisingly, the more accomplished, finished work, the level of craftsmanship from Puccini at so early a stage in his career little short of astonishing. The Gothic tale has more in common with French and, perhaps still more, German Romanticism than one might expect. Here, takis's shell of a bar transformed into a woodland house, Roberto and Anna, celebrating their betrothal, are separated by Roberto's journey to Mainz to collect his inheritance. Waylaid by a Mainz 'siren', he fails to return, choosing instead a city life of debauchery, and Anna dies, her father calling for supernatural vengeance from the Villi who inhabit the forest. Roberto, having finally resolved to return home, meets these fairies instead of his beloved; they do as the legend foretells, dancing him to death.
Puccini is likewise not without Wagnerian influence here, but his truer predecessors seem to be earlier German (and again French) Romantics, as well as the purveyors of French grand opéra and ballet. For, in this early opera-ballet, what surprises most is just how much Puccini sounds like himself. Melodies, harmonies, scoring, if not so much characterisation: so much of his later mastery is already close — and sometimes more than close. Lloyd-Evans's resourceful production takes full advantage of the magical descent into darkness an evening at Holland Park offers. Again, it tells the story directly, with a sharp eye for detail, and offers plenty for one to consider after the event, as indeed does the work itself.
Both orchestral reductions, by Andreas Luca Beraldo, seemed to me highly successful, in that I pretty much forgot we were not hearing quite the real thing. That success must also of course be attributed to Francesco Cilluffo and the City of London Sinfonia.  Cilluffo's conducting, energetic yet long-breathed, was imbued with every inch of the conviction necessary to lift such scores off the page. The CLS sounded fuller of tone than many an opera house orchestra of twice the size. It drove the action as much as supported the singers in a true partnership between pit and stage. The Opera Holland Park Chorus, finely trained by Dominic Ellis-Peckham, proved both polished and enthusiastic in its singing — and game in its dancing too. Jami Reid-Quarrell's choreography, whether for the chorus or the three Villi dancing, was sharp, illustrative, and dramatically conceived.
At the heart of both operas lay the outstanding singing of Anne Sophie Duprels: heartfelt, incisive, and variegated. She was poignantly partnered by Samuel Sakker as Thibauld in Margot la Rouge, Paul Carey Jones's Artiste offering a contrasting, commanding, and vicious stage presence. The size of the cast offered a host of young singers opportunities to shine, all of them well taken. As Le Villi's Roberto, Peter Auty might have graced any operatic stage. His marriage of vocal heft, lyricism, and command of detail fully complemented Duprels. Stephen Gadd's performance as Anna's father Guglielmo should also be commended. As so often at Holland Park, this was a fine company achievement.
Indeed, I think it was worth drawing attention to the achievement of the greater team at Holland Park. From Director of Opera James Clutton down (not to forget recently departed colleague Michael Volpe), or perhaps better, from a committed team of volunteers up, this is a friendly, welcoming, high-achieving company, crucial both to this country's operatic ecology, past, present, and future, and also playing its part in building a more sustainable theatre in the broader, ecological sense. Since the pandemic, OHP has taken still greater care to work in partnership with local suppliers; a wonderful array of upscaled furniture provides audience seating; the auditorium has been constructed from reclaimed wood and recycled shipping containers. Art for art's sake matters; let no one tell you otherwise. But art is never solely for art's sake. To survive, it must assume – and further – social, environmental, and political responsibility. When everything goes right artistically, as it does here, that is even better, but human striving, artistic and social, matters greatly in itself and will only do so more as our world belatedly confronts a host of crises that never should have been permitted to reach this stage. Every theatre company, every orchestra, every artist, every partner organisation will have its/his/her/their own solutions, but they must work together too; that includes us as audiences. What better place to learn from hard work, effort, and example than here in Holland Park?
Mark Berry