United Kingdom Three Choirs Festival 2022 [2] – Dyson: Rebecca Hardwick (soprano), Jess Dandy (contralto), James Oxley (tenor), Alex Ashworth (bass), Three Choirs Festival Chorus, Philharmonia Orchestra / Adrian Partington (conductor). Hereford Cathedral 25.7.2022. (JQ)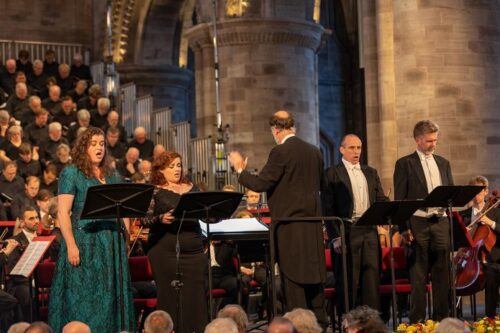 Dyson – Quo Vadis
During his lifetime, Sir George Dyson (1883-1964) had quite a connection with the Three Choirs Festival. His choral/orchestral work St Paul's Voyage to Melita was composed for the 1933 Festival, which was held in Hereford, and two years later the Worcester Festival put on the premiere of his Nebuchadnezzar. The first part of Quo Vadis was scheduled to be unveiled at the 1939 Festival in Hereford but the outbreak of war caused the cancellation of the whole event (in those days the Three Choirs Festival was held in September). The music was not heard until April 1945 (in London) and it reached the Three Choirs at the 1946 Festival, held in Hereford. After a further performance of Part I at the Gloucester Festival the following year, the complete Quo Vadis was premiered at the Hereford Festival of September 1949.
Back in 2012, Geraint Bowen programmed at the Hereford Three Choirs a very welcome revival of what had been, during his lifetime, Dyson's most popular choral work, The Canterbury Pilgrims (1930) (review click here). For the 2022 Festival he has performed a further service for the cause of Dyson's music by scheduling a performance of Quo Vadis. To the best of my knowledge, the work has not featured at the Three Choirs since that 1949 performance; I could find no trace of a subsequent appearance on the schedules in the History of the Festival by Anthony Boden and Paul Hedley, which is as authoritative as it is indispensable. Geraint Bowen invited Adrian Partington, his colleague from Gloucester Cathedral, to conduct; this was a shrewd choice because Partington must be one of the few conductors who already has familiarity with this very large score. That stems from the fact that in 2002 he prepared the choirs who took part in the work's first (and, so far, only) recording, conducted by Richard Hickox (review click here).
Anyone familiar with The Canterbury Pilgrims and coming fresh to Quo Vadis will find that the latter is a very different proposition. The Canterbury Pilgrims is, broadly speaking, a colourful, extrovert score, whereas Quo Vadis is much more reflective, even introspective. Dyson designed it on a very ambitious scale with nine separate movements, of which the first five constitute Part I. Not only is the scale of the work ambitious; so too is the libretto. Dyson ranged very widely indeed in making his selections, choosing discerningly from a great variety of poetic texts, mainly English in origin. I had never stopped to count the number of authors on whom Dyson drew, but from Paul Spicer's excellent and sympathetic programme note I learned that there were no less than 17. Some of the poets are well known, including William Wordsworth. Robert Herrick, George Herbert and William Blake. Others, such as Thomas Heywood or Barnaby Barnes, will be unfamiliar to many people. Having selected his text from a wide variety of sources, Dyson wove them into a coherent and convincing whole: indeed, I think the construction of the libretto alone is something of an achievement. Furthermore, as Spicer said, in most of the movements, Dyson mingles the words of more than one poet: '[his] imaginative interweaving of poetry …is so seamless that, if the poets were not mentioned, the casual observer might assume it to be the work of one writer'.
In his booklet notes for the aforementioned Hickox recording, Lewis Foreman quoted the late Christopher Palmer, who described Quo Vadis as 'man's earthly pilgrimage, his spiritual odyssey and its consummation in Shelley's "white radiance of Eternity"'. Those words come from Shelley's 'Elegy on the death of John Keats', lines from which Dyson incorporates into the last movement of Quo Vadis. In his masterly biography of Dyson, Paul Spicer expands on Palmer's verdict, commenting that the libretto of Quo Vadis 'looks to be a personal selection of words which comes dangerously near to exposing Dyson's soul'. However, whilst noting that Quo Vadis expresses 'what seems to be a deeply rooted sense of spirituality', Spicer very rightly reminds his readers that Dyson was not a believer. Rather, Spicer draws attention to the 'very real thirst in the first half of the twentieth century for the expression of notions of spiritual journeying and the communion of wonder outside the bounds of religious dogma'. Thus, in Quo Vadis Dyson is joining the likes of Finzi and Vaughan Williams.
Quo Vadis is ambitious not just in the scale and reach of its libretto but also in terms of the forces specified. Four vocal soloists are required. There is also a full SATB chorus, a semi chorus (also SATB), a substantial orchestra and an important organ part.
A few days prior to attending this concert I listened again to the Richard Hickox recording. It had been quite a few years since I had done so and it was good to be reminded of the quality of the music. Incidentally, it is a very fine recording, featuring excellent solo and choral singing and with a skilful contribution from the BBC National Orchestra of Wales. It is just the sort of piece that played to the strengths of conductor Richard Hickox. Anyone who wishes to discover Quo Vadis should not hesitate to acquire this Chandos recording.
There was a great deal to admire in tonight's performance. The Festival Chorus sang with great commitment and their collective tone was very well focussed. Both the main choir and also the semi chorus were clearly paying great attention to dynamics and there was much sensitive singing to enjoy. Best of all, though, was the truly thrilling sound that they unleashed at the various climaxes in the work. The one drawback was that the words were not often clear – something that wasn't the case in the performance of the Dvořák Requiem which I heard a couple of nights earlier (review click here). I don't think it's fair to blame the choir's diction, though. Rather, I think the trouble was that they were required to sing a very wordy libretto, including a lot of unfamiliar text, in a resonant acoustic. Overall, the Festival Chorus made a significant contribution to the success of the performance.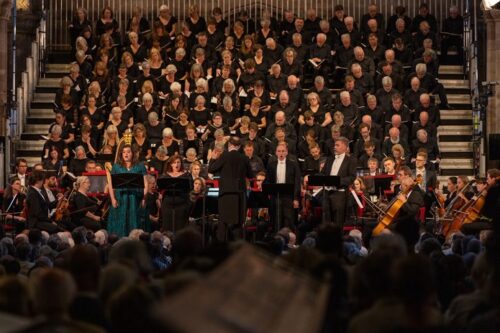 A strong team of soloists had been assembled. Jess Dandy is a genuine contralto; a type of voice that one doesn't hear too often nowadays. We got an early opportunity to experience her singing in the second movement ('Rise, O my soul'). I very much enjoyed her rich full tone, which didn't cloud her diction – it was evident that she took care over the enunciation of the text. This was an expressive piece of singing and its effect was heightened by the attentive way in which Partington got the Philharmonia to play the accompaniment with the necessary delicacy. The most prominent passage for the soprano soloist comes at the start of Part II with movement VI ('Dear stream! dear bank!'). Though vibrato slightly impeded the clarity of Rebecca Hardwick's diction, I liked her attractive sound and I appreciated the feeling with which she invested the music. This was another movement which benefitted from sensitivity in the orchestra.
James Oxley's sappy, expressive tenor was well suited to his major solo in movement IV ('Night hath no wings'). This is an elegiac, atmospheric part of the work which Oxley communicated very well. The music itself is gentle and melancholy; unfortunately, I couldn't quite shake the feeling that the movement is too extended – it lasts a good ten minutes. That said, it was well performed and the important solo viola part was expertly played, with suitably nutty tone; I presume the player was the Philharmonia's principal violist, Sylvain Séailles. With such a good vocal quartet on duty – and, in addition to their various solo movements, the four soloists combined together well when singing as a quartet – it seems a bit invidious to single out one soloist; but the bass, Alex Ashworth made a particularly strong impression. He is a tall man, so he has physical presence but, more importantly, he displayed vocal presence. He was good in the turbulent sections of the third movement ('O wither shall my troubled muse incline'), but he offered even more compelling artistry later on, in movement VII.
There is good music in Part I of Quo Vadis and early on in Part II. However, when Dyson gets to movement VII it's as though a switch has been flicked and, to mix the metaphor, everything moves up a gear. Movement VII ('Come to me, God') is for bass solo and chorus. Here, Alex Ashworth initially offered suitably strong singing. Then, however, at 'In this world (the Isle of Dreams)' the music becomes rapt and lyrical – indeed, I scribbled in my notes that it could have come from Vaughan Williams' Five Mystical Songs. In this extended passage, Ashworth sang with excellent control and just the right degree of expression to bring out the quiet, mystic nature of the music. The movement concludes with a setting, principally for chorus, of words by Henry Vaughan ('My soul, there is a country / Far beyond the stars'). Dyson doesn't quite match Parry's response to these words (in the masterly Songs of Farewell) but it is still an excellent setting and it was very well done tonight. There follows 'They are at rest' (movement VIII) in which Dandy was once more to the fore.  This is a lovely setting of John Henry Newman's lines; in her eloquent performance Dandy invested the words with fine feeling and the music with warm tone. As the movement drew to a close her soloist colleagues joined with her in an ecstatic passage of Alleluias.
Finally comes 'To find the western path'. This is the longest movement – it played for some 19 minutes tonight. Oxley began with fervent declamation of lines by William Blake. Later, the words are by Shelley and Dyson builds the music to a powerful climax, which was thrillingly delivered in this performance. Just when you think Quo Vadis is heading for a Big Finish, Dyson beneficially changes gear. The solo quartet introduce a reflective setting of 'Holy is the true light'. This may not be in the same league as Howells' setting of the same words in his Hymnus Paradisi – music of which Dyson would have known nothing, since Howells kept it a closely guarded secret until 1950 – however, Dyson responds to the words with music that is warm, generous and expansive. He brings this episode to a climax of full-throated ecstasy for the full ensemble before Quo Vadis ends very quietly. This movement – and its two predecessors – received especially fine treatment from Partington and his forces.
In fact, the principal credit for the success of this performance must lie with Adrian Partington. Quo Vadis is a lengthy work – I timed tonight's performance at 104 minutes plus interval – and both the length of the piece and the ambition of Dyson's concept requires a firm hand on the tiller if the work is not to sprawl. Partington was always alive to the expressive and reflective elements in the score but he always conducted with purpose and ensured that momentum was achieved and sustained. It was clear from watching him that he visibly galvanised both singers and players, conveying his vision of the piece to them. He obtained an excellent response both from the Three Choirs Festival Chorus and from the Philharmonia. His direction of this large score was a significant achievement.
It should be recorded that the performance benefitted greatly from the backing of the Sir George Dyson Trust. Not only was financial support provided for this concert but in addition I understand that the Trust paid for the creation of a new edition of the full score and a new set of orchestral parts. I presume these were used for tonight's performance; I don't know how much variance there is between these performing materials and those which were available for the Hickox recording.
In some respects, tonight confirmed my impression that Quo Vadis is a flawed work, largely on account of its length. However, there is much that is good in the pages of this sincere and ambitious score. This committed, highly accomplished performance led by Adrian Partington, made the best possible case for it. The Three Choirs Festival did Dyson proud.
John Quinn