United Kingdom Opera in Song [1] – Unsung Heroines: Lauren Fagan (soprano), Lucy Anderson (soprano), Olivia Boen (soprano), Phillip Costovski (tenor), Gary Matthewman (piano). Opera Holland Park, London, 29.6.2022. (CC)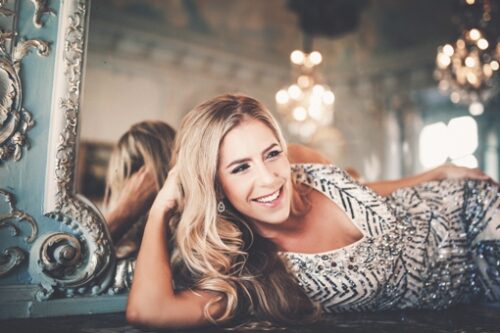 Clara Schumann – Drei Lieder, Op.12
R. Strauss – Cäcilie, Op.27/2; Morgen, Op.27/4
Ilse Weber – Wiegala
Stefania Turkewich – The Parting (Proshchannja)
Graciane Finzi – La vie, l'amour
Alfred Bachelet – Chère Nuit
Rachmaninov – Songs, Op.38: Nos. 1, 3, 5. 6
Madeleine Dring – Shakespeare Songs: No.5, It was a lover and his lass
Undine Smith Moore – Love let the wind cry
Ethel Smyth – The Wreckers: Je connais certaine fille
Dvořák – Rusalka: Song to the Moon
Rebecca Clarke – Shy one; The cloths of Heaven
Stravinsky – The Rake's Progress: No word from Tom
The sudden cancellation of Louise Alder (due to travel issues, apparently) led to an almost complete reorganisation of the programme for this evening. But what we got was a triumph emerging out of necessity: Lauren Fagan took over the lioness' share of the work, with appearances from artists from Opera Holland Park's superb Young Artist programme. A hastily-assembled freesheet ('Smythe' on the front, 'Smyth' on the back) helped orient us to the new running order.
The stalwart Gary Matthewman was the constant throughout, and quite rightly his unnamed page-turner joined in the final bows: Matthewman told us about his love of traditional scores (as opposed to iPads), but the English weather can be a fickle beast, and there was a permanent threat of his music flying into the audience. The page-turner's split-second reactions were, to put it mildly, tested.
We did keep the Three Songs of Clara Schumann's Op.12 from the original programme. Louise Alder had sung these at a Wigmore Hall recital in March, but Lauren Fagan suffered not a jot in comparison. Fagan represented her native Australia at the 2019 BBC Cardiff Singer of the World Competition; she was recently Violetta at Holland Park and Mimì in La bohème for Opera North (intriguingly her encore was not Mimì, but Musetta's Quando m'en vo). The Schumann songs were a joy, and a reminder of their stature. It is a testament to the strength of Clara's compositional voice that the second song, a setting of Rückert's Liebst du um Schönheit erases memories (while in the act of listening, at least) of Mahler's famous setting of the text. The lyricism of Clara's Op.12 is remarkable. Fagan's voice is particularly lovely in its upper reaches, and her resonance with the music was never in question. Matthewman is a superb musical partner; together they created a superb range of emotion, from the stormy '
Er ist gekommen to the superb Romantic glow of Liebst du um Schönheit (surely this setting deserves classic status). to the delicious yet powerful simplicity of Warum willst du and're fragen. Superb.
Many of the audience would have been of an age (like me) to remember Jessye Norman wowing London audiences with performances of Richard Strauss songs. The two here were her specialities; the magical Morgen! found Matthewman creating a clear legato line for the opening (no easy matter – it is slow and, in the orchestral version, on solo violin, which can sustain and link notes so much easier), and an atmosphere that effortlessly led into the wondrous first line 'Und Morgen wird die Sonne wieder scheinen'. It could be argued this linked with the flow of Liebst du um Schönheit. Just a touch more care with the German words would have sealed the deal. In its demeanour, Cäcilie is fully contrastive, outgoing and impetuous. It holds a piano part riven with difficulty; all credit to Matthewman for negotiating it with what sounded like ease; Fagan embraced its mood perfectly.
Opera Holland Park Young Artist Lucy Anderson gave two astonishing songs. First, Ilse Weber's solo voice Wiegala, a lullaby sung to children bound for their end at Theriesenstadt and written in 1942. It was spellbinding and partnered with a song by the Ukrainian composer Stefania Turkewich (1898-1977): seek out the Ukrainian Art Project's website for some further details, and some 20 songs are up on that organisation's YouTube channel (including this one). With its modernist – post-Wagnerian but also post-Schoenbergian – piano part so powerfully done by Matthewman, we moved to a different musical universe. Good to hear it sung here via soprano voice (it is sung on the channel by a bass). Both Anderson and Matthewman understood the depths of this song, which offered maximal contrast to the Weber lullaby. Turkewich is a composer well worthy of further investigation.
The fascinating excursions into the world of unsung heroines – now very much sung – continued with a song by Graciane Finzi (born 1945, a Morocco-born French composer). Her La vie, l'amour is the epitome of Impressionism in its fragrant harmonies and evocative piano trills, a haunting song that received full justice via the Chicago-born lyric soprano Olivia Boen, who set up just the right conspiratorial tone to this song, as if she were whispering secrets into our ears. This was a very special performance of a very special, haunting, song. Alfred Bachelet's Chère Nuit generated the title to Louise Alder's Chandos recital of French song; it was left to Lauren Fagan to sprinkle her own magic dust over this lovely mélodie (and to introduce the first male composer).
These Opera in Song events are a result of a lockdown initiative; part of the legacy is the lack of interval, which works beautifully, a recital lasting between an hour and an hour and a half, satisfying yet not consuming an entire evening. It allows the stream of composers to run on from each other, each illuminating the next via complementation, equivalence or contrast. The set of four songs by Rachmaninov (still Fagan) were a revelation. The first, At Night in my Garden reminded us that no-one quite does melancholy like Rachmaninov. Darkly shaded, with dissonances teased into existence on the piano by Matthewman, the song was remarkably affecting. The third song from the set of six that make up Op.38 is more famous in its solo piano transcription: Daisies, here an outflowing of melody. The fifth song, A Dream, boasts a spectacularly beautiful piano part over which the soprano spins her melody. Surely, it is one of Rachmaninov's finest songs, and this performance was absolutely transfixing. Finally, the sixth and last song of Op.38, A-oo (The Quest), impassioned, quietly powerful.
Anderson gave a very characterful reading of Madeleine Dring's song It was a lover and his lass, a sort of salon song that would grace anyone's living room. It also sounds very familiar, perhaps one of those pieces one thinks one doesn't know but it turns out it has a terribly familiar ring to it…. Undine Smith Moore's Love let the wind cry was a perfect complement, gloriously OTT and brilliantly sung by Boen.
Fagan has been singing the role of Avis in The Wreckers at Glyndebourne this season. Quite right we should hear some: Je connais certaine fille, a lovely, strophic song of great character (if you want to get a feel for the strength of Smyth's music, while the opera itself might be fairly elusive in recorded terms, the Overture is easily located). Fagan it was who gave us the famous Song to the Moon from Dvořák's Rusalka with a beautifully sure sense of line.
Only right, too, that in a female composer-dominated programme there should be some Rebecca Clarke. Two songs, performed by OHP Young Artist tenor Phillip Costovski. The two songs, both using texts by W B Yeats, bring different perspectives to unrequited love. The first. Shy One is simple in demeanour. It sounded a bit saloonish here (it's not); more successful was the shiningly beautiful The cloths of Heaven, its piano part sophisticated, the vocal line incredibly touching; and all credit to Costovski here, who negotiated the song's wide range well.
Finally, Fagan in Stravinsky: Anne Trulove's aria from The Rake's Progress. This was nothing short of superb; within a second, Fagan brought us into the composer's world.
To think this well-formed, satisfying evening came out of adversity (or at least, last-minute scramble) is remarkable. Bravo to all; there is proof positive here, too, that OHP's Young Artist Programme is operating at the highest level.
Colin Clarke