United States 2022 Blossom Music Festival [2]: Blossom Music Center, Cuyahoga Falls, Ohio. (MSJ)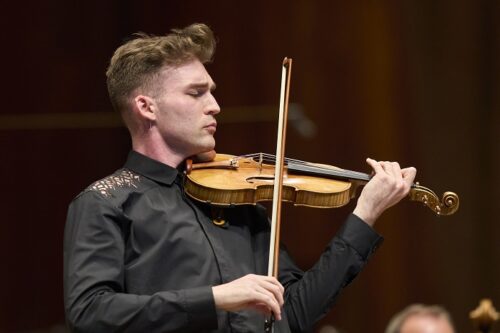 30.7.2022: Various: Alexi Kenney (violin), Cleveland Orchestra / Ruth Reinhardt (conductor),
Bacewicz – Overture for Orchestra
Mendelssohn – Violin Concerto in E minor, Op.64
Dvořák – Symphony No.5 in G major, Op.76
Anchored by one chestnut, this program offered a delightful mix of debuts and rarities. It was led by German conductor Ruth Reinhardt, making her Blossom Music Festival debut with the Cleveland Orchestra. Her leadership was deft and assured, getting things done without grandstanding, a trait that is appreciated in Cleveland. Any time Reinhardt made a bold movement, there was a definite corresponding reaction in the orchestra, and the video screens allowed the audience to watch her constantly making eye contact with players. Best of all, we could see her occasionally give a quiet half-grin when a passage landed just right, as so many did under her leadership.
Equally impressive was violinist Alexi Kenney, making both his Blossom and his Cleveland Orchestra debut as a late substitute for Sergei Khachatryan, who was unable to get travel-visa clearance. Kenney was a new name to me, but this young Californian was more than equal to the task of stepping in to fill Khachatryan's sizeable shoes. Kenney's approach to the Mendelssohn was quick without ever becoming metronomic, airy without ever seeming lightweight. He had a strong sense of change as he moved through transitions in the eventful first movement, yet he did so without slowing down and underlining such passages.
This was true of the cadenza too, where he savored the drama but not at the expense of the intimate parts. Indeed, it was remarkable just how well Kenney managed to pull listeners into intimate moments despite the resonance of the Blossom pavilion. The slow movement sang sweetly and sadly, and the finale flew like sparks on a summer evening breeze. Audience response was ecstatic, and it drew a very different encore: the Largo from Bach's Violin Sonata No.3. Kenney's floated notes melted through the pavilion air, holding listeners enthralled.
The program opener was a delightful overture written in 1943 by Polish composer Grażyna Bacewicz (1909-1969). Written while Poland was under occupation by the Nazis during the Second World War, the piece was defiantly not about current events. Rather, it is an exhilarating, high-spirited ride that makes one want to hear much more of the composer's music. Reinhardt has been an enthusiastic champion of Bacewicz's work, and this taste made me want to hear her return with one of his larger pieces.
No less convincing was the joyful closer, Dvořák's Fifth Symphony. Dvořák is certainly an unusual case in being overruled by posterity. He published only five of his nine symphonies in his lifetime, this one originally billed as 'No.3'. When authoritative editions of his symphonies were published in the 1950s, however, the work was restored to its actual position as Dvořák's Fifth. For many years, only the composer's final three symphonies were performed regularly but, in recent years, his Sixth has become a staple in Cleveland. Music director Franz Welser-Möst recently led the Fourth, and this concert brought out the charmingly pastoral Fifth. Let's hope the three early symphonies will follow in due course.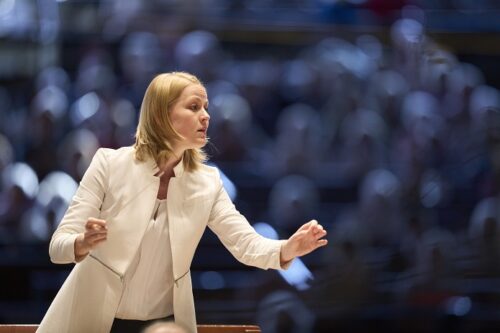 Reinhardt appreciated Dvořák's mixture of bright color and lingering shadow, keeping the work's early climaxes under control in order to allow later peaks more emphasis. Of particular note in the first movement and elsewhere were Afendi Yusuf's burbling clarinet solos, always given ample room. It wasn't until the horn section fanfares of the scherzo that Reinhardt finally let the players go thrillingly full bore, and the rest of the orchestra wasn't unleashed until the closing pages of the finale, demonstrating a long-range vision of the work and an excellent grasp of its structure. Best of all, Reinhardt never glossed over Dvořák's melancholy undercurrents in the slow movement and Finale, letting the work earn both its stature and its warm reception by the audience.
Festival programs are known for safe programming, but this concert demonstrated how to be crowd-pleasing while still delivering fresh musical thought.
Mark Sebastian Jordan