United States Santa Fe Opera 2022 [2] – Huang Ruo, M. Butterfly: Soloists, Chorus and Orchestra of Santa Fe Opera / Carolyn Kuan (conductor). The Crosby Theater, Santa Fe, 3.8.2022. (HS)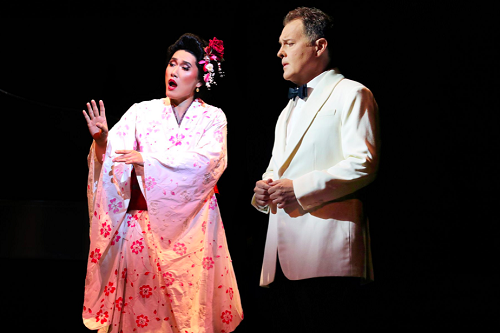 Production:
Director – James Robinson
Sets – Allen Moyer
Costumes – James Schuette
Lighting – Christopher Akerlind
Projection – Greg Emetaz
Choreographer – Seán Curran
Chorus master – Susanne Sheston
Cast:
Song Liling – Kangmin Justin Kim
René Gallimard – Mark Stone
Comrade Chin – Hongni Wu
Manuel Toulon – Kevin Burdette
Marc – Joshua Dennis
Santa Fe Opera took on steep challenges for the 2022 season. All five operas in the 38-performance summer schedule are new productions, including a world premiere. Several conductors and a long list of singers are making their house debuts. It's a lot to put together, and this first week in August is the first opportunity to experience the five operas in a single week.
M. Butterfly, composer Huang Ruo's operatic version of the multiple-award-winning 1988 Broadway play by David Henry Hwang, was slated to debut in 2020 and delayed until now by COVID. It finally hit the stage on 30 July. Seen and heard in its second performance on Wednesday, the opera made an impact with dramatic sweep, terrific and sensitive characterizations and music that added more than just color to the story.
Ruo's score quotes and alludes to music from Puccini's Madama Butterfly and Chinese opera, but the story also deals with complicated perceptions of other cultures. We see sexual fluidity differently today than in the 1980s, when Hwang's play with B. D. Wong and John Lithgow debuted on Broadway, and the scandalous and hilarious secrets came to light. (A 1993 film starred Jeremy Irons and John Lone.)
The plot centers on a clandestine relationship between a French diplomat and a Chinese opera singer in the 1960s, when Mao's China was just beginning to open up to the West. At a diplomatic party, low-level envoy René Gallimard, besotted by a beautiful singer's aria from Puccini's Madama Butterfly, strikes up a relationship with her. He is tentative at first, and eventually more serious: he thinks he has found the perfect woman, submissive and seductive, rather as Pinkerton did in the Puccini opera. Overtones of imperialism and sexism become obvious, and there's an added layer of ambiguity – Song Liling is a man playing a woman.
They carry on an affair for years. For much of it, Song was spying for China, gathering information from Gallimard when he was promoted to vice-consul. It all comes to a head when Gallimard is called home to Paris, sends for his lover, and they are arrested for espionage.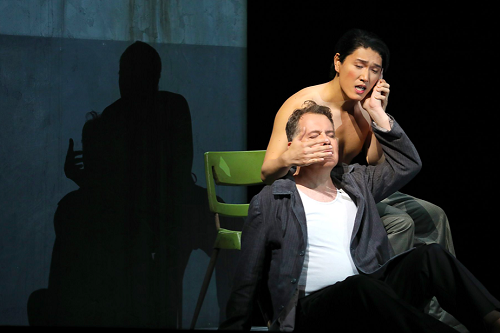 The opera does a better job than the play did of showing us how this seemingly impossible story could have happened. Ruo's music helps by making manifest the parallels with Puccini's opera – especially how cultural differences leave the main characters perceiving each other through different cultural lenses.
The score weaves the Puccini references into a distinct musical style. Restless, nervous rhythms permeate the music from the opening phrases. Although the orchestration employs no Chinese instruments, it creates the sound effectively at times with European strings, winds and percussion. Ruo also uses Chinese opera swoops and other gestures in his long, extended vocal lines, and not just by Asian characters. This somehow struck me as less effective, even intrusive.
Dramatically, this version of the story explores how the lovers' fascination with the relationship blinded them to reality. A stunning scene late in the opera finds them both in the Paris prison. Confronted with the reality that his lover was a man, Gallimard resists the truth and sends Song away, but not before Song demonstrates to him that the skin they touched remains the same.
The fulcrum that makes all this balance is Korean-born Chicagoan Kangmin Justin Kim, whose liquid countertenor and lithe body language bring the character to life. Elegant and alluring in both voice and stage movement, Kim's portrayal is convincing from the beginning. He also delivers the show-stopper, an aria in Act II ('Awoke as a butterfly') that nods to a Chinese opera classic, The Butterfly Lovers.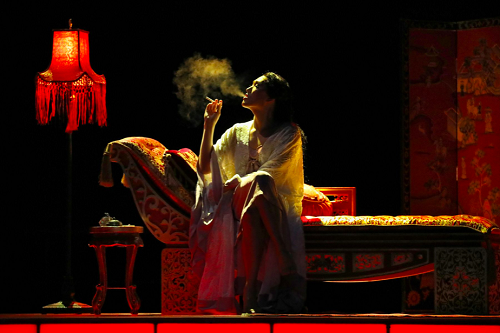 'I know the truth and so I pretend', she sings. 'I awoke as a butterfly who dreams of being human, and I am a human who dreamed of being a butterfly'. It ends with the character fluttering off into the dark to some of Ruo's most touching music.
London-based Baritone Mark Stone (who sang Sharpless in Welsh Opera's Madama Butterfly in 2021), was indefatigable as Gallimard, singing in almost every scene through the three-hour opera. In the final scene, he reenacts Butterfly's ritual suicide with aplomb and grace, the character finally acknowledging that in the relationship he was Butterfly not Pinkerton. As a musical coup de theatre, Song returns – too late – in a man's suit singing 'Butterfly! Butterfly!', in a close adaption of the last notes of Puccini's opera.
Also impressive in supporting roles were Chinese mezzo-soprano Hongni Wu as Song's spy handler and baritone Kevin Burdette as the French ambassador, both vivid creations of character and vocal flexibility. The company chorus distinguished itself as well, both as a snarky crowd amused by the scandal and as partygoers in the embassy receptions.
Holding all this together from the pit, conductor Carolyn Kuan drew vivid playing and smooth transitions throughout. Born in Taipei and now conductor of the Hartford (Connecticut) Symphony, Kuan also conducted Ruo's Dr. Sun Yat-sen in Santa Fe in 2014.
Director James Robinson and scenic designer Allen Moyer, whose recent credits include Fire Shut Up in My Bones at the Metropolitan Opera, created a blank slate of a set. Sliding panels supported projections and framed a colorful boudoir which rolled onto the stage to provide a location for the lovers' trysts. The opera was as satisfying to look at as it was to hear.
Harvey Steiman