United States Santa Fe Opera 2022 [1]: (HS)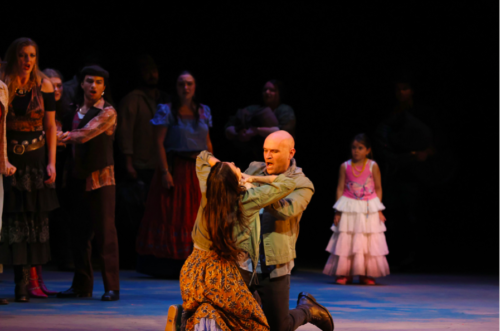 1.8.2022: Rossini, The Barber of Seville: Soloists, Chorus and Orchestra of Santa Fe Opera / Iván López-Reynoso (conductor), Crosby Theater, Santa Fe, New Mexico.
Production:
Director – Stephen Barlow
Scenic and Costume designer – Andrew D. Edwards
Lighting – Christopher Akerlind
Choreographer – Mitchell Harper
Cast:
Rosina – Emily Fons
Count Almaviva – Jack Swanson
Figaro – Joshua Hopkins
Dr. Bartolo – Kevin Burdette
Don Basilio – Nicholas Newton
Berta – Murrella Parton
Fiorello – Kyle Miller
2.8.2022: Bizet, Carmen: Soloists, Chorus and Orchestra of Santa Fe Opera / Harry Bicket (conductor).
Production:
Director – Mariame Clément
Scenic and Costume designer – Julia Hansen
Lighting – Duane Schuler
Choreographer – Mathieu Guilhaumon
Cast:
Carmen – Isabel Leonard
Don José – Michael Fabiano
Escamillo – Michael Sumuel
Micaëla – Sylvia D'Eramo
Zuniga – David Crawford
Dancaȉre – Luke Sutliff
Remendado – Anthony León
Morales – Darren Lekeith Drone
Frasquita – Magdalena Kuźma
Mercédès – Kathleen Felty
The directors of both The Barber of Seville and Carmen injected twenty-first-century tropes into their new productions at Santa Fe Opera. London-based Australian Stephen Barlow pumped energy and life into Barber by taking his cues from Rossini's music. Mariame Clément's idea for staging Carmen dulled the passions and often clashed with Bizet's score.
Even with a starrier cast (Isabel Leonard and Michael Fabiano in the lead roles) and a brand-name conductor (the company music director Harry Bicket), Carmen paled in comparison. If The Barber of Seville cast lacked that level of star power, it delivered big-time on both musical values and – especially – humor. The performance heard Monday evening has to be the funniest I have ever experienced in opera.
Barlow engineered a nonstop mix of physical hijinks and on-point confrontations that almost always fit snugly with Rossini's bubbly music.
Setting the tone, an orange tree trimmed as a giant mustache stood out against Santa Fe's signature curtain-time sunset (visible through the stage). As the overture galloped to its finish, a giant head rose up behind the mustache and rolled into place, flanked by Spanish archways with columns painted like barber poles. In Andrew D. Edwards' set, the head (based on Rossini's) served as Dr. Bartolo's home, the eyes as windows, and the whole thing rotated to reveal the interior. Rosina's room was up a flight of stairs, fashioned as a big bird cage – a perfect metaphor for her situation.
The plot centers on an older Dr. Bartolo lusting after Rosina, his lovely young ward. She has fallen for the wealthy Count Almaviva, who has introduced himself as 'Lindoro', a penniless student. Figaro, the barber of the title, knows everything that is going on in town and is willing to help Almaviva and Rosina. Nonstop deceptions and plot twists ensue.
The metaphors didn't stop with the setting. Figaro's entrance aria, 'Largo al factotum', spiraled into a full-on TV commercial, with six colorful barber chairs and rainbow-colored hair dryers, all framed with a window representing Figaro's salon. Each element appeared just as he sang about it.
Anachronisms abounded, including a delicious moment when Dr. Basilio demonstrated how to start a rumor while singing the aria 'La calunnia è un venticello'. He opened his 'Orange' computer and, moments later, showed Dr. Bartolo on his iPhone how the word had spread. In a subtle gesture in a scene outside the house, Figaro opened a discarded heart-shaped box of Lindor chocolates, tasted one and cast a meaningful look at Almaviva as he realized that's where the alias came from. When, to gain access to Rosina, Almaviva disguised himself as 'Don Alonso', the over-zealous, pious music teacher, he arrived in a white shirt and backpack looking like an escapee from the musical The Book of Mormon, foisting his books on Dr. Bartolo as he sang 'Pace e gioia sia con voi'.
The creativity extended to housekeeper Berta's aria, 'Il vecchiotto cerca moglie', once routinely cut because it restated the already demonstrated vagaries of old men wanting young women. For soprano Murrella Parton, a Santa Fe Opera apprentice this year, the aria was staged as a sort of 'coming-out' moment, her uniform quick-changed into a spangly gown, accompanied by backup dancers in top hats and tails. The song worked perfectly as it asks why an older woman shouldn't have a go.
Pinpoint timing in both comedy and music made all this spin like a top, starting with Mexican conductor Iván López-Reynoso. Making his United States debut, he got every moment of the music bouncing along merrily, and that played on the cast's vocal strengths and the way they synchronized gestures, glances and body movements to Rossini's score.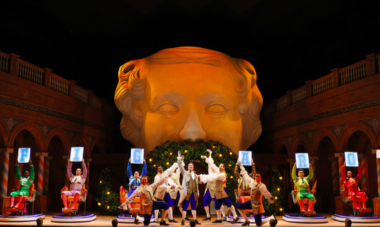 The entire cast sang well, with accuracy and plenty of energy suitable for this score. If none registered as operatic stars, they shaped their characters magnificently, both vocally and theatrically.
The comic genius was bass-baritone Kevin Burdette as a loose-limbed, deliberately effeminate, endlessly reactive Dr. Bartolo. He made his body curl, kick, slump and seemingly dissolve off a chair, and managed to sing 'La vendetta' while spoofing yoga poses. Why? The lyrics are about the frustration caused by the others' trickery and how to calm down to exact revenge. Yoga was his way. (Another anachronism that worked.)
Joshua Hopkins as Figaro swaggered, boasted and sang the music with a range of colors in his robust bass-baritone. Jack Swanson's Count Almaviva wielded tenor fioritura with endless energy, and mezzo-soprano Emily Fons as Rosina made her Santa Fe debut succeed with faultless singing and a tall presence made even more imposing by a towering hairdo.
The men's chorus (featuring Santa Fe Opera apprentices) contributed mightily to the hilarity, whether clothed as mariachis, policemen or umbrella-wielding people on the street (during the brief rainstorm in Act II). The opening scene, with the onstage band playing as Almaviva tried to woo Rosina, was filled with priceless in-jokes for musicians. And, in another unconventional moment, the turntable started up during the Act I finale. With the main characters lined up downstage, the policemen toppled over woozily as they sang about being driven dizzy by the confusion.
Nobody does consternation like Rossini.
The on-point energy so compelling in Barber was missing in Carmen. In this production, Carmen is no femme fatale but a hard-working cigarette girl in jeans, a sort of pullover top and a denim jacket. She is still a free spirit but, apart from Leonard's natural beauty, gone were the sexual-innuendo body language and steamy vocal timbres that could reasonably attract the attention she gets from lustful soldiers. She needed to stand out more from the other women.
Among those soldiers is the corporal who falls for her almost on sight, Don José. Often portrayed as something of a nebbish, here he is a classic abuser, gruff one minute and whiny the next. Fabiano wielded a ringing tenor that overpowered Leonard's slimmer mezzo-soprano sound. He did manage to dial it back for some lovely moments in the 'Flower Song'.
Sylvia D'Eramo was making her mainstage debut in Santa Fe. She also invested the character's music with more muscle than we usually hear, including a final phrase in Act III that might come from the voice of Tosca or Aida.
The staging introduced extra elements, beginning and ending in a dilapidated 1950s amusement park, framed with sections of roller-coaster track. During the prelude, a 10-year-old girl explores the set in a pink ballet outfit that alludes to flamenco. She looks around the carnival, cringes at the Toreador march and makes some awkward flamenco moves to the music. Played by Isla Burdette, the daughter of Kevin Burdette (Dr. Bartolo in Barber), this figure could be Carmen's Roma soul or, perhaps, a representation of fate. She reappears in every scene, often as an observer or an indicator of what's to happen next. At one point, in one of the opera's more touching innovations, Carmen comforts her as the smugglers sleep in Act III.
Talking about her new production, Clément said in 2021 that Carmen is 'actually a very dark and gloomy piece', and the amusement park 'is almost a mental landscape for Carmen'. The little girl 'would just appear like a young Carmen or a little girl from the community of travelers . . . like something blurred and dreamlike coming into focus'.
If these glosses were meant to represent what is going on in Carmen's mind, it's a crowded place. Lillas Pastia's tavern in Act II is shrunk to the size of a cabaret, so small that a dancer had to crouch to get past the curtain. In the final scene, usually represented as the exterior of a bullring, gaudy kiosks nearly bump into each other as they roll into place in the carnival. Included is the ticket booth where José would shortly stab Carmen to death.
Rather than amp up the electricity, this had the opposite effect, tamping down the passion that keeps audiences in a grip. Even the music reached only a limited wattage, as Bicket fashioned the orchestra's impressively precise playing to match the director's tone.
As is usual for Santa Fe, the supporting cast dispatched their moments in the spotlight with professional acuity. The smugglers' quintet in Act II skipped along brightly, and the fortune-telling card scene in Act III drew especially good singing and acting from sopranos Magdalena Kuźma and Kathleen Felty. Michael Sumuel's softy framed bass-baritone sounded fine but missed the swagger in Escamillo's toreador music.
The overall effect was subdued, and that's not an adjective that should apply to Carmen.
Harvey Steiman