United Kingdom Edinburgh International Festival 2022 [13] – Mozart Chamber Works: Yannick Nézet-Séguin (piano), Musicians of the Philadelphia Orchestra (Ricardo Morales [clarinet], David Kim, Juliette Kang [violins], Choong-Jin Chang [viola], Hai-Ye Ni [cello], Harold Robinson [double bass]). Queen's Hall, 25.8.2022. (SRT)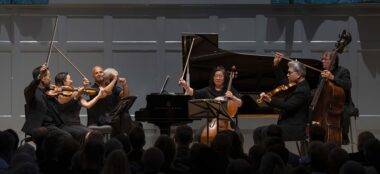 Mozart – Clarinet Quintet; Piano Concerto No.12 (version for piano and string quartet)
For whatever reasons, be they artistic, economic or environmental, the Edinburgh International Festival has experimented this year with several multi-day residencies from its visiting companies, and the last one is the mighty Philadelphia Orchestra, who roll into town for four concerts over three days. They have two Usher Hall concerts plus a free 'Thank you Edinburgh' concert in the Playhouse this weekend, but to begin their residency several of their section principals came to the Queen's Hall to play chamber music.
And the boss was with them too. Yannick Nézet-Séguin isn't just a world famous conductor, but he is an accomplished pianist, and he joined them at the keyboard to play Mozart's Piano Concerto No.12. The arrangement for string quartet is Mozart's own, but the musicians added a double bass for extra oomph, doubling the cello line, and it made a surprisingly big difference, a hefty, almost grumpy presence bumping along at the bottom of the sound. Nézet-Séguin's playing was well integrated into the overall sound, and never too assertive or dominant. Even the cadenzas sounded subtle, with nary a hint of grandstanding, and the cadenza for the second movement sounded almost operatic in its colour and tone.
Similarly, there was an attractive cantabile tone to the quality of the string sound which you don't tend to get if it is a full orchestra, and it came to the fore particularly in the slow movement. That said, there was a slightly sterile quality to the sound, an edge that you don't hear in full time chamber groups. Most simply put, they sounded like orchestral musicians who had toned themselves down a little. There wasn't much of that indefinable quality of listening to one another that you will get from the finest chamber groups, such as last week's Takács quartet (review click here). That was noticeable in Mozart's Clarinet Quintet, where everyone played their notes beautifully, but the give-and-take wasn't quite at the level that it could have been.
That said, the individual components were very strong, with a lively, wiry string sound and gorgeous clarinet tone. Ricardo Morales played his clarinet with such mellifluous sweetness that it was the aural equivalent of molten chocolate, and if they didn't manage to gel completely convincingly, then nobody was complaining about the sheer beauty of the sound.
Simon Thompson
The concert was broadcast live on BBC Radio 3 and is available to listen again on BBC Sounds until 23rd September 2022. The Edinburgh International Festival runs until Sunday 28th August at a variety of venues across the city. Click here for details.