Sweden Puccini, La bohème: Soloists, Chorus and Instrumental Ensemble of Dala Floda Opera of Björbo IOGT-NTO,  Festival / Erik Solén (conductor). Dalecarlia, Sweden, 31.7.2022. (GF)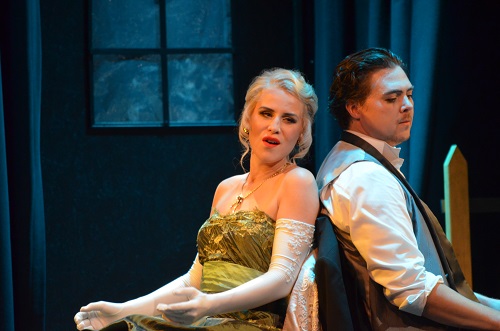 Production:
Direction – Patrik Sörling
Assistant Director – Maria Lindeman
Sets – Petrik Sörling
Costumes – Lynn Cadinka Trygg
Lighting design – Peter Östling
Arrangements – Jonas Dominique
Cast:
Rodolfo – Clifford Lewis
Mimì – Amanda Liljefors
Marcello – Linus Flogell
Musetta – Synne Vinje
Schaunard – Karl Peter Eriksson
Colline – Joel Kyhle
Benoît/Alcindoro – Erik Johansson
Customs officer – Timmy Thorén
This La bohème, sung in Swedish, was premiered last year, but due to the pandemic restrictions only a limited number of people had the opportunity to see it. Since it was a resounding success, it was a natural choice to reprise it this year and it certainly is well worth seeing. Due to limited financial resources at Dala-Floda Festival there had to be compromises. A full-size orchestra is unthinkable – and there is no space for one in the venue anyway – but the ensemble of eight eminent musicians is a worthy substitute and Jonas Dominique's arrangements have preserved surprisingly much of the original. As a long tradition prescribes, there are also adjustments to the story, placing it in a local setting. In this production there are, however, only slight changes, and non-locals need not worry: they will feel at home, even though Café Momus has become the local Dala-Floda Värdshus. The only exotic feature is the 'Valborrar', an ancient tradition from the times when people still believed in witches and trolls. The Valborrar were frightening people dressed in in black cowls, 'uglier than trolls'. Here they appear several times, gathering around Mimì's death-bed during the final scene in a vain attempt to drive off her illness.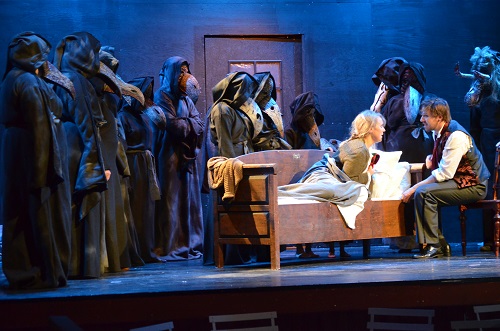 I appreciated Patrik Sörling's taut direction last year, where he balanced the many transitions between comic and tragic elements that are so typical of Puccini. This year he had to start practically from scratch, since the cast was almost new. Only two members had 'survived the winter'. One was bass Joel Kyhle, who repeated his Colline, both his boisterous comic side and his sensitive and moving coat aria – one of the finest moments in this performance. The other survivor was Linus Flogell, promoted from Schaunard to Marcello. Sörling had certainly managed to weld the ensemble together admirably, and with so responsive a group of actors he created believable individual characters. Amanda Liljefors's portrait of Mimì was perhaps the most deeply felt, and her death scene was immensely touching. But the whole cast did a great job and certainly deserved the standing ovations. I would also like to salute Karl Peter Eriksson, who worked wonders with the musician Schaunard, a role that can seem uninteresting. But Karl Peter's charismatic acting was of a calibre that stole every scene he was in. Veteran Erik Johansson in the two comic roles of Benoît and Alcindoro was also an asset. The chorus has little to do in this opera, but they were enthusiastic guests at the restaurant in the second act, placed below and in front of the stage – the only space that was available for them. Some of the ladies were also peasant women at the beginning of Act III.
As to the singing, I was less enamoured. I have already mentioned Joel Kyhle and Karl Peter Eriksson, and Synne Vinje was a stylish Musetta, but otherwise this ensemble paled somewhat by comparison to last year's cast. But in their own right they did an honourable job, and the response of the audience showed that their achievement fell on fertile ground. And it is always amazing that little Dala-Floda is capable of staging such first-rate productions.
Göran Forsling