United States Elgar, Mahler: Alisa Weilerstein (cello), National Youth Orchestra of the United States / Daniel Harding (conductor). Carnegie Hall, New York, 29.7.2022. (RP)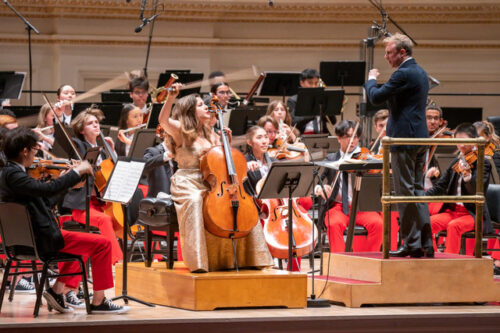 Elgar – Cello Concerto in E Minor, Op.85
Mahler – Symphony No.5 in C-sharp minor
Carnegie Hall's national youth ensembles are back. After two years of recorded concerts and Zoom, the National Youth Orchestra of the United States of America (NYO-USA), NYO2 and NYO Jazz have returned to perform before live audiences. The young players participate in two weeks of training with faculty from top professional orchestras before embarking on a concert tour in the US and Europe. The ensembles' appearances at Carnegie Hall are much anticipated events, and a near capacity house greeted the NYO-USA for this concert of Elgar and Brahms.
NYO-USA is open to instrumentalists between the ages of 14 and 19. Drawn from across the US, the players on Carnegie Hall's stage evidence the diversity of this upcoming generation of top-notch talent in terms of gender, race, ethnicity and just about anything else one can imagine. This summer, NYO-USA's Carnegie Hall concert was conducted by Daniel Harding, whose vigor and enthusiasm propelled the young performers to make music imbued with not only an astounding level of musicianship and technical proficiency but with beauty and emotion as well.
The concert opened with Alisa Weilerstein as soloist in Elgar's Cello Concerto. Began during the First World War when Elgar was aging and in ill health, the concerto contains none of the imperial swagger of his earlier works. It is still, however, quintessentially British in its sonorities, textures and spaciousness, and these were qualities that Harding, who was born in Oxford, England, intuitively conveyed in this performance.
Weilerstein is a compelling artist and acclaimed for her sense of oneness with her instrument. Her first entrance was gutsy and intense, but many passages of soaring lyricism were to follow. That sense of dialogue between soloist and orchestra prevailed throughout, encouraged by Harding at every turn. She was almost playful in her interaction with the cello section of the orchestra when they were featured together.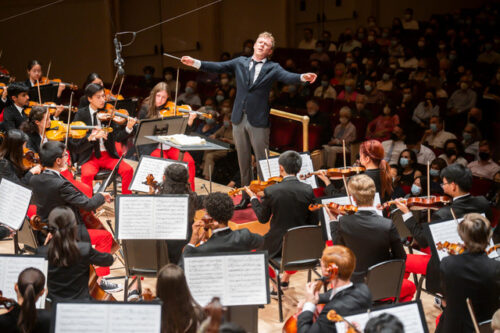 Teenagers performing Mahler's Fifth Symphony might cause some to scratch their heads, but the composer himself declared that some of its passages required incredible energy. Harding channeled that natural energy and enthusiasm to shape a performance of this monumental work that was both exciting and remarkable for the detail in terms of orchestral color, dynamics and tempi that he drew from the players. There were a few rough patches but it was, nonetheless, splendid.
The symphony showcases the individual sections of the orchestra, and this year's edition of NYO-USA was particularly notable for the quality of the strings and woodwinds. The Adagietto was marked by not only shimmering string sound but also the sense of timelessness that Harding imposed on it. Nonetheless, the rip-roaring moments were the most exciting. Harding was always in total control, but the climaxes, especially in Part II and the final measures of the work, were thrilling.
After the first of the three parts of the symphony, there was a reshuffling of some of the principal players. It is always a bit of a surprise that individual players can make such an impression in a work like the Mahler Fifth, but some always do.
Trumpeter Jack Ramu acquitted himself well in the opening measures and was replaced by the equally fine Lydia Hanje, whose performance was notable both for her poise and the liquid sound that she produced. Overall, the horn section was spectacular, but Samantha Strickland's playing was truly impressive. Seated in the rear of the orchestra, timpanist Glenn Choe presided over the opening section. Playing from memory, Choe was having the time of his life, and he made that obvious to all.
For an encore, Harding led the orchestra in a somewhat abridged but high-octane performance of John Williams' 'Adventures on Earth' from Steven Spielberg's E.T. the Extra-Terrestrial. The music is as fresh and exciting as it was when first heard on the movie's release in 1982. It did give one pause, however, to realize that no one on stage, with the exception of Harding who was himself just a lad then, had been born.
After this concert, NYO-USA embarks on a European tour that will take them to the Royal Concertgebouw in Amsterdam, Young Euro Classic festival in Berlin, Ravello Festival on Italy's Amalfi Coast and Lucerne Festival, where it makes its debut with Harding conducting and Weilerstein as soloist. NYO-USA's concert at the Konzerthaus Berlin will be webcast live on 5 August on medici.tv.
Rick Perdian
For more on NYO-USA's 2022 European tour, click here.