Canada |One Night, Two Concerts: The OSM and Rafael Payare: Sergio Tiempo (piano), James Ehnes (violin), Orchestre symphonique de Montréal / Rafael Payare (conductor). Maison symphonique, Montréal, Canada, 6.30pm and 8.15pm, 12.8.2022 (CC)
American Rhapsody: From Folklore to Legend (6.30pm):
Jacques Hétu – Légendes. Op.76
Gershwin – Rhapsody in Blue
Márquez – Danzón No.2
8.30 pm:
Wagner – Siegfried Idyll, WWV 103
Korngold – Violin Concerto in D, Op.35
Two concerts, two very different programmes, two different audiences. The first was the more popular, offering immediately appealing works, with Gershwin's Rhapsody in Blue as centrepiece appearing sandwiched between Canadian composer Jacques Hétu's Légendes and Mexican composer Arturo Márquez's Danzón No.2. North Americana writ large, one might say.
Good to hear the orchestra in its home, too. The previous evening's concert, outdoors at the Olympic stadium, had suffered from difficulties of amplification, whatever its (wondrous) musical qualities. But here, the Montréal sound was audible in all its glory – transparent, certainly, but with firm bass and with no lack of body.
Born in Trois-Rivières, Québec, French-Canadian composer Jacques Hétu (1938-2010) had a varied musical journey, encompassing Henri Dutilleux at the École Normale de Musique in Paris and Messiaen at the Paris Conservatoire; he also taught at Montréal and Laval Universities. If the general reader knows anything of him, it is his 1966 Piano Variations Oo.8, as they were taken up by one Glenn Gould.
The Op.76 Légendes (Alexis le trotteur. Le diable au bal. La chasse-galerie) is a beautiful, finely constructed and orchestrated set of pieces. The acoustic of the Maison symphonique allowed for all detail to come through in the very rhythmic first movement. Just as fascinating is the central Le diable au bal, which, while it begins warmly atmospheric, moves towards a vocabulary in which the lines as skewed by dissonance. The movement is also something of a showpiece for the woodwinds, and how the Montréal players shone, spiky flutes and oboes in particular impressive. In the finale, it was Payare's delineation of texture that impressed the most. This is complex music that could easily sound congested, and yet here clarity was paramount, each and every line crystal clear yet with no lessening of gestural impact.
If you can find it, a Centredisques release of a documentary about – and music by – Hétu came out in 2002 (sadly it is no longer listed on that company's website).
The packed-out audience clearly showed its appreciation for this fine performance. The Gershwin Rhapsody was perhaps less convincing. Venezuelan-Argentine pianist Sergio Tiempo's first entrance felt too quiet, a misjudgement perhaps as his next was too loud. Interpretatively, too, the reading felt unsettled, with rather too much point-making. It was the orchestra that triumphed, a wha-wha mute encouraging laughter form the audience, the opening clarinet solo deliciously elongated (Todd Cope). No doubting whatsoever Payare's grasp of the score.
The Danzón No.2 by Márquez was the slinkiest of closing numbers, the clarinet once again shining before the full orchestra joined in the celebrations. A perfect example of how discipline (so clearly already a Payare trademark) works wonders in this repertoire, staccato brass chords perfectly together, a spicy condiment on the ongoing legato line.
Slightly fewer people converged on a programme of Wagner and Korngold. But it was here where the true gold lay. Payare has a habit of finding just the right tempo for the music he conducts, and the Siegfried Idyll was no exception, the opening hyper-affectionate and yet with just the right momentum. The combination of detail in tandem with structural overview is a Payare characteristic (one only needs to listen to his Montréal Brahms First Symphony and Bruckner Seventh on medici.tv to appreciate this) and here it led to simply luminous Wagner.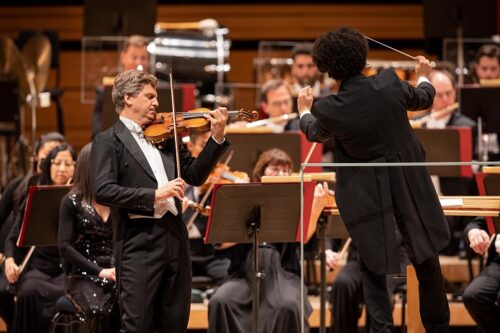 Finally, and by no means least, Korngold's spectacularly beautiful Violin Concerto in the hands of one of the finest violinists around today, the Canadian James Ehnes. Despite a massive amount of positive press, Ehnes still seems not to have been accorded the international recognition he deserves. He is understated on the concert platform, clearly serving the music itself. He understands Korngold supremely well, his simply gorgeous sound (on display from the outset) fully at the service of Korngold's long, lyrical lines. All credit to him, and to Payare, for refusing to allow Korngold's lush music to degenerate into filmic schmaltz – instead, we heard an impassioned masterwork. In contrast to the Gershwin, this was two minds, soloist and conductor, as one. Ehnes has an easy virtuosity – by which I mean he does not draw our attention to it, yet every note is supremely articulated, even at high velocity, and each note is perfectly in tune. The movement's coda was impeccably on the ball; the solo cadenza earlier in the movement gripping from first to last.
The central Romance was spun of the finest silk. Ehnes's top register is so sweet with not one touch of shrillness, perfect for this outpouring. Again, emotion and line were in perfect accord, a violin and bassoon duet a highpoint of the concerto's central song before the fiercely fast Allegro assai vivace finale, with woodwind perfectly on point, found virtuosity and humour bound together (Korngold loves to set up a perceived ending here and repeatedly confounds our expectations).
The Korngold was simply phenomenal – indeed faultless.
These concerts were part of the Virée Classique 2022 festival, from August 10-14. Events occur not only in Maison symphonique, but also in the huge indoor shopping centre nearby (Complexe Desjardins), the Rue Sainte-Catherine and more besides.
Colin Clarke