United States Santa Fe Opera 2022 [3]: (HS)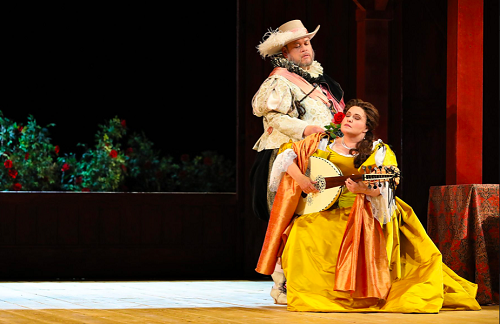 4.8.2022: Verdi, Falstaff: Soloists, Chorus and Orchestra of Santa Fe Opera / Paul Daniel (conductor), Crosby Theater, Santa Fe, New Mexico.
Production:
Director, Sets & Costumes – Sir David McVicar
Lighting – Lizzie Powell
Choreographer – Andrew George
Cast:
Falstaff – Quinn Kelsey
Alice Ford – Alexandra LoBianco
Mr. Ford – Roland Wood
Nannetta – Elena Villalón
Fenton – Eric Ferring
Dame Quickly – Ann McMahon Quintero
Meg Page – Megan Marino
Dr. Caius – Brian Frutiger
Pistola – Scott Conne
Bardolfo – Thomas Cilluffo
5.8.2022: Wagner, Tristan und Isolde: Soloists, Chorus and Orchestra of Santa Fe Opera / James Gaffigan (conductor).
Production:
Directors – Zack Winokur, Lisenka Heijboer Castañón
Sets – Charlap Hyman & Herrero Company
Costumes – Carlos J Soto
Lighting – John Torres
Projections – Greg Emetaz
Cast:
Tristan – Simon O'Neill
Isolde – Tamara Wilson
Brangäne – Jamie Barton
Kurwenal – Nicholas Brownlee
King Marke – Eric Owens
Shepherd – Dylan M. Davis
Sailor – Jonah Hoskins
Melot -Eric Taylor
Steersman – Erik Grendahl
Of the five new productions in this summer's Santa Fe Opera season, three were brilliant and two were not. Thursday's juicy Falstaff joined Monday's madcap The Barber of Seville and Wednesday's insightful M. Butterfly (review click here), but Friday's stark Tristan und Isolde, like Tuesday's muddled Carmen, proved once again that star singers don't always make for the most satisfying night at the opera.
The Tristan cast boasted the glorious Wagnerian soprano Tamara Wilson and the always magnificent mezzo-soprano Jamie Barton, but an ugly production and awkward staging dragged down Santa Fe Opera's first go at a Wagner opera since 2008.
Quinn Kelsey may be well on his way to the recognition he deserves for major Verdi roles, but Sir David McVicar's production of Falstaff mined the music and the jokes to produce a vigorous frame for the bass-baritone's portrayal. The whole thing had all the vim and flamboyance one could want.
McVicar directed and did the scenic and costume design. The set is built around a unit with staircases, a balcony and oak balustrades that recalled Shakespeare's Globe Theatre. With the first notes, Falstaff rolled out in a gigantic bed from upstage. His henchmen, Bardolfo and Pistola, slid out from underneath, and a page boy and a wench emerged from under the covers. And off we went.
A wealth of stage details added to the fun. Dame Quickly pulled out her knitting during her conversations with Falstaff, and the page boy reappeared regularly to create paternal moments with him. Over the course of the evening Meg Page, sung and acted with zest by mezzo-soprano Megan Marino, became much more than the necessary fourth for an ensemble.
She was the most eye-catching of a wonderful array of singing actors. The luxurious soprano Alexandra LoBianco as Alice, Falstaff's first target to woo for her husband's money, invested the character with the vocal presence needed. Mezzo-soprano Ann McMahon Quintero created a wily Quickly and anchored many of the tricky ensembles. Elena Villalón's creamy soprano floated all the right ear-soothing notes in Nannetta's scenes with Fenton (a sweet-voiced Eric Ferring). Her ravishing call to the fairies in the final act stopped the action beautifully.
Roland Wood's resonant baritone made the most of Mr. Ford's aria, 'È sogno? O realtà?' Bass Scott Conner's Pistola and tenor Thomas Cilluffo's Bardolfo milked all they could out of their characters.
At the center was Quinn Kelsey, whose easygoing stage presence led the way. Wearing one of the biggest fat suits on the rack, he used his bulk and booming voice to dominate the other characters and add extra dimensions to all his arias, ariettas and scenes.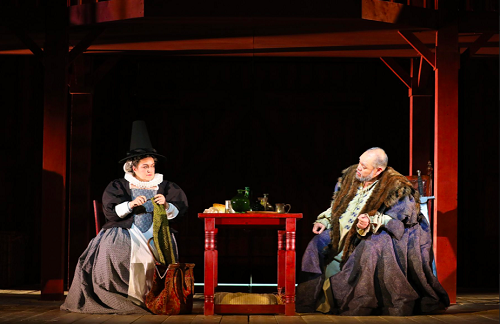 If the oversized masks and costumes for the final scene at Herne's Oak looked more like a British pantomime than what villagers in Falstaff's time might have cobbled together, they tormented the fat knight appropriately enough. And, like all the other ensembles, the final fugue went off with impressive cohesion. In a last nod to The Bard, the entire cast sent the audience off with a sort of Broadway kick line, danced with Elizabethan grace.
Positive aspects of a deeply uneven Tristan und Isolde managed to prevail in the end – almost literally, as soprano Tamara Wilson delivered a superb 'Liebestod' in the wee hours of Saturday morning to bring things to a ringing climax. But instead of having her collapse serenely as most sopranos do, this misbegotten production opened the drab grey walls that had hemmed in the singers for much of the previous four hours, and she walked upstage into darkness, only to glow white and gold in an eerie light as the final measures played.
And there, in a nutshell, was the problem. Despite the best efforts of the cast, led by Wilson and Barton and beautifully supported by the conducting of James Gaffigan and impressive playing by the orchestra, they were done in repeatedly by numbing direction and sets. Scenic designers Charlap Hyman & Herrero Company assembled a collection of intersecting walls with holes for doors, folding in sections to suggest Isolde's quarters on the ship in Act I, King Marke's castle 'garden' (which consisted entirely of a fallen tree trunk) in Act II and Tristan's home in Act III. The sets resembled a child's paper cutout project.
Carlos J. Soto's risible costumes did nothing for the dignity of the characters. Isolde's sculptural red hair looked like a bicycle helmet, King Marke's plush robe and streaky hair resembled a caricature and made him look silly, and Tristan's ill-fitting armor and undergarments did not help. Some of the minor characters might have escaped from a Monty Python skit.
Directors Zack Winokur and Lisenka Heijboer Castañón gave the singers little to spur their interactions beyond clumsy blocking and actions that were wrong for their body types. We have all seen productions in which plus-size singers could suggest the passion of lovers or engage in a physical altercation. Not here.
Fortunately, the musical side was generally strong. Barton's Brangäne was a marvel of richly polished legato and incisive inflection, an ideal companion to Wilson's clarion soprano that made each of her spotlight scenes memorable. Eric Owens' perfectly placed bass gave King Marke the dignity that his costume could not and made his every scene glow.
Among lesser roles, Nicholas Brownlee was a standout in his Santa Fe debut. He revealed a powerful baritone as Kurwenal – a savory preview of what he might do in next season's The Flying Dutchman here.
The outlier among the leads was tenor Simon O'Neill, an accomplished Wagnerian who can still sing tirelessly. The vocal sound, however, was not pretty, its harsh metallic quality more suitable for a villain than a hero. Although he could shape a lyric phrase when called for (mostly in Act III), the louder he had to sing the more his strident and hard-edged sound grated on the ear.
Gaffigan, a conductor with unlimited versatility, brought a high level of energy and physical communication to the score. Though less expansive than what we usually hear, the music brimmed with subtle phrasing, created consistently elegant balances with the singers and drove home the power of Wagner's music without going over the top.
Harvey Steiman