Sweden Verdi, Un ballo in maschera: Soloists, Chorus of Opera på Skärets, Swedish Chamber Orchestra / Lorenzo Coladonato (conductor). Opera på Skäret, Kopparberg, Sweden, 30.7.2022. (GF)
Production:
Director – Alexander Niclasson
Set designer – Sven Östberg
Choreographer – Per-Birger Stenudd
Costume designer – Sigyn Stenqvist, Caroline Romar
Lighting designer – Kevin Wyn-Jones
Assistant Director – Ida Gudim
Chorus master – Sten Niclasson
Cast:
Gustav III – Paolo Lardizzone
Amelia – Kseniya Bakhritdinova-Kravchuk
Anckarström – Valdis Jansons
Ulrica – Siv Misund
Oscar – Giulia Bolcato
Ribbing – Albin Ahl
Horn – Zaza Gagua
Cristiano – Marcus Bartoletti
The Judge – Thomas Bärlin
Amelia's Servant – Sebastian Hedlund
'We are rebooting' says Opera Director and Founder of Opera på Skäret, Sten Niclasson, in his foreword to this year's programme book. After an unintended break of two years, caused by the pandemic, they are back on track again, but financially it has been a tough time, and Niclasson expresses his deep gratitude to those who have supported Opera på Skäret and made it possible to survive. Now it's business as usual again, but the great project for 2020 and 2021, Turandot, had to be abandoned, to the regret of artists and audiences alike. Instead, a Swedish version of Verdi's Un ballo in maschera has been launched. It was the composer's problem child and had to be rewritten several times, because the Italian censors would not accept the murder of a king on an operatic stage. This reading took us back to Verdi's original thoughts, with a few elements from Erik Lindegren's Swedish translation inserted to make the story more believable.
As usual the cast is very international, with singers from eight countries. When Opera på Skäret invite singers to audition in the autumn they receive hundreds of applications from all over the world, and from this plethora of talent they must single out suitable candidates for the two casts that alternate during the month-long run of the production – a delicate matter, to be sure. Hitherto they have successfully managed to put their money on the right horses, and this year's edition is no exception – if anything, a greater success than ever before. More about this to follow.
As regular readers – or visitors – will know, the technical resources at Opera på Skäret are limited. There is a turntable that can create various background settings, but otherwise the sets are neutral, and this is compensated by costumes and various props. This year the costumes are particularly spectacular and lavish. Since historical facts tell us that King Gustav was shot on 16 March 1792, the costumes are typical of that period, but not necessarily slavish copies. For instance, the fabrics are contemporary, but seen from a distance they can easily pass for the real thing. The designers have gone all out, and when the whole ensemble lines up at the curtain calls you notice the ladies in their wide panniers (the protruding hip pads that were in vogue at the end of the eighteenth century) and the lavish colours, which also serve as 'a marker of status and affiliation'. The King is in silver-white and his page in white, Amelia and her servant wear yellow, the conspirators brown.
As to the storyline, historical facts are often distorted. There is no evidence that the real Gustav had a love affair, so the motive for his assassination had nothing to do with jealousy but was strictly political, and Anckarström was not a close friend of the King (even though he was the one who fired the pistol). But an opera without a love affair was inconceivable and the grand love duet in the second act, at night on the gallows hill, is the best music in this opera and arguably Verdi's greatest love duet of all times.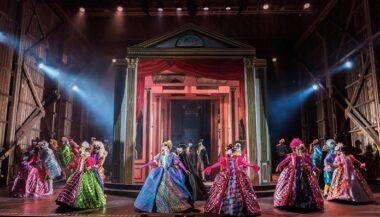 As is his usual habit, Alexander Niclasson has created a taut drama that unavoidably leads to the tragic end. When it dawns upon Anckarström that his suspicions of Amelia's unfaithfulness are unfounded, it is too late. Gustav has time to explain his ambitions and forgive all involved in the conspiracy before he breathes his last sigh. In reality he lived another two weeks.
Of the two casts assembled for this year's production, I was only able to hear the first, due to other commitments, but I know that the company tries and succeeds in making them as evenly balanced as possible, so readers who still haven't made up their minds can rest assured that whichever cast they will see will be top notch. There wasn't a weak link in the one I saw – in fact all links were super-strong. Beginning with the pit, it was populated by the Swedish Chamber Orchestra, which is a guarantee for world class playing. And under the distinguished leadership of Italian maestro Lorenzo Coladonato (who graduated from the Verdi Conservatory in Milan) they delivered a Verdi reading that was both refined and robust. The chorus, consisting mostly of highly qualified amateurs, have always impressed me greatly. Thirty singers sounded like double the number – not least thanks to the imposing basses – and the acting was also distinguished. Among the soloists, the Golden Palm goes to Ukrainian soprano Kseniya Bakhritdinova-Kravchuk as Amelia. Having been a soloist at the National Opera of Ukraine in Kyiv since 2016 she has also appeared in a number of European countries, but at present she is a refugee in Sweden. Hers is a magnificent lirico-spinto voice that rings out gloriously with dramatic intensity but also expresses softer feelings with marvellous pianissimos. Her two arias were masterly, and her touching 'Morrò, ma prima in grazia' cannot have left anyone in the audience unmoved. She was just as excellent in the scene at the gallows hill, which here looked more like a Greek temple. Passion flowed and Amelia almost over-shadowed Gustav in vocal power – but only just. She is also a convincing actor, and her stage presence charmed the whole audience.
Excellence of the same calibre was shown by Latvian baritone Valdis Jansons as Anckarström. He has been seen and heard at Opera på Skäret before. In 2015 he was Germont in La traviata and two years later he sang Rodrigo in Don Carlo, but unfortunately I saw the other cast on both occasions. Now, in his third Verdi role, I was deeply impressed with his dramatic acting and magnificent singing. His big set piece, 'Eri tu', was formidable but skilfully nuanced and made Anckarström stand out as a three-dimensional character, not just a cardboard villain.
Italian tenor Paolo Lardizzone as Gustav had an agreeable voice and sang the love theme, 'La rivedrà nell'estasi' with lyrical glow and the required 'ping' up high. He was utterly convincing in his main aria and his death scene was moving. His page, Oscar, should be a lively and charming youngster with glittering coloratura, and young Giulia Bolcato as Oscar was exactly that. Now that is what I call stage presence!
The fortune teller Ulrica, regarded as a sorceress by some, rules in a world of darkness, and young Norwegian mezzo-soprano Siv Misund's dark tones provide a feeling of witchcraft. She has both Amneris and Azucena on her CV, so she is well-equipped for Ulrica. Ribbing and Horn – Samuel and Tom in the Boston version, which for many years was the only version that was played – were excellently sung and acted by Albin Ahl and Zaza Gagua, while Marcus Bartoletti – born in Stockholm in spite of his Italianate name – was a lively Cristiano.
There were standing ovations, which seems to happen almost everywhere these days, no matter how mediocre the performance. Here they were exceedingly well-deserved. Lovers of Verdi should make a pilgrimage to Opera på Skäret this August. But hurry, tickets are in short supply.
Göran Forsling