United Kingdom Edinburgh International Festival 2022 [15] – Bach's Brandenburg Concertos: Musicians, Richard Egarr (harpsichord / director). Queen's Hall, 27.8.2022. (SRT)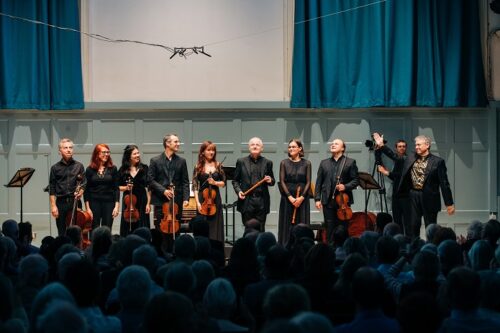 Musicians:
Richard Egarr – Director, Harpsichord
Bojan Čičić – Violin & Violino Piccolo
Rachell Ellen Wong – Violin & Viola
Ruiqi Ren – Violin
Alfonso Leal del Ojo – Viola
Kyle Miller – Viola
Manami Mizumoto – Viola
Joseph Crouch – Cello
Gavin Kibble – Cello, Viola da Gamba
Jonathan Rees – Cello, Viola da Gamba
Margaret Urquhart – Violone
Rachel Brown – Flute
Robert Ehrlich – Recorder
Emma Reynaud – Recorder
Priscilla Herreid – Oboe
Bethan White – Oboe
Carles Cristóbal – Bassoon
Nicolas Roudier – Horn
Isaac Shieh – Horn
David Blackadder – Trumpet
Only ever once previously have I experienced all six Brandenburg Concertos in one concert, and I didn't really enjoy the experience. That is partly because they are actually quite a lot to swallow in one sitting, something that might surprise you considering that we live in a world after Mahler, Bruckner and Wagner. It is also because the last time it happened the conductor took a different approach to each concerto – some had vibrato, some didn't etc – which begs the obvious question of why he bothered doing them as a set in the first place.
Then along came Richard Egarr and blew my doubts away. As I mentioned earlier this week (click here) he is a fantastic communicator as well as a great musician, and his affable commentary before each concerto gave it a context as well as some explanatory colour. I learnt several new things about music I have known my whole musical life, but it was never drily academic; instead it all grew out of the love of the music. He explained beautifully the numerology behind No.3, for example, but concluded by saying that it was 'the most headbangingly rock and roll piece'. That is my kind of musicology!
As you can see from the cast list above, this wasn't a performance from a pre-existing ensemble. Instead Egarr had assembled a list of elite soloists hailing from four continents, each of whom is probably a leading expert in the instrument they played. There are endless opportunities to display that when you are hearing all the Brandenburgs, and not one was wasted here. I loved the earthy horns that burst uncontrollably through the surface in No.1, the alluring flute in No.5, the gleaming trumpet line in No.2 which was as precise as a pinprick, and the dancing recorders of No.6, to name just a few examples.
I don't know how much time an ensemble like this one would find to rehearse in a festival environment like Edinburgh's, but they sounded as tight as though they had been doing this for years. Egarr himself was the presiding genius in the middle, of course, shaping each concerto persuasively and letting everything breathe. The miniature dance suite that ends No.1, for example, had a marvellous sway and individual colour where every repeat was observed but none was ever the same. He balanced they two halves of No.6's ensemble so that the violin played love music while the lower instruments churned out bumpy crotchets, and there was an enticing sense of the ensemble winding down before the harpsichord's big cadenza in No.5.
It is still rather a lot to consume in one sitting, especially when you factor in the inter-concerto podium banter but, this time around, I am enormously glad I experienced it. It is the grandest conceivable finale to the Edinburgh International Festival's Queen's Hall season this year. Tellingly, perhaps the biggest applause of the morning came when Egarr said thank you on behalf of the artists and audience to Fergus Linehan, the EIF's outgoing director who, for once, was sitting in the front row. It is appropriate: Linehan has moved the festival's focus away from esoteric themes and back onto letting great artists do what they do. Let us hope that the new director, Nicola Benedetti, is similarly wise.
Simon Thompson