United Kingdom BBC Proms 2022 [23], Prom 51 – Lalo, Brahms, Franck: Daniel Lozakovich (violin), BBC Symphony Orchestra / Fabien Gabel (conductor), Royal Albert Hall, London, 25.8.2022. (MBr)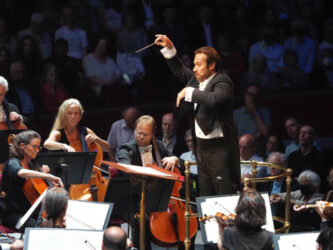 Lalo – Le roi d'Ys – overture
Brahms – Violin Concerto in D major
Franck – Symphony in D minor
Earlier this year I reviewed Daniel Lozakovich's recording of Beethoven's Violin Concerto made – with the now unmentionable – Valery Gergiev. He was nineteen at the time and it was a performance which I thought very much looked back to the big interpretations and great violinists of the past. His one encore for this BBC Symphony Orchestra concert – Lozakovich's Prom's debut – was Nathan Milstein's Paganiniana and it is not coincidental that the often-overshadowed Ukrainian-American Milstein is one violinist whom Lozakovich so clearly resembles.
They most share a wonderful aristocratic sound – and that you either have or you simply don't; you cannot be taught it. There is an effortless, unbroken purity to Lozakovich's tone – in part, I think, because his career has never been stressed by the endless competition circuit (rather unique these days, something shared, of course, by Evgeny Kissin). With Lozakovich he is already speaking in soliloquys rather than simply playing the notes – his recordings and concerts have outsized maturity. A few years ago he seemed more formal, more conventional and conservatively groomed, on the concert stage and the Beethoven concerto seemed unfashionable – although no less superb for it – by today's standards. But Lozakovich is so clearly a protean young man, and a restless one. Wind forward a couple of years and he cuts a more tousled figure, an almost Paganinian one. His tastes may remain Apollonian – as Milstein's would always remain – but Lozakovich embraces Apollo, the Greek god of archery, in another way: watch him play, with his body so artfully curved, and he often holds his violin at an extraordinarily high angle; it looks uncannily like a bow and arrow.
The Brahms is, of course, a big work – a very big one. The violin's very first entry is almost on a mini cadenza with arpeggios and double-stops – just a hint of what is to come. I have often found many soloists to be far too gritty and overbearing at the entry of the violin – in large part, in my view, because this concerto simply sounds better not played on a Stradivarius (Lozakovich did play it on one). He managed to be neither of these; indeed, he even managed to bring crystal-cut brilliance and beauty to the triple-stop chords we hear a tad later. The top E here was so rock solid it could have been carved out, though hardly from stone. As with so much of Lozakovich's playing the sheer beauty of sound – the way the bow never quivers or scrapes against the string – comes from the smoothness – yet firmness – of fingering. Here we should look back to another giant of the past – Mischa Elman.
In one of the most distinctive passages of the concerto – just before the recapitulation – Brahms asks for the soloist to play a series of wide two-note leaps bowed across bar lines, which he repeats five times. I wish perhaps that Lozakovich had dug deeper here, that his tone had been just a touch darker not least because it would have made for greater contrast in moments where his tone was so refined. You would be hard pressed, for example, to find a better played cadenza – long paragraphs where the punctuation was so spot on, where the vocal control was so precise and yet so creative. Double stops were nailed with a single blow, and in trills Lozakovich could effortlessly descend three octaves and climb two with peerless ease. Dotted rhythms were pinprick sharp. But the technique was secondary – intensity was carefully built up, there was never any question that we were hearing different levels of expressiveness in the flourishes. In the coda, and with his violin aimed high like that arrow, his playing close to the bridge became ultra-pure, although never in danger of being squeezed under pressure.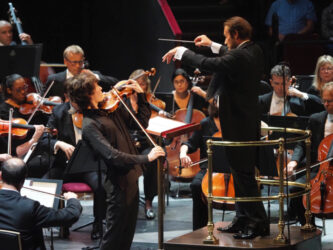 Lozakovich is clearly not a violinist who minds one iota that Brahms wrote the Adagio with the first theme's long melody given over to the oboe. This was less a conversation – or, in the case of Heifetz more a withering argumentative battle – and more an act of communion, even confession. The oboe has responded with earlier gestures, with the flute, clarinet and horn and now the violin takes up the melody in its most lofty and ascending way. Lozakovich was beyond beguiling here – the firmness of his top notes forged like iron, and yet without any vibrato to hint at uncertainty around its casting. This Adagio almost felt as if it was burning in a furnace – the orchestra sometimes sounding a little like smouldering coals as Lozakovich's violin ignited the flames with matches here and there. There was often no lack of emotional intensity here and as is common with Lozakovich in slow movements no sense he was hanging fire either. Tempi edged on the fast side, but Lozakovich is not a poet to trip over his words just because he bows faster.
The Rondo seemed to sweep through like horse-riding Magyars. Although the reins were firmly held in his hands, Lozakovich had immaculate syncopated leaps, double and triple stops and fabulous pizzicato. But there was no ambiguity to the way in which he phrased the pastoralism or jauntiness of the music, nor sidestepped what the solo instruments in the orchestra were doing either. Lozakovich brought rhapsodic intensity to this Rondo and rather more Hungarian shimmer than one might have imagined from a rather frigid – and perhaps rather Swedish – Prokofiev Second I had heard earlier this year.
It would, I think, be a mistake to see Lozakovich's Brahms (at least as he plays it as a twenty-one-year-old) in the context of how one might expect to hear this concerto. It didn't seek to exploit a huge depth of sound as some performances do – and are weighed down by. Nor did it go to massive lengths to sound overly Romantic. It was, however, almost icily perfect, but only in the sense that what we heard was so exceptionally clear and crystalline. It could have been stripped down and been just all bone but Lozakovich doesn't do that; he has a firebrand's tendency to play this work from within a furnace so it is white hot. Some may have found what they heard a touch metallic but it is molten metal being shaped into something. His playing is extraordinarily beautiful – but you never hear a forced or ugly sound from him. Never. I have described him previously as being an 'anti-virtuoso' violinist and this performance only confirmed that. He places his technique at the service of the music, and it was clear his rapport with the BBC SO – not the easiest of orchestra's to please – was well matched. Although this performance was played in the vast space of the Royal Albert Hall, much of it felt closer to the intimacy and personal touch you might experience at Verbier. It takes a special violinist to achieve this.
It was welcome that his encore should be something other than Bach or Ysaÿe, normal staples for Lozakovich. The Milstein Paganiniana felt just a little eerie. It recalled so closely the violinist himself – the silvery tone, the assured fingering, the wonderful elasticity of bowing, and the kaleidoscopic range of colour. It was both effortless and fabulous and not in the slightest showy, even if the music so clearly is. Lozakovich is one of the most gracious and understated of violinists; his performances if remaining entirely contemporary are a very distinctive reminder of the great ones of the past, however.
The other two works – both French – have fallen into, if not obscurity, then out of favour over recent decades. Franck's D minor Symphony was last played at the Proms twenty-years ago – and my companion for this concert, a widely experienced concertgoer, told me had never heard a live performance of the symphony. It is undeniably a long symphony – getting on for forty minutes – but it can sound many, many minutes longer than that in performances that get lost along the way. My own view is that, a bit like Schubert with his 'Unfinished", Franck should have just stopped writing this symphony after the first movement. It is a magnificent piece of music and the composer couldn't possibly have hoped to have matched it for the rest of the symphony – and he didn't, even though there are only two movements that follow.
Fabien Gabel and the BBC SO made much of this powerful Lento. It needs dark, brooding and powerful strings and we largely got them. But this is music that can border on the precariously boring – Franck was even more honed in on the organ as an instrument than Anton Bruckner, and the D minor is an overwhelmingly chromatic symphony. Gabel ensured the brass were prominent – and the BBC SO's were both ringing and golden in tone. Tempi were not overly swift, but nor did they drag this movement towards the kind of musical cliff where audiences fall into comas.
The two remaining movements need rhythmic energy – or something approximating to that. Gabel's scherzo in the Allegretto had a genuine smell of vinegar to it – it felt sharp, spicy it even pinched you once and a while with its spritely attempt to get some speed going. Fused with the more lyrical passages, however, it felt under strain, just a little out of place. The important thing was Gabel and the BBC SO had kept the music pressing forward in the direction it was supposed to be going. The final movement returns somewhat to the darker hues of the first although there is more buoyancy. Here we got pungent, dark and chocolate rich playing from the BBC SO.
The opening work, Lalo's Le roi d'Ys overture hadn't been heard since 1935. Composed over an inordinately long period of time (1875-88), the work owes a great deal to Wagner – although it is a magpie of a piece pinching inspiration from Tristan und Isolde and Tannhäuser to name two. The BBC SO had really begun the performance on such superb form with some great string playing – and this was to be the hallmark of this concert. Woodwind, so prominent in this overture, were also deliciously evocative and another clue as to the quality of the BBC SO's quality. The overture is unquestionably powerfully written but on this occasion the music mattered so much less than the quality of the performance itself, despite the unfamiliarity of the former.
This had been a concert with one indisputable masterpiece and two neglected works. It would have been very easy for the concerto to have overwhelmed the soloist and for the orchestra to have simply been lazily disinterested in the overture and symphony. Neither of these things happened. We got a concert with a BBC SO on magnificent form, masterfully guided by the French conductor Fabien Gabel, and a concerto where although the soloist was very much a servant to the music, he produced a performance that was both statuesque and a distinct creation of his personality. This was a concert that was rare for its high artistic quality in a Prom season that has sometimes been short on it.
Marc Bridle