United Kingdom Edinburgh International Festival 2022 [12] – McMillan and Mahler: Linda Watson (mezzo-soprano), Ladies of the Edinburgh Festival Chorus (chorus director: Aidan Oliver), RSNO Junior Chorus (chorus director: Patrick Barrett), Royal Scottish National Orchestra / Thomas Søndergård (conductor). Usher Hall, 23.8.2022. (GT)
McMillan – For Zoe (world premiere)
Mahler – Symphony No.3 in D minor
To hear Scotland's leading orchestra play Mahler just a couple of a days after hearing the Czech Philharmonic Orchestra play Mahler's Seventh Symphony offers up the thought that our orchestra is approaching the highest levels of musical performance. Steadily the Royal Scottish National Orchestra has been developing both in technical standards and importantly in levels of interpretation. During Peter Oundjian's six years with the RSNO he ensured a secure technical virtuosity in individual playing but most crucially in ensemble performance. Hearing Thomas Søndergård's direction on this evening revealed that Scotland's musicians are on a level with their Czech colleagues; the brass and woodwind section are brilliant coupled with sumptuous strings and electrifying percussion, although they provide a more universal sound picture than the Czech's uniquely central European sound.
The first piece in the programme was an elegy to the RSNO cor anglais Zoe Kitson who died earlier this year at the age of only 44 years. The beautifully written piece for cor anglais played by Henry Clay was heard against shimmering strings set the mood well for what we were about to hear.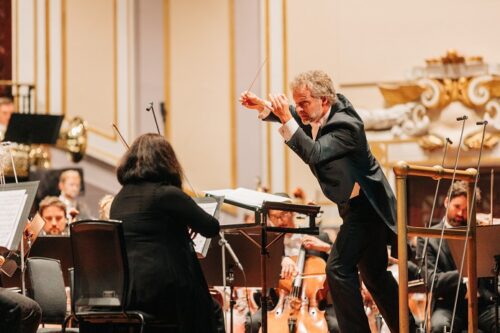 Of course, to perform one of the most challenging symphonies in the repertoire is where an orchestra can reveal its genuine potential and here at the Edinburgh International Festival, the RSNO ensured a triumphant success with its Mahler. The first movement opening on the brass chorale heralded a great moment and countered by the trumpets there was a hint of a rather Wagnerian idea – the idiom was forbidding and overwhelming with the thumps of the timpani – quickly switching to a dramatic mood in the woodwind and strings.
Suddenly we heard a wonderful trumpet solo by Christopher Hart, leading to an enlightened theme from the woodwind and a graceful solo violin from Maya Iwabuchi and a march on percussion and glorious brass in a bright cheerful passage joined by the whole orchestra in an upbeat passage. There came a glorious culmination of triumphant joy with Timothy Orpen's clarinet solo against the strings in a magnificently joyful march on woodwind, brass and percussion – prompting a kinship with Ives – before returning to darkness and Wagnerian-like themes, from timpani, woodwind, brass and strings, as well as another glorious trumpet solo, all opening up boundless images of glory.
In the second movement, we heard a dazzling oboe solo from Adrian Wilson and supplemented by a bright theme on the woodwind offering glorious harmonies and well supported by appealing strings lending a sound picture of waves breaking softly against the seashore, with colourful woodwind playing and another solo from Iwabuchi before her idea was picked up by the woodwind and the luxurious violins.
The third movement opened with lively woodwind, creating images of birds in the forest and spirited concord on the strings. The solo trombone of Simon Johnson (in place of the flugelhorn) generated extraordinarily glorious playing helped by the flute of Katherine Bryan, and Wilson on oboe. This glorious sequence of playing was continued on solo trumpet by Hart and again by Johnson on trombone. This was a glorious passage suggestive of nature and ended by Paul Philbert on the timpani.
The fourth movement – inspired by Nietzsche's Zarathustra ('O Man! Take heed!') – opened with a mysterious idiom and abruptly the voice of Linda Watson's intoning 'O Mensch!' entered as if from the depths of the earth. She was assisted by a disquieting idiom on the violins before a fresh idea on strings brought optimism – echoed by the solo horn before Watson reprised 'O Mensch!' assisted in a moving passage from Iwabuchi's violin and Wilson's oboe.
The children's choir brightly opened the fifth movement 'What the Angels Tell Me' accompanied by church bells performed by Graham Johns and the ladies chorus transporting the audience into blissful enlightenment, and once more we heard Watson's alto cadence assisted by noble phrasing on the strings, bells, and chorus in a charming dedication to humankind and nature.
The sixth movement opened on the strings with graceful nobility and grandeur before a theme from Wilson on oboe hinted at Bachian idioms. Accompanied by the horn and violins aspired to a new world of harmony yet interrupted by the strident trumpet it led to an intense and passionate section with the brass chorale suggesting at a glorious finale. We heard terrific blows on percussion against unnerving strings and a brass chorale rising to splendour and glory on timpani and strings with the brass joining in a great momentous climax of humanity and joy on timpani.
This was an extraordinary performance in which the Danish maestro masterminded a memorable performance of this infrequently heard symphony. Once more we are fortunate to have such splendid choruses maintain such great authority in choral singing. The success on this evening was most of all due to the RSNO's Music Director Thomas Søndergård – we are blessed to have this masterly conductor and interpreter here in Scotland.
Gregor Tassie