United Kingdom BBC Proms 2022 [11], Prom 20 – Birtwistle, Ravel, Xenakis, Stravinsky: Tom Borrow (piano), BBC Symphony Orchestra / Martyn Brabbins (conductor). Royal Albert Hall, London, 31.7.2022. (MBr)
Birtwistle – Sonance Severance 2000
Ravel – Piano Concerto in G major
Xenakis – Jonchaies
Stravinsky – Sacre du Printemps
There is a mystery in Sacre du Printemps – or is it one of Stravinsky's little jokes?  The final chord (from low note to high) on the double basses spells D-E-A-D, but as in what – the end? The final stroke? As with the impact of an executioner? It is a mystery, but I have sometimes thought of it as the beginning of where a performance has taken us to that very last moment.
Some performances of Sacre du Printemps are so inexorable that when they reach this point – even though Stravinsky was unsure of it – the moment is quite shattering. The majority of performances, however, come nowhere near it. Jean Martinon used to embrace this point with such violence one thought he was marching into the abyss – but the orchestras who played this score for him hurled their way through it with a sense of destiny. James Levine sometimes did this, and at his most thrilling (at least once with the Philharmonia Orchestra in the 1990s) so did Pierre Boulez. So where did Martyn Brabbins – apparently a bit of a newbie to the work – go so wrong?
In part his tempos were just lugubrious. This isn't always a problem – 'The Sacrifice' is normally the longer of the two parts (except for Jean Martinon who normally balanced both parts equally). The slow – and opaque – opening, with a bassoon solo that quivered a touch nervously, felt like an old Spring we had visited many times before; there was little sense of the birth of the renewal here. 'The Auguries of Spring' lacked attack and sharpness – or, like T.S Eliot describes it 'Like a patient etherised upon a table'. Ironically, no matter how sterilised he made the strings sound, and the BBC Symphony Orchestra sounded uncommonly beautiful in that strange neutrality when I wanted the opposite, the timpani were outstanding: hard sticks were gratifyingly savage, Güiro's (sometimes optional in this work) were audible and tribal, even the bass drum had a dense power that evoked more terror than usual. But 'The Sage' felt held back a little, and when 'Dance of the Earth' arrived crescendos may have been huge, the power – especially from the tam-tam – cataclysmic but it never felt truly violent.
If the opening of Part II does begin in mystery there is a difference between it being shrouded in it rather than smothered in it. Brabbins was at his most balletic here but it seemed interminable. That it wasn't just boring proved something of a masterstroke: the playing was extraordinarily velvety and graceful, but it was an indulgence. Perhaps a deliberate one because when 'Glorification of the Chosen Victim' arrived the illusion was well and truly shattered. Brabbins isn't an originalist here – he pretty much falls into the 120bpm camp – so not at the extreme of Levine (around 65bpm) or Boulez (around 145bpm, in some of his later performances). There was just an inkling that the performance had begun to run out of its all-important steam as it got to the end of 'Ritual Action of the Ancestors', even though the BBC SO had rarely been put through the grinder.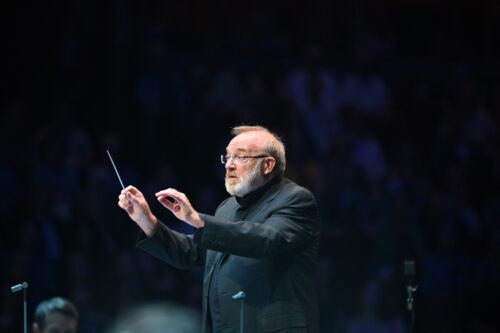 'Sacrificial Dance' is where most performances run into difficulty. Brabbins handled this better than some conductors I have heard although one might have been slightly rattled by his tendency to exploit the power of his orchestra over the sheer thrill of what Stravinsky intended us to hear. It seemed entirely typical of a performance that strayed outside the norm, that struggled to be one thing or another but found an orchestra in exceptional form. If this hadn't been by any means your standard Sacre du Printemps nor had it been a great one.
Where the BBC SO's quality of sound had been used to such ravishing effect was in the Adagio of Ravel's G major Piano Concerto. Played by the 22-year-old Tel Aviv-born pianist Tom Borrow, you could have heard a pin drop during much of this movement. In some performances the Adagio can sound overworked but not in this one. Borrow was simply hypnotic, his playing not so much to be confused with delicacy of touch but rather a willingness to bring infinite expression to each and every note. The unaccompanied opening had been compellingly inward looking but no matter how much it was this was a monologue which also reached out to its audience. When he came into duet with the flute there was no breaking of the spell, just a continuation of it. He had found a skittishness and whip-lash crack to the opening of the first movement and none of his playing lacked the distinctive finesse the concerto finds in its European jazziness. The Presto, which suggests Stravinsky, never seemed in danger of overwhelming the creative edge rather than the sheer brilliance of the performance. A fabulously played Debussy Prélude, 'Feux d'artifice', was thrown up as a substantial encore. As with the Ravel Borrow played it entirely without placing pianistic virtuosity ahead of artistry.
The Ravel had been placed between Harrison Birtwistle and Iannis Xenakis. The former's Sonance Severance 2000, written for the opening of Severance Hall, the home of the Cleveland Orchestra, showed that compact (some three minutes) need not be colossal. The work comes in waves of massive sound – beginning on low deep basses and rumbling through the orchestra until it dissolves halfway through. When it meets the flute at its highest point it goes into reverse and falls back into descending waves until it ends in silence. The geometric opposite of a work like Earth Dances, with its fractured geological plates, and written for the BBC SO, but championed by the Cleveland Orchestra under Dohnányi, it sounded every bit as compelling.
Jonchaies, written by Xenakis in 1977, received its first performance at the Proms in this concert. Like so many of the composer's great works for orchestra – although Jonchaies is massive in scale compared with most of them – the use of percussion is central to it. In terms of its ritualism and tribalism it looks back to the Sacre du Printemps – even to the use of the strings where their sound could have been lifted straight from the opening pages of 'Auguries of Spring'. Martyn Brabbins is in his element in this music, and the performance was of exceptional quality. One was pushed into analogies of Varése, as well as Stravinsky, but also some of the grainy percussive effects from Stockhausen.  Jonchaies is a little like traveling through the maelstrom of a hurricane, much as one experiences with Zyklus, only to find that the eye is almost as destructive. One often marvelled in this performance at the exceptional ability of the timpani to keep Xenakis's absurd rhythms in some kind of order – or perhaps they just aren't supposed to be. The equivalence of Joyce's rattling, endlessly unpunctuated sentences in Finnegan's Wake – that Stream of Consciousness – came to mind. The violins effortlessly played repetitiously Psycho-esque figurations, piccolos at the end felt truly uncomfortable on the ear. Xenakis can often be a visual experience as well as an audible one and Jonchaies is no exception. I doubt the performance could have received better advocacy than the one it received here.
Only the Stravinsky had really been a disappointment in this concert – although audiences often diverge in their opinions from those of us who write about these things. No quibbles with the rest of this otherwise excellent concert, however.
Marc Bridle