United Kingdom Queen and Ben Elton's We Will Rock You: Cliffs Pavilion, Southend-on-Sea, Essex, 1.8.2022. (JPr)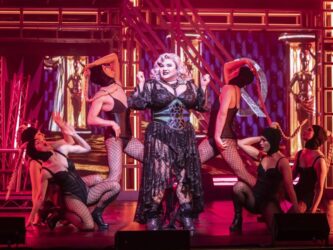 Some good things come to you late in life and I may have been only one of a few in the Cliffs Pavilion who have never seen the 2002 musical We Will Rock You before. I overheard many who were now in double figures and the person sitting next to me seemed to know the dialogue as well as those on stage. That Ben Elton was writer and director raised more than a few eyebrows when his involvement was first announced and to be honest there is little of his famed acerbic wit on show and more of a satirical swipe at popular culture (X Factor gets a passing mention) as well as a homage to good old fashioned pantomime, without all the usual audience participation. Elton's recorded voice is in fact heard at the beginning asking the audience to restrain themselves from joining in unless the cast urge it.
Trailing box office success in the 20 years since it was first seen We Will Rock You is on an anniversary tour and filled Southend's Cliffs Pavilion. The story of this rock musical is thin to non-existent. It is not 'A long time ago in a galaxy far, far away' but in a dystopian future when planet Earth is now called now the iPlanet. It is a virtual world and the GlobalSoft Corporation ensures that there is no freewill or freedom of thought. The products of the Gaga High School, dress, speak and think alike. The half-human, half-pixelated Killer Queen (Jenny O'Leary) is, well, exactly that but she also apparently likes 'Fat Bottomed Girls' (I was surprised that number was still in the show) and rules GlobalSoft with something of an iron fist. When she is not enforcing the status quo Killer Queen is making sure all the music is Computer Recorded Autotune Pop (or CRAP for short). Her autocratic rule would be undermined by rock and roll (the 'true music'). This is now only a distant memory and the stuff of half-remembered myths and legends in the minds of a group of people living on the fringes of society at the Heartbreak Hotel calling themselves the 'Bohemians'. They are waiting for 'the dreamer' who will unravel the prophecy of the hidden axe – axe being a rock guitar and the last musical instrument on earth – and will bring back rock and roll and set them free from the sinister GlobalSoft's mind control. It is to be found in the place of Champions revealed at the end as Wembley Stadium.
We are introduced to that 'dreamer' early on and he is Galileo Figaro who knows he is different but is not sure why. His mind is full of a jumble of words he doesn't understand but we recognise those as the titles or lyrics of modern pop songs. Galileo is rather gawky and gauche in the rather over-extended opening to We Will Rock You but soon develops an on-off relationship with a kindred spirit he meets when they are imprisoned in GlobalSoft's correctional facility which they escape with their minds intact. (One laugh out loud moment comes when prior to them sleeping together they discuss 'protection', and this is not what first comes to mind!)
The story – such as it is – and Ben Elton's dialogue is simply to link the 24 Queen-related songs. While it has all been given some contemporary references several of the jokes are of the kind you would hear in an end-of-year pantomime including some that are rather risqué particularly a roadie/groupie/sex one from the rather dissolute rock relic Cliff who wants to be called 'Sir Cliff'. (Also listen out along the way for his engaging mispronunciations of the words 'television' and 'videotape' that I won't spoil for you if you have not seen the show.) Along the way a vaguely remember fab four will be referred to as 'John, Paul, George and Bongo' and I am sure a reference to M&S menswear predates the reasonably priced power suit worn by the Sarina Wiegman, the manager of the Lionesses. Did I laugh throughout, well of course I did!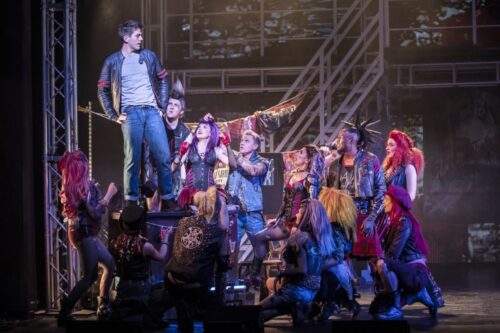 The panto vibe extends to the often stunning costumes and perfunctory choreography but Ben Elton's production is undoubtedly a slick one. There is Tim Blazdell's simple set of two metal walkways up to an upper level when the band of five are concealed – or justifiably frequently revealed – and there are simple garish video game-style images projected on an LED backdrop.
But if I seem to have some quibbles about it all – to purloin some famous lyrics – 'Nothing really matters, anyone can see'. And it isn't what we see that 'really matters' it is what we hear, and those are the songs, whether sung straight or adjusted to service the story such as 'Flash' when the Bohemians are being tortured. They come thick and fast through a long show that extended well into its third hour (including an interval). Each one is treated with reverence by the audience who – as asked – don't join in until encouraged to. The musicians under their director Zachary Flis are some of the best you will see and hear in a show like this and guitarist Simon Croft comes centre stage towards the end to do a more than passable Brian May impersonation.
Why you will have been happy to have seen this as a first-timer like me is because of the wonderfully talented cast who give excellent performances of some iconic songs from a rousing 'Radio Ga Ga' through to the singalong 'Bohemian Rhapsody' encore at the end. The best of them is Elena Skye as the snarky Scaramouche who is an amazing vocalist (a highlight was 'Somebody to Love') but also a wonderful actor who brings her character to true life with her cutting comments and cynicism. Harder to love is Ian McIntosh's Galileo, but that is probably the fault of the writing as he comes over totally weird at the start. As his quest continues, we begin to root for him and, amongst all he does, 'We Will Rock You' and 'We Are the Champions' will linger in your mind as you leave the theatre. Also some of the best moments are when Skye and McIntosh duet for 'Under Pressure', 'Who Wants to Live Forever' and 'Hammer to Fall' when their voices blend splendidly.
Jenny O'Leary is the big bad Killer Queen and her singing is a force of nature in 'Fat Bottomed Girls', 'Don't Stop Me Now' and 'Another One Bites the Dust' but I don't think her villainy crosses the footlights; if it had surely she would have got some panto-style booing at her curtain call? As her evil henchman, Khashoggi, Adam Strong is wonderfully smarmy but it is another slightly underdeveloped character.
The Bohemians are led by a trio of oddballs, there is Edward Leigh as Brit (named after Britney Spears) and Kate Leiper as his girlfriend Meat (for Meatloaf, of course) and Cliff (Michael McKell) is their leader. Leigh and Leiper are listed as understudies but throw themselves into these supporting roles and – like the rest of the high-powered and frequently flamboyant ensemble – have great voices and seem to be having fun. McKell channels Sir Mick Jagger and any number of rock legends, living or dead, and gets some of the funniest lines whilst his vast experience – as evidenced by his programme biography – makes 'These Are the Days of Our Lives' another showstopper.
Despite some reservations it's 'A Kind of Magic' how well We Will Rock You all worked in the end to engineer two well-earned standing ovations and at twenty years young 'The Show Must Go On' and will until September (for details click here) in the UK, but I'm sure will continue to live on as the memory of Freddie Mercury and the music of Queen does for so very many.
Jim Pritchard
Production:
Music and Lyrics – Queen
Book and Director – Ben Elton
Set designer – Tim Blazdell
Lighting designer – Rob Sinclair and Luke Rolls for Sinclair/Wilkinson
Sound designer – Rory Madden
Video Producers – STUFISH Entertainment Architects/ Willie Williams
Additional choreography and Original adaptations – Jacob Fearey
Music director – Zachary Flis
Cast included:
Cliff – Michael McKell
Khashoggi – Adam Strong
Galileo – Ian McIntosh
Scaramouche – Elena Skye
Killer Queen – Jenny O'Leary
Brit – Edward Leigh
Meat – Kate Leiper