United States Tchaikovsky, Eugene Onegin: Chorus and Orchestra of San Francisco Opera / Vassilis Christopoulos (conductor). War Memorial Opera House, San Francisco, 25.9.2022. (HS)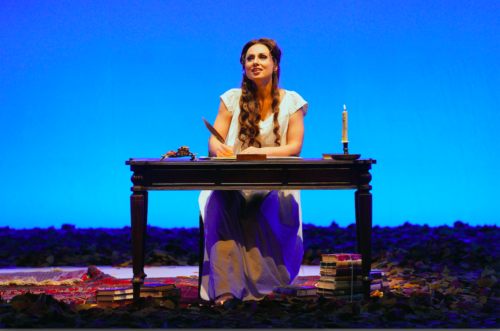 Production:
Original production – Robert Carsen
Revival director – Peter McClintock
Production designer – Michael Levine
Lighting – Christine Binder
Choreographer – Serge Bennathan
Chorus director – John Keene
Cast:
Tatyana – Evgenia Muraveva
Eugene Onegin – Gordon Bintner
Lensky – Evan LeRoy Johnson
Olga – Aigul Akhmetshina
Prince Gremin – Ferruccio Furlanetto
Madame Larina – Deborah Nansteel
Filipyevna – Ronnita Miller
Monsieur Triquet – Brenton Ryan
San Francisco Opera rolled the dice on its Eugene Onegin, assigning four major roles to (mostly) young singers who have not quite made the star level internationally. While the new faces didn't exactly hit the jackpot, they got the job done in the opening performance of Tchaikovsky's tuneful opera on Sunday.
The sleek, colorful Robert Carsen production has been seen at the Metropolitan Opera since 1997 (and on television worldwide). This cast sang all the music accurately, acted their roles with individuality and looked great in designer Michael Levine's period costumes. But with few exceptions, their voices lacked the distinctiveness of their stage presences.
The last time SFO deployed a cast with all the major roles played by singers new to the company was La traviata in 2017, when soprano Aurelia Floriam, tenor Italia Ayan and baritone Artur Ruciński wowed in the leads. On that occasion, Nicola Luisotti conducted for the final time as the company's music director, and he delivered authentic Verdi with his usual flair.
In his U.S. debut, conductor Vassilis Christopoulos, a regular at Greek National Opera in Athens, set a careful tone that had energy and precision. He steered a straight course through Tchaikovsky's music, even when the emotional waves needed to get bigger.
The two Russians in lead roles seemed to be stepping carefully through the music. Soprano Evgenia Muraveva, a new name on the opera scene internationally, and mezzo-soprano Aigul Akhmetshina, who will be singing the role of Maddalena in the Metropolitan Opera's Rigoletto in November, both charmed with distinctively different stage personas. Muraveva bubbled with nervous enthusiasm as her Tatyana experienced falling in love for the first time and developed into a woman with grace and elegance in the final scene. Akhmetshina, as her sister Olga, lit up the stage like a 1,000-watt bulb, with animated, adorable reactions to everything going on around her.
Neither, however, quite had the vocal oomph to deliver Tchaikovsky's emotional tug. Tatyana's letter scene hit all its plot points, as did the opera's final scene, but the wrenching passions seemed tamped down. That never happened in the company's previous productions of this opera, especially when Mirella Freni sang Tatyana in 1986 and Elena Prokina did it in 1997 and 2004.
Baritone Gordon Bintner, fresh from singing Guglielmo at Royal Opera House in July, looked dashing in top hat and tails, and he conveyed the snobbishness and condescension of the title character. He sang with fluidity and accuracy but, like most of the singers, didn't lean into the Russian nuances that make the music come fully to life. That was especially evident in the final scene: there wasn't much urgency in his voice when Onegin pleads with Tatyana to leave Gremin.
Tenor Evan LeRoy Johnson and bass-baritone Ferruccio Furlanetto showed how this music could grab an audience. Johnson painted a soulful portrait of Lensky in the aria before his fateful duel with Onegin, his voice tracing all the fear and regret with sweet legato and ringing climaxes. As Prince Gremin, Tatyana's aging husband in Act III, Furlanetto captured all the character's autumnal love and gratefulness.
To the audience's credit, those two got the biggest reception when they took their bows. In the smaller roles, mezzo-soprano Ronnita Miller (Erda in the company's superb 2019 Ring cycle) stood out as Filipyevna, Tatyana's nanny.
Carsen's endlessly inventive, useful and beautiful production demonstrated why the Met keeps bringing it back. The surface of the stage covered in autumn-colored plastic birch leaves locates the first act in rural Russia, each scene defined by an ever-increasing clearing at the center. Chairs define the ballrooms in Acts II and III, mismatched in Tatyana's family home, plush and orderly in Prince Gremin's in the third act. Christine Binder's lighting plays on high white walls to suggest sunrises and moods, eye-catching without interfering with the action.
After the performance, Furlanetto received the San Francisco Opera medal. He made his company debut in 1979 portraying Alvise in La Gioconda, and he has sung Ramfis in Aida, the title role in Attila, Philip II in Don Carlo and Don Alfonso in Così fan tutte.
Outside the opera house, several individuals wrapped in Ukrainian flags quietly protested the presentation of a Russian opera. A program article vividly dissects the complicated relationship among Russia, Ukraine, Ukrainian serfs and Tchaikovsky (who was part-Ukrainian himself but downplayed it).
Harvey Steiman