United States John Adams, Antony and Cleopatra: Soloists, chorus and orchestra of San Francisco Opera / Eun Sun Kim (conductor). War Memorial Opera House, San Francisco, 15.9.2022. (HS)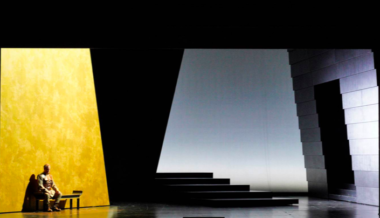 Production:
Director – Elkhanah Pulitzer
Sets – Mimi Lien
Costumes – Constance Hoffman
Lighting – David Finn
Sound/Mixing Engineer – Mark Grey
Projection – Bill Morrison
Dramaturg – Lucia Scheckner
Movement director – Colm Seery
Fight director – Dave Maier
Chorus director – John Keene
Cast:
Cleopatra – Amina Edris
Antony – Gerald Finley
Caesar – Paul Appleby
Enobarbus – Alfred Walker
Octavia – Elizabeth DeShong
Eros – Brenton Ryan
Charmian – Taylor Raven
Agrippa – Hadleigh Adams
Maecenas – Patrick Blackwell
Iras – Gabrielle Beteag
Scarus – Timothy Murray
Lepidus – Philip Skinner
Antony and Cleopatra, the new opera from John Adams in a world premiere at San Francisco Opera, takes its time to settle in. But it eventually finds its footing when the music, the story and the characters connect with a powerful dose of human failings writ large. Co-commissioned by San Francisco Opera, Barcelona's Liceu Opera and New York's Metropolitan Opera, the work opened the hundredth season of SF Opera with a bang.
At nearly three-and-a-half hours, it qualifies as an epic, impressively staged and boasting a remarkably strong cast, from the leads to the small roles. Soprano Amina Edris lavished Cleopatra with a voice as sinuous as her shiny, clingy gowns and a presence that hummed with the electricity of a woman fully aware of her power and how to use it. (The part was written for Julia Bullock, who withdrew months ago because of her pregnancy.)
Never mind Hollywood films that tended to portray Cleopatra – from Theda Bara to Elizabeth Taylor – mainly as a seductress. Shakespeare was after something deeper and nastier in his play. If anything, composer Adams and his collaborators on the libretto hew too closely to Shakespeare: all those words keep Adams' music from fully flowering.
Like the play, the action whips cinematically between Rome and Egypt from one scene to the next, smoothly executed by set designer Mimi Lien's sliding black panels. They frame colorful settings of Caesar's and Cleopatra's palaces, and black-and-white projections play across the surface to show crowds in Rome or closeups of the singers cleverly inserted into footage from mid-century films of the story.
The first act chugs along with an unfortunate sameness of color and rhythm, as the title characters and Caesar verbally humiliate each other. Act I climaxed with a creatively staged Battle of Actium, where Caesar's forces rout the Egyptian navy, led ineptly by an aging Antony. Not until the second act does the music breathe, and we finally get a sense of how two such complicated, egotistical monsters fell in love with each other in the first place.
The opera springs to life in the first scene of Act II. Sinuously soft chords underlie a quiet connection between the title characters as they mull over their defeat. The next scene finds the young Caesar boasting of his triumph and proclaiming himself a god to the gathered masses. The rest of the opera explores the drama leading to the title characters' suicides.
That's the stuff of opera, and it is here that Adams' orchestral music expands to tell us more of what is happening than the characters let on. Antony's botched suicide is underlined by nervous phrases reminiscent of music associated with his previous missteps, suggesting a false bravado. Caesar's music drips with false sincerity as he instructs his emissary to trap Cleopatra and Antony. The glory of the score is Cleopatra's suicide scene, which glows with noble resignation.
The graceful melodic writing for Cleopatra, especially in that final scene, stands in contrast to the repetitious parlando Finley gets saddled with as Antony. His vocal line ends phrase after phrase with a drop of an octave, as it does for most of the other male roles. It is all too much singsong, slavishly following Shakespeare's iambs. Any good Shakespearean actor makes the words breathe with pauses, speeding up and slowing down as in real conversation. That is what recitatives have done in opera since Mozart.
In his composer's notes in the program, Adams makes the point that Shakespeare included fewer soliloquies than usual in his play, reducing options for arias that can delve into the characters' thoughts. In Adams' previous operas, the highlights involve such arias ('I am the wife of Mao Tse-tung' in Nixon in China, 'Batter my heart, three-personed god' in Doctor Atomic). Here, Adams, director Elkhanah Pulitzer and dramaturg Lucia Scheckner interpolated a speech from John Dryden's translation of The Aeneid. In giving Caesar something meaty to expound on why Rome needed him to be elevated to emperor, it created a highlight of the vocal score.
In truth, though, the musical glories lie in the orchestra, where Adams' confidence as a composer creates colors and complexity, all deftly conducted by the company's music director, Eun Sun Kim. The music underlying the battle is a great example – propulsive, expansive and colorful.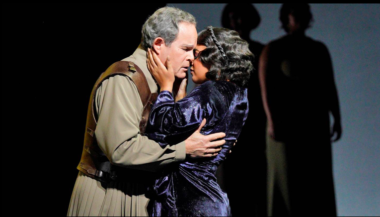 Baritone Gerald Finley (who sang the role of Oppenheimer in the world premiere of Adams' Doctor Atomic in San Francisco), lent his solid baritone to Antony, the once-invincible Roman general and triumvir in thrall to Cleopatra. The role of Caesar benefited from the bright, clear tenor of Paul Appleby, who sang a lead role in Girls of the Golden West, the last Adams opera to debut in San Francisco.
It should be noted that the starring roles were amplified, but deftly. Adams calls for it in his operas to balance the voices with his densely populated orchestra. Mark Grey's sound design gently boosted the volume without muddying the waters.
Impressive among the non-starring roles were Taylor Raven as Charmian, Cleopatra's attendant and confidant, her rich mezzo-soprano complementing Edris' creamy soprano nicely; and Brenton Ryan as Eros (a follower of Antony's), conveying what it is like to get caught in a storm of others' emotional lashings-out with his acting as well as his clear tenor. Mezzo-soprano Elizabeth DeShong made her mark in an all-too-brief appearance as a sympathetic Octavia, Caesar's sister wed to Antony. Baritone Hadleigh Adams (as Agrippa, a follower of Caesar) and bass-baritone Alfred Walker (as Enobarbus, Antony's lieutenant) also stood out.
In a program note, Adams refers to Boito's approach to condensing and patching together Shakespeare's texts to make a brilliant libretto for Verdi's Falstaff. Unfortunately, Adams missed the melodic invention that completed the equation for Falstaff and made that opera such a treasure. Even without it, Antony and Cleopatra gets it together for a strong finish. It holds the stage.
Harvey Steiman