United States Chamber Music LA presents Music Box 2022 – Various composers: Salastina, The Olive Trio, Jacaranda Music, Los Angeles Chamber Orchestra String Quartet. Camerata Pacifica and Pittance Chamber Music, Zipper Hall at Colburn School, Los Angeles, 28.8.2022. (DLD)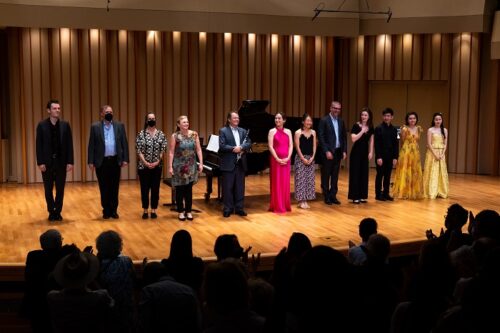 For this critic, the three-syllables of 'smorgasbord' are a combination of incongruous things. It stands as a wonderful expression with delights of differing parts, while producing an entity that is wonderous, humorous and sometimes terrifying. Is music the same? Time signatures, semibreves, quavers, whole notes versus eighth rests, clefs, dynamics, majors and minors . . . and one can't forget scales. In music, the terms of understanding continue to grow and turn up everywhere.
Yet each and every one of those could be wisely attached to the beauty of music, which is what Chamber Music Los Angeles (CMLA) has set out to demonstrate. CMLA was founded in 2017 by the late and deeply missed Warner Henry (1938-2020). He was himself a great lover of chamber music – indeed of all sorts of music and, since its inception, CMLA has promoted numerous chamber music ensembles.
CMLA's 'Music Box 2022', a live concert dedicated to Warner Henry, was not a competition between the best music ensembles that Los Angeles can offer but rather a moving display of chamber music that spans the centuries. It took place at the Colburn School in downtown Los Angeles, a 'first-ever' event that, I'll bet, will be far from the last. Henry's core directives – 'that all efforts serve the art form of chamber music, and that CMLA functions to support the participating organizations – not replace them' was fully realized in this extraordinary concert.
Salastina: Benjamin Smollen (flute), Maia Jaspar White (violin).
Debussy – 'Syrinx'
Telemann – Canonic Sonata No.2 in D major
The concert began with Claude Debussy's enigmatic 'Syrinx' for solo flute. Benjamin Smollen's presentation was highly (and correctly) dramatic, and the drama of silence was as important as the music. His use of tonal focus and delayed resolution was interrupted with his own practice of not adhering to normal musical practices, especially in this famous yet diminutive masterwork. The piece requires full mastery of breath control, perfect intonation and a large dynamic range, all of which were executed beautifully by Smollen. Its three-plus minutes were so ethereal, I wished that he had performed it a second time as an encore.
'Syrinx' was followed by the hugely prolific Georg Philipp Telemann's Canonic Sonata No.2 in D major. While his fame and importance have, alas, gradually waned, he was highly regarded by his contemporaries as one of the great composers. This multi-movement composition was performed by Smolen on a flute made of African blackwood (which, he explained, produces a sound similar to that heard in Telemann's time), with Maia Jasper White, a violinist with both style and pizzazz. It was exciting and pleasurable from pick-up to coda, with both violin and flute imitating each other throughout.
The Olive Trio: Anaȉs Feller (violin), Mira Kardan (cello), Daniel Wang (piano).
Shostakovich – Piano Trio No.1 in C minor
Representing the Colburn School was The Olive Trio, performing Dmitri Shostakovich's Piano Trio No.1. It is an early composition (written when he was only 16 and sometimes referred to as a 'student work'), but also a phenomenal show piece from a composer who would one day move the world with his music. Lovely harmonies gave way to powerfully jagged passages (as is true in many of Shostakovich's compositions), but I found the music to always be clear through its complications. Anaïs Feller, Mira Kardan and Daniel Wang performed with an intensity and excitement that goes beyond their youth. There was a repeated solo line rendered exquisitely by Kardan, one that stayed with me, safely tucked into my cerebral cortex. These are three remarkable musicians on whom one ought to keep an eye.
Jacaranda Music: Steven Vanhauwaert (piano).
Silvestrov – The Messenger
Pianist Steven Vanhauwaert performed one of the most haunting interpretations I have heard, a beauty borne in memory and loss, and steeped in deep and severe despair. The Messenger was composed by Valentin Silvestrov after the sudden death of his wife, herself a musicologist. Whatever descriptive language I might write at this point cannot and does not do the piece justice.
Single three-note triads, found mostly in major keys, begin the piece, and were there to accompany the melody, still in a major key. At a certain point, modulation followed. Was that perhaps memory? Gradually the music itself became filled with loss, and the memory thereof. The Messenger was like nothing else I have heard. It is unforgettable.
Los Angeles Chamber Orchestra String Quartet: Margaret Batjer & Susan Rishik (violins), Yura Lee (viola), Trevor Handy (cello).
Ravel – String Quartet in F: 'Allegro moderato, Très Doux'
Caroline Shaw – 'The Cutting Garden'
Maurice Ravel's String Quartet in F was both dramatic and subtle in its presentation, especially in its execution of dynamics and tone colors.
Ravel's fame has rested on his unsurpassed mastery of orchestral and pianistic tone color. While he is often compared with Debussy, he nonetheless possessed an orchestral approach that is unlike that of any other composer. The misty, fluid qualities associated with Impressionism were beautifully present in this interpretation by the LACO String Quartet. Ravel also made clear and decisive musical statements – sometimes bold, sometimes subtle – that they incorporated into their performance.
Violinist Margaret Batjer explained that Caroline Shaw's 'The Cutting Garden' manages to quote from three composers in three minutes. This second movement of Plan & Elevation: The Grounds of Dumbarton Oaks is a jewel, written to commemorate the seventy-fifth anniversary of Dumbarton Oaks. In Shaw's words, 'Plan & Elevation examines different parts of the estate's beautiful grounds and my personal experiences in those particular spaces. 'The Cutting Garden' is a fun fragmentation of various string quartets (primarily Ravel, Mozart K.387 and my own 'Entr'acte', 'Valencia' and 'Punctum'), referencing the variety of flowers grown there before they meet their inevitable end as cuttings for display'.
The string quartet played flawlessly in their rendition of this piece: a slow opening in the cellos and a gradually increasing tempo, with decrescendos that disappear into a fragment of the Ravel Quartet, bits of pizzicato here and there, strings whose sound is reminiscent of flower cuttings, a panoply of sounds coming and going, eventually for good. Violinist Susan Rishik ended the movement with an unforgettable fade-out into the void.
Camerata Pacifica: Soyeon Kate Lee (piano).
Ravel – La Valse
Pianist Soyeon Kate Lee represented Camerata Pacifica in Ravel's La Valse. From the first beat of measure one to its close, Lee's power and rhythmic control drove this virtuosic piano version. From my point of view, 'passionate' remains the single best term to describe it: her ability to transition from the slow waltz at the opening to the demonic craziness that ends the piece was frightening, but flawlessly so. Her performance was a potpourri of styles: perfectly placed sounds, followed by minutes of musical madness. Be prepared!
Pittance Chamber Music: Liv Redpath (soprano), Stuart Clark (clarinet), Jeremy Frank (piano).
Schubert – 'Shepherd on the Rock'
The evening ended with the Pittance Chamber Music performance of a Schubert lied, 'Shepherd on the Rock', one of his better known and most beloved songs, written for soprano, clarinet and piano. It was composed in the last months of Schubert's tragically short life and, given the joy in this song, especially with the close proximity to Schubert's demise, it is often cited as one of his most remarkable compositions. Liv Redpath sang it with a great deal of love, demonstrating both her vocal warmth and strength, while Stuart Clark's clarinet accompaniment nicely augmented the set, determining its melody. Finally, it would be unfair not to applaud Jeremy Frank's perfectly played and appropriately understated piano accompaniment.
Douglas Dutton