2022 Music on the Strait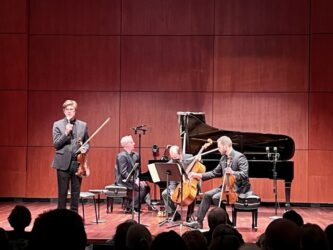 Port Angeles is an unlikely location to hear world class chamber music performances. The town sits on the north shore of Washington's Olympic Peninsula, its downtown hugging the Strait of Juan de Fuca. To the south, the Olympic Mountains rise above the city.
It grew rapidly back when timber was a driving economic force for the region, but today its growth is driven by geography. Balanced between sea and mountain, it is a top tourist destination and the seat of government for a sprawling county. Recreation, agriculture and environmental rehabilitation are also major economic drivers in this arguably 'post-timber' era, and signs of all of dot the Port Angeles downtown and outskirts. But the transition has not been without pain: in some areas, vacant storefronts are conspicuous and streets are lined with battered motels and discount stores.
In that regard, Port Angeles is like many other regions of the United States which have seen a mixture of success and setback in an increasingly chaotic globalized economy. Among those successes is Port Angeles's continued cultural relevance, and one of the crown jewels is relatively new: Music on the Strait, a summer chamber music festival. It was founded by two musicians who call the region home: Richard O'Neill, a Grammy Award-winning violist who grew up in nearby Sequim, and James Garlick, who grew up in Port Angeles and is now a violinist with the Minnesota Orchestra. When the two launched Music on the Strait in 2018, they immediately began bringing some of the world's best classical musicians – among them colleagues and friends – to Port Angeles to perform and educate local music students.
The festival offers experiences that entertain, awe, and inspire and support the local music education scene – the same one that helped launch O'Neill's and Garlick's careers. They met growing up through shared music teachers and experiences, including performing in the local youth orchestra. The two stayed in touch over the years, making a point of connecting when Garlick still lived in the Pacific Northwest and O'Neill would come through the region to perform for the Seattle Chamber Music Society – or when Garlick was in New York studying at Juilliard.
Eventually the two were brought together to perform with their region's symphony orchestra in 2017.  'When James and I worked together with the Port Angeles Symphony, and James asked if I might be interested in coming back, I was more than thrilled', says O'Neill. That performance set in motion efforts that would yield Music on the Strait.
In its first year, Garlick and O'Neill – along with lauded pianist, author and MacArthur fellow Jeremy Denk – formed the foundation of the festival's roster of musicians. Over the course of the 2018 Labor Day weekend, Denk presented a solo recital that toyed with time and timelessness in music, while O'Neill, Garlick, Seattle Symphony violinist Elisa Barston and cellist Ani Aznavoorian attacked a program of big chamber works by Dvořák, Ravel and Ives.
2018 kicked off a tradition of heart and talent that continues today. Back then, festival musicians piled into a house on the edge of nearby Lake Sutherland where they practiced, socialized and feasted on king salmon and homemade pies, all while taking in the waning days of summer. Performances were held in the intimate 134-seat Maier Recital Hall on the campus of Peninsula College where the warm, immediate acoustic is well suited for chamber music and assures the audience a transformative experience.
Even with a starry headliner like Denk, Garlick wasn't sure how that first weekend would play out: 'This community has always been incredibly supportive of the arts. For starters, there is an award-winning music and strings program in the local school. The Port Angeles High School orchestras often beat out much wealthier and better-funded school districts in orchestra festivals around the Pacific Northwest. That said, we weren't sure if the community would completely embrace the kind of chamber music festival we wanted to build. 2018 was an experiment, and almost every concert has sold out since then. We were surprised by how enthusiastic the community was and how much they like being challenged'.
The success of the first season encouraged Garlick and O'Neill to expand the festival, which now includes two weekends of performances. As O'Neill says, 'I like two weeks. The summer is perhaps the busiest of all times for chamber musicians, with festivals in many gorgeous and idyllic locations'.
As the number of concerts expanded, so did the roster of musicians. This year's iteration of Music on the Strait (the fourth since they took 2020 off due to COVID-19), featured Denk's third appearance at the festival. Last year, the Takács Quartet headlined its final weekend – an esteemed ensemble that O'Neill had joined.
In addition to Denk, O'Neill and Garlic, this year's opening weekend featured Minnesota-based violist David Auerbach and a trio of principals from the Seattle Symphony: violinist Elisa Barston, cellist Efe Baltacigil and flutist Demarre McGill.
The opening weekend for 2022 Music on the Strait surveyed a refreshing range of repertoire. McGill led the way on opening night, kicking off with a hypnotic performance of Debussy's 'Syrinx', followed by Amy Beach's complex, pleasing, and sadly seldom performed Theme and Variations for String Quartet and Flute.  For the concert's close, Denk joined in a furious, insistent and masterful rendition of Cesar Franck's Piano Quintet. The next night, Denk anchored a series of solid performances of chamber works by Mozart and Beethoven, finishing with Schumann's quixotic Piano Quartet. Sunday's matinee under sunny skies was a hybrid performance, combining performances by O'Neill and Denk with readings from Denk's recent memoir, Every Good Boy Does Fine.
The blessed and unquestioned success of Music on the Strait offers tantalizing promise for the future. It has a devoted audience, and a new 500-seat performance hall in downtown Port Angeles could alter the festival's reach. Growth to date has been limited by Maier Hall's capacity, and Garlick and O'Neill hope to stage the 2023 festival at the larger facility, expanding access. With more space, there is also an opportunity to explore the chamber repertoire's most ambitious works.
'Once the new hall is completed, it would be great to program Reich's Music for 18 Musicians', muses O'Neill. 'Our audience is still talking about his Different Trains. Strauss's Metamorphosen and the Brandenburg Concerti would be great . . . and maybe a Bartók String Quartet cycle?'
In its first several years, Music on the Strait has obviously taken off. Now it is time to see what happens when it soars. Their concerts are live streamed for free on the festival website.
 Zach Carstensen