United Kingdom Puccini, Madama Butterfly: Soloists, Chorus and Orchestra of the Royal Opera House, Covent Garden / Nicola Luisotti (conductor). Royal Opera House, Covent Garden, London, 17.9.2022 (CC)
Production:
Directors – Moishe Leiser & Patrice Caurier
Revival director – Daisy Evans
Sets Designer – Christian Fenouillat
Costumes Designer – Agostino Cavalca
Lighting – Christophe Forey
Fight director – Nicolas Sandys
Chorus master – William Spaulding
Cast included:
Cio-Cio-San – Lianna Haroutounian
Lieutenant J. F. Pinkerton – Joshua Guerrero
Suzuki – Christine Rice
Goro – Carlo Bosi
Sharpless – Gyula Nagy
Uncle Yakusidé – Andrew O'Connor
Bonze – Jeremy White
Dolore – Toby Higgins
Prince Yamadori – Josef Jeongmeen Ahn
Kate Pinkerton – Gabrielė Kupšytė
This is the Moishe Leiser and Patrice Caurier production of Madama Butterfly most recently reported on last June by my colleague Mark Berry for Seen and Heard International (review here). It aims to be more 'authentic' in approach to handle the tricky colonialist aspects of the opera with a new layer of sensitivity – work towards this goal included the input of Japanese practitioners and academics. So, servants 'glide' across the stage more than walk; bows are perfectly judged. Portrayals are less Western caricatures, and more human.
Lighting, too, is carefully considered, often beautiful, emphasising changes of scene and mood well. The whole experience does become immersive. Sliding panels reveal a famous black-and-white photo of Nagasaki; the only place-specific gesture. Otherwise, we are in a general but unmistakably Japanese space within which this drama on the darker aspects of colonialism can take place. Shadow play, too, was effective, most notably in the arrival of Kate Pinkerton (Gabriele Kupsyte) at the end.
The last time I saw this production it was completely stymied by the conducting of conductor Dan Ettinger, who transformed the whole into a grey, Puccinian dirge. This time, it was Nicola Luisotti at the helm. Back in 2013, I found his Verdi Nabucco slightly variable but generally positive (review click here) here, reactions were wholly positive. Pacing was finely judged, the rapid opening full of detail, woodwind colours sensitively differentiated; later on, brass were wonderfully balanced. Luisotti understands Puccini's formal process, too, so the 'big arias' made full effect through their preparation – as did the crushing finale. The orchestra were on top form for him too, surely a recognition of his stature as a musician.
The cast, slightly variable, nevertheless conspired to create a deep emotional impact. Goro, emphatically not a caricature here, was taken by the experienced Carlo Bosi, a master of voice and presence. Gyula Nagy had a similar sense of authority within the role of Sharpless, the US Consul at Nagasaki, while Jeremy White is very much a known (and welcome) quantity as The Bonze.
Butterfly herself was Lianna Haroutounian, who when last I heard this opera was to sing the evening performance whilst I attended the matinée. Going on Mark Berry's comments about her performance, Haroutounian's Butterfly has grown in subtlety. She sounded positively lovely from the back of the hall in the Stalls Circle. Her interpretation was less about the big numbers Puccini gifts the opera's main protagonist, more about the heart-breaking story, present in every action, gesture and sound (an emotional power actively underlined at one point by stunning violin solos from the Royal Opera orchestra's leader, Sergey Livitin). Both dramatically and musically, Haroutounian was one of the finest Cio-Cio-Sans I have heard. Her Pinkerton, Joshua Guerrero, was not up to the same standard. His voice is not your typical strong Puccini tenor; this was a musical interpretation throughout, but less of a dramatically convincing one. The odd vocal mishap did not detract too much, but a little more saturation in the role would have taken the final act to even more devastating realms.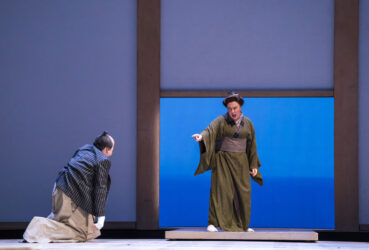 One cast change: Christine Rice replaced Kseniia Nikolaieva as Suzuki, offering a superb prayer in Act II. Interactions with Cio-Cio-San in the final act and in the second act Flower Duet (Tutti i for?') worked beautifully; another experienced hand adding stability to the production. Yamadori and Yakusidé (Josef Jeongmeen Ahn and Andrew O'Connor respectively) were both well taken and congratulations to Toby Higgins who was most convincing as the young Dolore ('Sorrow').
The handling of the offstage chorus was a real highlight of this performance, the so-called 'Humming Chorus' absolutely stunning. The Royal Opera Chorus is clearly on top form these days. And all credit to Luisotti for enabling the final act to (pardon the cherry-related pun) blossom out into a field of emotional devastation despite variable casting; and some of the credit for that has to go to the atmospheric production, too – each time I see it, I fall more under its spell.
Despite some reservations, then, Puccini's genius shone through. The effect of the ending was appropriately devastating, and one looks forward to Nicola Luisotti's next dates at Covent Garden.
Colin Clarke