United States Mozart, Florence Price, R. Strauss: Randall Goosby (violin), San Francisco Symphony / Esa-Pekka Salonen (conductor). Davies Symphony Hall, San Francisco, 24.9.2022. (HS)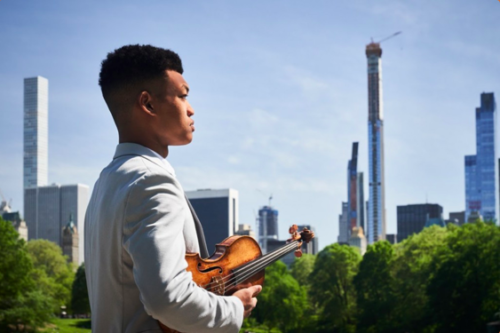 Mozart – Overture to The Impresario
Florence Price – Violin Concerto No.2
R. Strauss – Also sprach Zarathustra
So far, in his tenure as music director of San Francisco Symphony, Esa-Pekka Salonen has delivered concert after concert of thoughtful, juicy music, notable for a sense of balance and get-to-the-heart-of-it precision. The first subscription concert of the 2022-23 season, however, was a puzzle – an often-delightful puzzle, to be sure, but not always surprising in a good way.
The first measures of the opener, a seldom heard Mozart trifle, strode in with a heavy-footed swagger not often associated with this composer. The overture to The Impresario, a light-hearted one-act comic opera written for a sort of variety show celebrating relatives of Emperor Joseph II, got a brusque reading that missed the expected effusive sparkle. But it was short, and after perfunctory applause the audience settled in for the first of two main events, the Violin Concerto No.2 by Florence Price.
Price's music is enjoying a renaissance as classical music seeks to present works by composers of color. Her approachable style delivers plenty of satisfaction for its melodic and harmonic beauty and its clarity of form.
This concerto was never performed in her lifetime, cut short by her untimely death in 1953. The unpublished score was discovered in 2009 in a renovation of her abandoned summer home outside Chicago. Only two small-scale performances with piano were heard in the 1950s and 1960s, but 2018 the Arkansas Philharmonic and violinist Er-Gene Kahng premiered the full score.
Randall Goosby, whose 2021 album included three Price works, has been playing the concerto recently, and he gave this one a sensational reading in what was San Francisco Symphony's first performance.
Price's rousing, single-movement concerto demands virtuosity, with page after page of fast-moving elaborations by the violin against the orchestra, larger than usual for a violin concerto and rich with extra punch from the brass and colors from celesta and harp.
A lively statement from the full orchestra, punchy with brass, ushered in the soloist, who took off on a written-out, deftly accompanied cadenza. The theme, in D, segued into a contrasting section in F – an unusual harmonic plan that paid dividends when a central adagio settled in a rich D-flat major. The Adagio was the heart and soul of the piece. Its chord progressions could have been made for a jazz ballad, and the melodic line hewed to a Romantic style vaguely reminiscent of Samuel Barber.
Goosby's rock-solid technique and musical acumen brought all this vividly to life. His work in the elaborate passages bubbled with effervescence, and the long, languid lines of the Adagio glowed. Salonen was on the same page throughout.
For an encore, Goosby wowed the audience with Coleridge-Taylor Perkinson's jaunty, jazzy 'Louisiana Blues Strut', a tour-de-force for unaccompanied violin. He got a well-deserved second standing ovation.
After the intermission, Salonen emphasized the big, broad parts of Richard Strauss's tone poem Also sprach Zarathustra. He amped up the opening fanfare (made famous by Stanley Kubrick's 1968 film 2001: A Space Odyssey) by blasting away at the climaxes of each crescendo at the same hefty volume as the final thrust. (Strauss' score indicates forte for the first two, double forte for the last one.)
Throughout the performance, it seemed like the conductor couldn't wait to get to the loud parts. A similar sense of heavy-handedness kept the 'Of Joy and Passions' section from being, well, joyful. The fugue felt constrained, even as it slowly rose to a double-forte finish, and the Viennese waltz never quite lilted as it could have done.
After all that, though, the quiet final measures felt especially poignant, as the contrast between the keys of C and B, which infused much of the music, faded with an apt sense of control and poise. If the emotions in the rest seemed a bit less than they could have been, that quiet finish topped off a performance that, for its thunder, was impressive for its attention to detail.
Harvey Steiman