United States Little Shop of Horrors (Book & Lyrics by Howard Ashman and Music by Alan Menken based on the film by Roger Corman): Amaturo Theater at the Broward Center for the Performing Arts, Fort Lauderdale, Florida, 15.10.2022. (SL)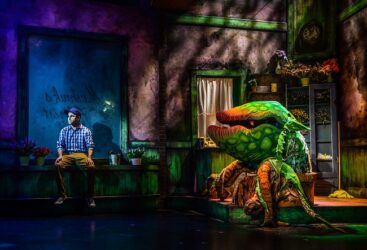 Production:
Musical director – Eden Marte
Director and Choreographer – Patrick Fitzwater
Sets – Kelly Tighe
Costumes – Rick Peña
Lighting – Clifford Spulock
Puppets – Martin P. Robinson
Cast:
Seymour – Nick Anastasia
Audrey – Caiti Marlowe
Mr. Mushnik – Matthew W. Korinko
Orin, Bernstein, Luce, Snip – Jeffrey Keller
Ronnette – Khadijah Rolle
Chiffon – Kareema Khouri
Crystal – Nayomi Braaf
The Plant / Audrey II – Tarik Zeigler
Audrey II Puppeteer – Chad Ethan Shohet
Just in time for Halloween, Slow Burn Theatre Co. opened its production of Little Shop of Horrors on 15 October. Their first show of the 2022/2023 season at the Amaturo Theater in The Broward Center for the Performing Arts, it features a tremendously talented cast that delivers a hilarious musical performance.
The musical, which is familiar to many, chronicles the story of a man-eating plant that brings unsuspecting luck to a small flower shop in New York's Skid Row. Chaos ensues when the plant begins to manipulate Seymour, the store clerk, to do its bidding.
Although the musical is funny at every turn, Slow Burn's cast does an incredible job of confronting the audience with uncomfortable horror elements that make LSOH the perfect play to get you ready for Halloween. You may wince a little when you see Seymour on stage trying to satiate the plant with his own blood, and you will definitely squirm in your seat when you watch the dentist suffocate, but you will also find yourself carried away by the show's comedic relief.
The unforgettable songs are beautifully performed by a cast that had the audience cheering them on for the entire show. One of the classic songs at the beginning of the musical, 'Skid Row (Downtown)', paints a bleak picture of life on skid row which helps one understand the kind of desperation that gets exploited when the plant presents Seymour with an opportunity to transcend his circumstances in exchange for … blood. This background conversation about poverty and class struggle has led many to interpret LSOH as a critique on capitalism, displaying how the promise of material wealth can drive someone to ultimate moral corruption.
If having a phenomenal cast of performers was not enough, Slow Burn went above and beyond with their set. The flower shop seamlessly converts into an outdoor scene of Skid Row, complete with porch stoops and bums asleep on the side of the road.
The most important thing to get right is Audrey II, the man-eating plant. When fully mature, Audrey II sprang to life in the song 'Feed Me', and the audience erupted in applause. The gigantic puppet began to sing and lash out its vines every which way in a manner that was so convincing it was scary. It seemed to take a small army to operate Audrey II, and they did not miss a single beat.
Samuel Loetscher