United Kingdom Leith, Pranulytė, Keney, McLaughin, and Sheen: Apartment House (Josephine Stephenson [soprano], Heather Roche [clarinet], Kerry Yong [piano], Gordon Mackay, Mira Benjamin [violins], Bridget Carey, Reiad Chibah [violas], Colin Alexander, Anton Lukoszevieze [cellos]). Wigmore Hall, London, 12.10.2022. (MB)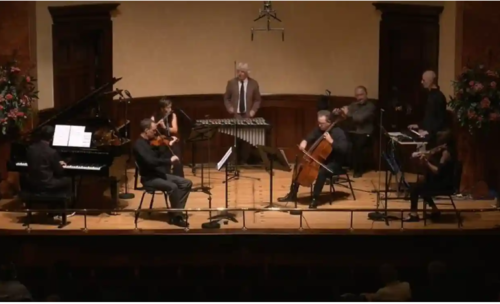 Oliver Leith – Grinding bust turning (2018)
Juta Pranulytė – Harmonic Islands (2022, world premiere)
Zoltán Jeney – El Silencio (1986, UK premiere)
Scott McLaughlin – Natura Naturans II (2022, world premiere)
Jack Sheen – Solo for cello (2021)
Humans often like to classify. Aristotelians certainly do. There is nothing wrong with that, up to a point; it helps us make sense of the world, recognise affinities and connections, suggests how we might explain them, and so on. At the same time, categories and labels can take on a life of their own, alienated, even reified. So far, so uncontroversial, I imagine; so why mention it? Because, I think, those thoughts chimed with some of my experience here. In none of these cases did I have much idea what to expect from the music I was about to hear: always an exciting prospect, especially when one has to write about it. I fumbled, initially, with labels to try to express an unquestionable affinity — unquestionable to my ears, anyway — between the music heard, but in the end thought them unhelpful, preferring instead to try to address the substance rather than a preconceived idea.
If I had read the programme note beforehand, I should have been helped by Apartment House artistic director Anton Lukoszevieze's title for the evening, 'Harmonic Fields'. But perhaps it was better that I did not until later, maintaining the innocence of my ear. In fact, what Lukoszevieze went on to outline was somewhat different from what I heard. He pointed to 'the works all inhabit[ing] different areas or "fields" of harmonic activity,' continuing: 'at this stage in the 21st century there do not appear to be any dominant styles or aesthetic movements. We seem to be wading through a delta of different types of composition, resulting in many rivers of confluence.' The first statement, regarding different areas or fields was undoubtedly the case, though I heard in each case a particular attachment to particular fields: not that they did not change; most did indeed transform, but in general they transformed slowly, or (not, I hope, an abdication of listening, since I mean to imply some separation between 'reality' and impression) gave the impression of doing so. However, regarding the second point, whilst I should broadly agree; the owl of Minerva tends, as we all know, only to spread its wings at dusk. We may now think of Brahms and Wagner, even Schoenberg and Stravinsky, as having as much in common as they do things that separate them, but they and most of their contemporaries did not — and often with good reason. What did strike me, though, was that these particular pieces, all but one written in the past four years, seemed very much to do so, in the sense of all moving, in various senses, slowly; that 'slowly' important, but so, equally, is the 'moving'.
Oliver Leith's Grinding bust turning presented, in Lukoszevieze's admirable description, a pairing of his own 'cello and clarinet [Heather Roche] as a dissolute couple, bonded but not united, pitch-wise, both playing material in unison but tuned microtonally apart'. Such sounds our ears have become ready to accept over the past few decades, some listeners actually relishing the lack of perfection in 'period' ensembles that go more readily out of tune than, say, the Berlin Philharmonic ever would, but also of course through intentional compositional use of microtones. The lack of cello vibrato, though, also brought to my mind a sort of 'school orchestra' sound. Repetition and what Lukoszevieze described as a 'grating' quality drew one in to listen, Kerry Yong's piano seemingly doing its own thing, though that own thing certainly had its own tendencies too. A jest, or something more serious? Perhaps it was both. Not for nothing did Lukoszevieze refer to Satie.
Juta Pranulytė's Harmonic Islands, for the same forces, and Zoltán Jeney's El Silencio (from 1986, yet receiving its UK premiere) for soprano, two violins, two violas and cellos had in common an expansive, extensive quality. The former seemed more obviously to be in transition, though that was, I think, partly a matter of appearance. It certainly offered considerable contrast with the sound of what had gone before, the cello's vibrato now suggesting a different instrument; often the writing for clarinet and piano did too. The method of engineering — or, as it seemed, painting — harmonic change through movement such as glissando in one part (cello or clarinet) against constant piano was very much to the fore. Yet so too were aural tricks, or to put it another way, the deception of my ears; the cello might sound as a clarinet echo, or the piano strings as an intensification of their cousins on the cello. The world of Schoenberg's 'Farben' was not, perhaps, entirely done with, all these years on.
Jeney's piece, moving towards a slow setting of words from Lorca, although it took some while for the soprano, Josephine Stevenson, to enter, offered a different variety of string non vibrato to Leith's piece: glassier, closer to a more typical 'new music' variety. Taking its time again seemed to be a good deal of the point, microtones perhaps paradoxically (although not unlike in Leith) as much delimiting the field as opening it up. All music has its boundaries, its constraints.
Scott McLaughlin's Natura Naturans II, for clarinet, two violins, two violas, and two cellos, takes its name from Schelling's term, to quote the composer, 'for the continuous "productivity" of nature: nothing is fixed, instead it is constantly "becoming" as it cycles through stable, unstable, and "metastable" manifestations.' That is very much what we heard here, testament to the excellence of performance, no doubt, as well as to the work itself. Clarinet summoned strings and responded to them, or so it seemed, the relationship soon being revealed as more complex than that. This was music ever becoming, never familiar, with an almost visual quality to it. As with everything heard in this concert, these seemed to be decidedly northern skies. I recall then asking myself 'why did you think of skies?' Perhaps there is something to that description, or perhaps it simply says something about me. Might these have been waters instead? I am not sure.
Finally, with the period after the interval to itself, came Jack Sheen's Solo for Cello, played by Lukoszevieze with fixed audio, in what seemed to be another masterly performance, fully in control of the material, fully at ease with necessary modes of expression. Opening harmonic arpeggios soon had one's ears picking up the slightest (as well as greater) differences, whether in pitch, rhythm, tempo, or other aspects of figuration. Change was often slow, yet unmistakeable, from time to time not slow at all. Lukoszevieze's description of 'a kind of flickering, glitchy and incessant "moto perpetuo",' again captured the music as well as his performance. I thought at one point of flecks in a woollen garment, the points of restricted proliferation — although all proliferation has its constraints, surely. Circling, dancing, singing, repeating, changing, slowing, speeding: much changed in irregular (I think) patterns. A mysterious silence that was not, allowing the audio its solo moment, heralded the close. Sheen's score seemed quietly to question itself.
Mark Berry