United States Various: Mark Kosower (cello), Cleveland Orchestra / Nikolaj Szeps-Znaider (conductor). Mandel Concert Hall at Severance Music Center, Cleveland, 13.10.2022. (MSJ)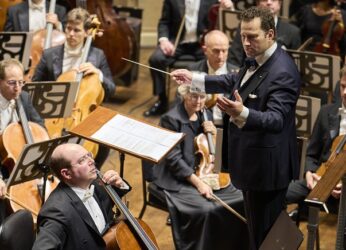 Al-Zand – Lamentation for the Disasters of War
Bloch – Schelomo
Beethoven – Symphony No.3 in E-flat major. Op.55 'Eroica'
To what degree Cleveland Orchestra programs are selected by guest conductors and how much is suggested to them, I don't know. But I do know that thoughtful programming has become a hallmark of Cleveland over the years, and we are lucky to have program building that is as artful as the playing of the ensemble itself.
This concert was a fine example, bringing a work by a living composer, Karim Al-Zand, to fit perfectly beside a concert staple and a less-frequently encountered but lovely piece from the fringes of the basic repertory. The orchestra's principal cello, Mark Kosower, took a star turn in Bloch's rich Schelomo, but guest conductor Nikolaj Szeps-Znaider welded the whole program together with conviction.
And conviction is the operative word. It takes some nerve to walk into what is still the House of Szell and conduct Beethoven's 'Eroica', but Szeps-Znaider did it with such confidence that Beethoven himself would have been pleased. George Szell, the legendary music director of Cleveland from 1946 to 1970, made one of the all-time great recordings of Beethoven's heroic score in the late 1950s. Subsequent recordings by two of his successors, Lorin Maazel and Christoph von Dohnányi, had their points but did not touch Szell's blazing conviction. In recent years and live in concert, current music director Franz Welser-Möst has attempted (unsuccessfully) to define himself out of the horse race by taking a severely classical approach to the work, and the usually engaging guest Jakub Hrůša led a disappointingly cautious and deferential performance.
Szeps-Znaider most definitely took hold of the steering wheel and shaped the Beethoven with assurance, conducting from memory. His tempos were generally fleet, with a controlled sense of where to use vibrato. Yet he also opted to use a full complement of strings instead of reducing them to the number of strings Beethoven would have had at his disposal in early performances. In using these elements, Szeps-Znaider combined the best insights of the worlds of historically informed performance with traditional modern orchestra richness. Some try this with only partial success, but Szeps-Znaider's concept was fully integrated.
The conductor had also clearly done his work in rehearsal, offering bold accents and occasionally shortened notes to introduce air into the textures. He did this without flailing about wildly. Rather, his gestures outlined the big-picture ebb and flow of the music, with only small flicks of the baton to confirm the bold accents. The fast tempo could also be held up at key points to examine a detail or make a transition. Szeps-Znaider's sense of finding the right moments to take such a breath was unerring, avoiding some of the traditional tempo bends and finding new, organic moments.
As a string player himself, Szeps-Znaider devoted much of his attention to the strings and their phrasings. The winds could arguably have used a little more attention, especially considering the expanded string section, but the conductor remained aware of countermelodies and details in the winds so that they didn't get lost in the textures. All in all, it was the best live 'Eroica' I have heard in Cleveland, by some distance.
Taking a dramatic, declamatory view of the Beethoven is particularly apt in the context of this program. It was written in the shadow of Napoleon's rise to power in France, with its subsequent conflicts. Opening the program was Karim Al-Zand's Lamentation for the Disasters of War. A string-orchestra arrangement of a 2006 chamber original, the piece is emotionally powerful, though it only rarely rises to full voice. The Canadian-American composer, inspired by a loss in his family, wrote the piece in a sometimes dissonant but essentially tonal manner. Al-Zand said in his program note that he drew on Schoenberg and Shostakovich in his expressive style for this piece, and he used both grinding dissonances and shell-shocked pedal points. The strings dug in with full sound and intensity, and the conductor relished it.
The middle piece in this triple-home-run concert was Ernest Bloch's Schelomo, a dark but lush evocation of the ancient Jewish patriarch whose name is traditionally rendered in European languages as Solomon. Bloch's meditation is at least as much Richard Strauss as it is Middle Eastern, but I find myself not caring about issues of authenticity, for the piece offers its sorrowful song wrapped in a subtle kaleidoscope of colors. Cleveland Orchestra principal cellist Mark Kosower took the solo role, creating a grandly expressive interpretation that Szeps-Znaider and the orchestra matched completely.
This second appearance by Nikolaj Szeps-Znaider as guest conductor of the Cleveland Orchestra confirms that his previous appearance, conducting Elgar's Second (review click here) was no fluke. He is known as a fine violinist, but he might just turn out to be an even better conductor.
(Note: At the time of the conductor's 2018 appearance with the Cleveland Orchestra, he was still giving his professional name as Nikolaj Znaider. Since then, he has reverted to his full given name, Nikolaj Szeps-Znaider.)
Mark Sebastian Jordan