Sweden John Kander and Fred Ebb's Cabaret: Soloists of Gothenburg Opera, ensemble, children's choir, The Göteborg Opera Orchestra / David White (conductor). Gothenburg Opera main stage, 1.10.2022. (NS)
Production: Lyrics by Fred Ebb (Swedish translation by Rikard Bergqvist), book by Joe Masteroff.
Choreography – Rebecca Howell
Set and Costume design – Lucy Osborne
Lighting design – Oliver Fenwick, Richard Howell and Tom Gibbons
Conductor and Musical arrangement – David White
Alternative conductors – Magnus Larsson, Aivis Greters
Cast:
Emcee – David Lundqvist
Sally Bowles – Kerstin Hilldén
Clifford Bradshaw – Tobias Ahlsell
Fräulein Schneider – Siw Erixon
Herr Schultz – Lars Hjertner
Fräulein Kost – Karin Mårtenson Ghods
Ernst Ludwig – Anders Wängdahl
For the Gothenburg Opera's sumptuous production of Cabaret, James Grieve and his team keep the story firmly in 1930s Berlin with attention to detail down to the Deutsche Reichsbahn crest on the railway carriage. But with some thoughtful choices they have heightened the impact of this powerful story.
Lucy Osborne's sets and costumes vividly brought to life this lost world, from a gorgeously decadent Kit Kat Klub to the humble but homely boarding house run by Fräulein Schneider. The costumes of the cabaret artistes (in particular, the daring and varied costumes for the Emcee) channeled the brashness and style of the era but the production also had many more subtle effects, notably the sensitive and perfectly judged lighting. Rebecca Howell's choreography was stunning in the big ensemble scenes, but the discreet dancing couples in the background of love scenes were also a lovely touch.
Anders Wängdahl was a cheerfully amoral Ernst Ludvig, with the practiced charm of a black marketeer, but also a gradually emerging Nazi streak. His politics were made all the more sinister by his unemotional delivery of his warning to Fräulein Schneider that her engagement to a Jew was "unwise". Karin Mårtenson Ghods played the prostitute Fräulein Kost with a big dose of sarcasm and had a great tension with her landlady Fräulein Schneider, needling Schneider as her revulsion at Kost's clientele warred with her equally urgent need to bring in rent for her rooms. The scene where Schneider caught Kost sneaking a sailor out of her room was great visual comedy, made even more hilarious when Kost produced two more sailors from her room after the coast was clear!
Fräulein Schneider was given real depth by Siw Erixon, whose acting fleshed out Schneider's gentle longing for love and tenderness while keeping her practical streak. The scene where she handed back her engagement present to Sally and Clifford was heartbreakingly intense, and her condemnation of Clifford telling her to fight rather than give in from his privileged position as a foreigner had real bite as well as sadness.
But most of all she shone when together with Herr Schulz, who was beautifully played by Lars Hjertner. He was simply delightful in every scene, from offering a pineapple as a love offering to becoming tipsy at his engagement party. The couple's singing of 'Married' was moving in its sincerity. His last scene poignantly reflected his character's innate goodness which is also his tragedy – trusting in the fundamental decency of his fellow Germans.
Tobias Ahlsell made a very believable Clifford Bradshaw whose pleasant voice reflected an initially innocent and carefree character. His growing realization of the Nazi threat combined with Sally's pregnancy to make his love more possessive. Quite understandably this change strained his relationship with Sally. Kerstin Hilldén was a feisty and impulsive Sally Bowles. She put her full-bodied soprano to good use, most of all in a sensational performance of 'Cabaret'. But her acting and singing was equally vivid outside of the big cabaret numbers, showing Sally's character and independence. Hilldén made Sally's choices understandable given her urge to perform and the camaraderie of the cabaret artistes.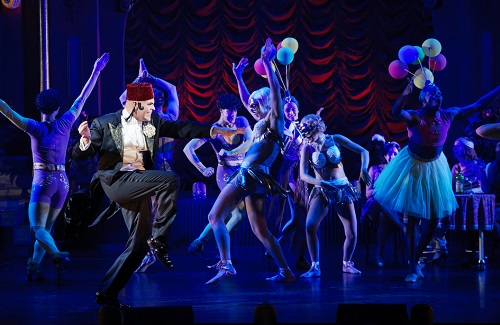 David Lundqvist (last seen by your correspondent as a superb Fagin in Oliver! review click here) was a mesmerizing Emcee. His comic timing and his interactions with the ensemble were masterful, aided by Rebecca Howell's superb choreography. It is hard to choose but of his showpieces 'Money' was particularly impressive. Lundqvist depicts the Emcee as a chameleon, both visually in his bewildering array of costumes and morally in the way his character sometimes reflects the ugly prejudices of his time while also being transgressive himself. But he movingly showed his vulnerability in a haunting reprise of 'I don't care much', which ended with Nazi thugs closing in on him.
It was not just the soloists who were memorable – the ensemble were impressively versatile and easily took on every challenge thrown at them. The engagement party scene was particularly fine (complete with an on-stage band!) and offered fun without the darkness-tinged decadence of the Kit Kat Klub. I was also particularly impressed by the children's choir who sang 'Tomorrow belongs to me' the first time, in a scene that was deliberately disturbing. 32 members of the Gothenburg Opera Orchestra created a gorgeous sound under David White's baton. This production is a compelling retelling of an important story, as well as great entertainment.
Niklas Smith
Playing until 29 March 2023, for more information and tickets see the Gothenburg Opera website (click here) which also has a video trailer.