United States SIX (Lyrics, Music and Book by Toby Marlow & Lucy Moss): Ladies in Waiting Band. Broward Center for the Performing Arts, Fort Lauderdale, Florida, 11.10.2022. (SL)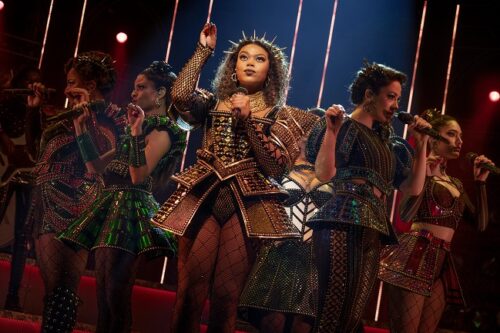 Production:
Directors – Lucy Moss & Jamie Armitage
Sets – Emma Bailey
Costumes – Gabriella Slade
Lighting – Tim Deiling
Choreographer – Carrie-Anne Ingrouille
Cast:
Catherine of Aragon – Khaila Wilcoxon
Anne Boleyn – Storm Lever
Jane Seymour – Jasmine Forsberg
Anna of Cleves – Olivia Donalson
Katherine Howard – Didi Romero
Catherine Parr – Gabriela Carrillo
What originally began as a small production at the Edinburgh Fringe Festival has grown into the international phenomenon that is SIX. The comedic reimagining of the story of the six wives of Henry VIII has now embarked on a tour of the United States that opened in Fort Lauderdale.
When the curtain lifts, viewers see a stage that is more reminiscent of a pop concert than a Broadway musical, with the wives decked out in full pop-star regalia and some Tudor elements mixed in. One of the most creative instances of this epoch-fusing aesthetic is when the stage lighting is used to create an illusion of Henry VIII browsing through Hans Holbein portraits in search of love as if he were swiping through Tinder profiles.
The playbill gives the audience a debrief on the six wives, their causes of death and the modern-day divas that inspired their onstage personalities. The common misconception that Henry VIII murdered all of his wives is addressed in the opening song. 'Divorced, beheaded, died, divorced, beheaded, survived' is chanted by each of the queens in a manner that is reminiscent of 'The Cell Block Tango' from Chicago. The mnemonic is begrudgingly repeated by the respective queens as if they are tired of being known only for their cause of death and the man to whom they were married.
The musical quickly reveals itself to be a 'histo-remix' as the opening song says, with the queens expressing their desire to be remembered for more than just the ways they died. They then proceed to serenade the audience with songs about their lives in a competition to determine who had it the worst with Henry VIII. The competition runs for 80 minutes straight with no intermission, in a style that is akin to a twenty-first- century pop concert. It almost feels more like an episode of American Idol than a typical musical, something that people who are not typically interested in musicals might find appealing. All of the songs are reminiscent of each of the queens' respective pop-star influences, giving us tunes that sound like they come from a Tudor Rihanna, Beyoncé or Arianna Grande.
Near the end, after each queen has done her song, they come to a realization that may have been evident to the audience all along. The women begin to acknowledge that their tragedies should not be used as fodder for competition, and that they should focus on celebrating their own histories instead of always discussing their lives in relation to Henry VIII. As Anne Boleyn comments: 'Since the only thing we have in common is our husband, grouping us is an inherently comparative act and, as such, unnecessarily elevates a historical approach ingrained in patriarchal structures'.
Irrefutably, SIX is a great time for all and makes you think about how history is told to us. The performers showcase their fantastic vocal abilities with songs that will entertain you and challenge the way you remember the past.
Samuel Loetscher