United Kingdom Kenneth MacMillan's Mayerling: Dancers of The Royal Ballet, Orchestra of the Royal Opera House / Koen Kessels (conductor). Directed for the screen by Ross MacGibbon and relayed to Cineworld Basildon, Essex. 5.10.2022. (JPr)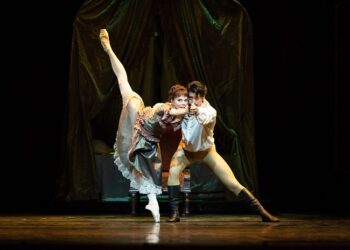 Petroc Trelawny introduced this screening by saying, 'On the 30th of January 1889 European history was changed forever by a series of violent events that unfolded in a small Austrian village called Mayerling. Ninety years later the great British choreographer Kenneth MacMillan created a ballet for this Covent Garden stage based on the tragic true story of Crown Prince Rudolf and the women that surrounded him … Mayerling is one of Kenneth MacMillan's most powerful and intense works: created in 1978 the ballet has at its heart the central role of Crown Prince Rudolf. Rudolf was the heir to an empire, the son of Emperor Franz Joseph of Austro-Hungary who grew up in the stifling society of the late-nineteenth century, he was riddled with neuroses and dangerous obsessions addicted to sex and drugs and Rudolf was forced to marry a princess he doesn't love, as he careers from one lover to the next, he meets a young girl who shares his dark desires.'
Whilst The Royal Ballet's 2022/23 season has been dedicated to the memory of Queen Elizabeth II, opening it with Mayerling is because it is now thirty years since MacMillan's death backstage at the Royal Opera House during a performance of it. It is undoubtedly one of his finest achievements, yet – as I have written before – Mayerling remains fatally flawed and it has been since the first performance on 14 February 1978 that I was present at! Unless you have read a (very) detailed synopsis you will struggle to know – at least initially – who is who and their relationship to each other, as well as what's what, due to the plethora of characters some more central to the plot than others. There are four Hungarian officers often shown whispering into Rudolf's ear but unless you know the history you wouldn't realise they are espousing their separatist cause. (These moments also actually help allow for scene changes.) Also, in the Act II tavern scene someone comes in passing leaflets around presumable stirring up insurrection, but who knows, so why bother?
Gillian Freeman's scenario provided MacMillan with this complex Viennese court milieu that is almost Tolstoy-like in its nineteenth-century realism and the way it attempts to illuminate the hypocrisies underpinning the formal aristocratic façade. Like so many 'heroes' and ''heroines' of that century's dramas and novels Rudolf is striving for something unattainable, possibly release and some form of salvation. Clearly obsessed with skulls, guns and addicted to sex, his reliance on drink and drugs is only suggested in passing.
Lady Deborah MacMillan, Kenneth's widow, discussed the succession of pas de deux in the ballet (and MacMillan actually wanted more than there are) describing her husband, jokily, as 'sadistic'. They were infamous at the time of the premiere of Mayerling because pas de deux of such inelegant, sustained, and acrobatic sexual intensity had never been seen in a ballet where sex is so all-pervading. Deborah MacMillan mentioned how in 1978 only three men could dance the role, David Wall (who I saw), Wayne Eagling (who I also saw) and Stephen Jefferies. Not entirely true because the role of Rudolf is clearly influenced by another Rudolf, Nureyev, who transformed what a male dancer could do. Witness (Crown Prince) Rudolf's first solo, an adagio, chockfull of the challenging different turns of direction and yearning arabesques we recognise from almost every ballet Nureyev had anything to do with. He never did dance it though.
(For those wanting the background to the unfolding events they get a Bridgerton-style makeover as a German series The Empress on Netflix about Franz Joseph's early days with his wife Elisabeth, or 'Sisi' as she was familiarly known. I am sure Petroc Trelawny will have spotted that while they met in 1854, a small orchestra was shown playing The Blue Danube waltz composed in 1866!)
Most of Act I occurs on Rudolf's wedding day. He openly flirts with his new sister-in-law Princess Louise, in passing meets the 17-year-old Mary Vetsera, then is caught in a compromising position by the Emperor with his ex-mistress Countess Marie Larisch, before terrifying his new wife Princess Stephanie that night when he plays with a skull, fires a pistol, and brutally rapes her. In between there is a very strange scene in the Empress Elisabeth's apartment where Rudolf visits her and appears to demand more than just the love a mother should have for her son. Regardless she rebuffs him.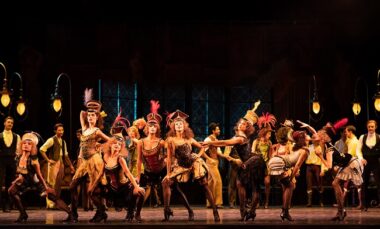 Act II has a roistering tavern scene which does little for the plot apart from confronting his new bride with another of Rudolf's mistresses, Mitzi Caspar, introducing us to some oddly glamourous prostitutes and allowing for a Keystone Cops-like police raid. We later see about Mary's infatuation with Rudolf before the Emperor's birthday celebration where the Empress oddly presents the Emperor with a portrait of his 'friend' Katherina Schratt and the ballet stops – for some strange reason – for Catherine Carby (Katherina) to reflectively sing Liszt's 'Ich scheide'. A firework display distracts everyone except for the Empress and Colonel 'Bay' Middleton. Their amorous exchange is seen by a rather jealous Rudolf. The act ends with Mary and Rudolf getting to grips with each other for the first time, especially after she proves to him that she gets turned-on too with all his skull-and-gun antics. After a quick visit to a royal shoot where Rudolf's misfire kills a courtier, Act III ends with a series of increasingly frenzied duets in which Mary and Rudolf – now succumbing to his drug addiction – makes it clear how sex, guns and subsequently death can bring them the release they both seem to crave. Their final image looks uncannily like that of the Capulet crypt scene at the end of MacMillan's Romeo and Juliet whilst the curtain closes on a tableau showing Mary's hasty burial as the shocking events are covered up.
Rudolf is rarely off the stage and Ryoichi Hirano didn't really – that solo apart – initially convince me of his alienation within the imperial court, though he was clearly psychologically conflicted and a threat to women, especially his young wife who he treats appallingly. As the ballet continued Rudolf's downward spiral was clear to see and not in doubt was Hirano's free-flowing, instinctive dancing, total engagement and superb partnering.
Also returning to this ballet was Natalia Osipova who threw herself – literally – body and soul into the role of Mary Vetsera who is groomed by Rudolf's ex-lover Countess Larisch (a conspiratorial Laura Morera) from an early age to be Rudolf's lover. Her movement seems totally instinctive, she is clearly out to seduce Rudolf and Osipova seduces us in the audience because of her dramatic conviction in showing her character's eager acceptance of their shared fate.
Compared to these two leading roles others involved in Rudolf's life – such as, Empress Elisabeth (the suitably regal Itziar Mendizabal), Princess Stephanie (a fearless Francesca Hayward) and Mitzi Caspar (the always remarkable Marianela Nuñez) – are mere cyphers. It is worse for the men in the story who have even less to do, though catching the eye was the twirling Luca Acri in the rather pointless role of Bratfisch (Rudolf's entertainer and cab driver). Also equally exhilarating was Reece Clarke bounding around as one of the Hungarian officers. However, together with the corps de ballet, everyone brought the Viennese court to vivid life helped by Nicholas Georgiadis's sumptuous costumes and detailed sets which are beginning to look their age. Mayerling remains a wonderful company showcase – with a number of roles extending all the dancers as actors – and everyone responded magnificently and it was performed very well indeed.
The music is a complete mishmash of Franz Liszt pieces arranged by John Lanchbery and listening to it once again it remains a pity MacMillan did not use a new score. Nevertheless – as heard through cinema speakers – it seemed to get a frequently fast-tempoed, yet suitably lush and romantic account of Liszt's music from the commendable orchestra under Koen Kessels.
Jim Pritchard
Production:
Choreography – Kenneth MacMillan
Music – Franz Liszt
Arrangement and orchestration – John Lanchbery
Designer – Nicholas Georgiadis
Scenario – Gillian Freeman
Lighting designer – John B. Read
Rehearsal Director – Christopher Saunders
Cast included:
Crown Prince Rudolf – Ryoichi Hirano
Baroness Mary Vetsera – Natalia Osipova
Countess Marie Larisch – Laura Morera
Empress Elisabeth – Itziar Mendizabal
Princess Stephanie – Francesca Hayward
Mitzi Caspar – Marianela Nuñez
Bratfisch – Luca Acri
Emperor Franz Joseph – Christopher Saunders
Colonel 'Bay' Middleton – Gary Avis
Baroness Helene Vetsera – Elizabeth McGorian
Archduchess Sophie – Sian Murphy
Four Hungarian Officers – Reece Clarke, Leo Dixon, Nicol Edmonds, Calvin Richardson
Katherina Schratt – Catherine Carby
Alfred Grünfeld – Robert Clark
Count Eduard Taafe – Bennet Gartside