United Kingdom Puccini, Madama Butterfly: Soloists, Chorus and Orchestra of the Royal Opera House / Nicola Luisotti (conductor). Recorded (directed by Rhodri Huw) at the Royal Opera House, Covent Garden, on 27.9.2022 and shown at the Everyman Cinema, Chelmsford, Essex, 3.10.2022. (JPr)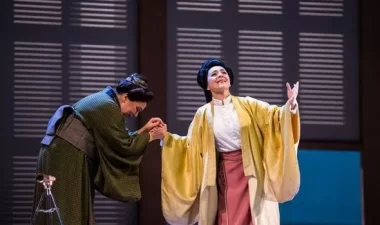 Production:
Directors – Moshe Leiser and Patrice Caurier
Revival director – Daisy Evans
Set designer – Christian Fenouillat
Costume designer – Agostino Cavalca
Lighting designer – Christophe Forey
Chorus director – William Spaulding
Cast:
Lieutenant B.F. Pinkerton – Joshua Guerrero
Goro – Carlo Bosi
Suzuki – Christine Rice
Sharpless – Carlos Álvarez
Cio-Cio-San – Maria Agresta
Imperial Commissioner – Dawid Kimberg
Official Registrar -Lee Hickenbottom
Cio-Cio-San's Mother – Eryl Royle
Uncle Yakusidé – Andrew O'Connor
Cousin – Amy Catt
Aunt – Elizabeth Weisberg
Bonze – Jeremy White
Dolore – Leo Stokkland-Baker
Prince Yamadori – Josef Jeongmeen Ahn
Kate Pinkerton – Gabriele Kupšyte
Puccini's Madama Butterfly has come under the spotlight in recent years because of its racial stereotypes. While that is undoubtedly true, of equal concern should be its suggestion of paedophilia (at one point Butterfly sings, 'love me just a little, like you would a child') as well as the 'celebration' – however ironic Puccini might have been – of the perceived greatness of America. Unfortunately, we are stuck in a time warp and the work is what it is and of the time it was written.
Covent Garden has revived Patrice Caurier and Moshe Leiser's 2003 production with its 'traditional' designs from Christian Fenouillat (sets) and Agostino Cavalca (costumes). It returned earlier this year after a year-long consultation with Asian representatives, academics and performers (amongst others) on how to do more justice to Japanese culture. Dr Satona Suzuki (lecturer in Japanese and Modern Japanese History at SOAS University of London) explained that their brief was to examine hair and make-up, costume, movement and mannerism. Movement director Sonoko Kaminura was brought in to coach the performers in how to move like a Japanese person of the time. As revived by Daisy Evans we are left with a respectful, pared back staging, though on this occasion with only one principal singer involved who could be described as having the 'appropriate ancestry'. I am not sure whether this would be allowed in straight theatre, or perhaps if we could ever see the musical Miss Saigon – which of course owes much to Madama Butterfly – with a non-Asian in the lead?
The central feature of any 'traditional' Madama Butterfly must be a Japanese home with thin paper walls consisting of sliding panels. This is either represented fully or hinted at. Here we have all the 'action' contained within three walls with panels at the back which for novelty mostly go up and down and only occasionally back and forth. Through the lifting panels we see Nagasaki harbour, hills with cherry blossom and the suggestion of a garden. This is about all we have to look at apart from a moonlit scene with an array of stars and the blossom shown poignantly falling to the ground as the opera reaches its tragic end. The translucent walls allow for some intriguing shadow play, most notably with the first appearance of Kate Pinkerton (Gabriele Kupšyte) during the third act.
More than ever before what we saw seemed a reminiscence of a historical happening, it was quite evocative and worked particularly well on screen. I can only praise Rhodri Huw's camerawork which enveloped the cinema audience in the unfolding tragedy. The austerity of the setting and all the close-ups threw all the work on to the principals and the music. This revival benefited from its cast of accomplished singing-actors. With the camera focussing on faces we see how Joshua Guerrero's Pinkerton is disdainful of the Japanese and clearly shows he is interested in the 15-year-old Butterfly (Cio-Cio-San) for one thing only; whilst Maria Agresta's Butterfly naively believes in a happy ever after. There is some restraint in the passion during Act I, despite Pinkerton's lust being obvious and more than a little disturbing. For that infamous phrase about being loved like a child, Butterfly sensuously reveals a bare shoulder and Pinkerton's ardour for her at the end of Act I is depicted by just a loosening of the top button of his tunic as she lies enticingly on the floor.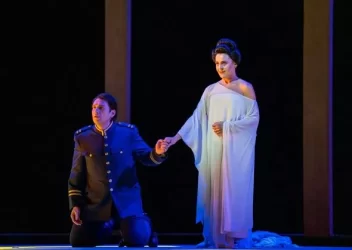 In marrying Pinkerton, she has renounced her religion and been disowned by her family and the deluded Butterfly endures penury expecting him to return to her as he said he would. Only when realisation dawns (literally in the opera) does she commit hara-kiri with her father's knife while her blindfolded angelic, fair-haired child (the wonderfully stony-faced Leo Stokkland-Baker) pitifully waves his small American flag as Pinkerton sings offstage. His mother rises one last time to flap her arms and hauntingly expire like a 'real' Butterfly centre stage as Pinkerton doesn't get there in time.
Carlos Álvarez was a bluff, weary, and sympathetic Sharpless who clearly loathes his complicity in Pinkerton's antics. Carlo Bosi was excellent once again as the handwringing, wheedling and conniving marriage broker, Goro. The veteran Jeremy White also returned as the Bonze and balefully denounced Butterfly in the first act. There was a compelling vignette from Josef Jeongmeen Ahn as the dignified and love-struck Prince Yamadori who is willing to 'save' Butterfly. Christine Rice was an exceptional Suzuki and her vibrantly rich tones made the most of even something as small as her Act I evening prayer. Her Suzuki was intensely loyal and clearly very fond of Butterfly, embracing somewhat her self-delusion that things will end happily now Pinkerton's ship has been sighted at last.
As Pinkerton, Joshua Guerrero sang a robustly full-throated, ringing account of the thankless role. Singing mostly forte he also showed he is capable of much finesse when necessary, such as in the climactic Act I duet 'Bimba, Bimba, non piangere'. Maria Agresta is clearly a formidable Butterfly and 'Un bel di' began – as Antonio Pappano once suggested – like smoke rising from Pinkerton's ship as it approaches the harbour. Agresta put herself through the wringer as she metamorphoses from infatuated childlike innocence to eventually coming to terms with the fact that she is unable to escape her fate. Whilst Butterfly's teenage fragility doesn't completely convince in Act I, Agresta reaches great emotional heights at the end of the opera as witnessed by the time she took to compose herself during her curtain call. Agresta's voice is gloriously dramatic, with mezzoish tones and a slightly steely to the top.
As far as I could hear from the Everyman Chelmsford's excellent sound, Nicola Luisotti encouraged an impeccable performance from those before him in the pit. After lashing into the short orchestral prelude, together they produced an impressive quality of sound and the bird calls which greeted the dawn in Act III were very evocative in the cinema. Luisotti's attention to detail seemed sublime, and he thoroughly deserved the obvious support he elicited from the soloists, chorus and orchestra. There was a beguiling rendition of the 'Humming Chorus' which was a meditative interlude with just the right whiff of cherry blossom. Luisotti clearly has total respect for the theatricality of Madama Butterfly, and he created an intense atmosphere full of tension and drama.
Everything was virtually as good as it could be, however despite Maria Agresta's superb performance ultimately I didn't find myself as involved in Butterfly's tragic descent as sometimes I have been in the past.
Jim Pritchard