Maestro Alsop brings the São Paulo Symphony Orchestra to Carnegie Hall for the first time in the orchestra's history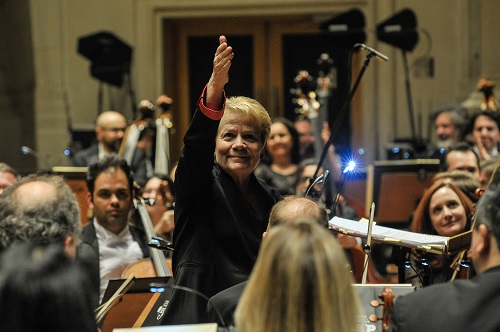 For Marin Alsop, it is about working in partnership and extending an opportunity to the world to immerse themselves, as listeners, in new experiences of place, people and culture. On 14 and 15 October, Maestro Alsop will bring the São Paulo Symphony Orchestra to Carnegie Hall for the first time in the orchestra's history, as part of a North American tour. She has had a long relationship as their Music Director from 2013-2020, and she spoke to me about her vision coming together in these two days of concerts at Carnegie Hall. She now holds the title of Conductor of Honor.
We spoke over Zoom just before she had to board a plane to embark on the tour – she from São Paulo and I in New York. I asked her mostly about next Saturday's performance: The Amazon Concert. The evening will run 75 minutes without interruption, with curated works by different Brazilian composers (Philip Glass aside) interspersed with sections from pieces by Villa-Lobos. All compositions take their inspiration from nature or the Amazon.
Visuals by Marcello Dantas will also be incorporated. But this won't be your standard 'orchestra in front of a screen' display, as I first imagined it. Read on to find out more, and to understand the spark of eagerness she ignited in me to experience exactly how all this will come together on 15 October at Carnegie Hall.
Daniele Sahr: It's a pleasure to get to speak to you. You are bringing an innovative style of concert to Carnegie Hall with the São Paulo Symphony Orchestra. Tell us a bit about the process of planning the Amazon Concert. Was this entirely your programming idea?
Marin Alsop: This is an anniversary year for the country – an anniversary of independence. You know, everything has become so politicized, as it has in many places, so we left that patriotic aspect behind because it just felt a little too contrived. My vision was to give listeners an in-depth feeling for what it is like to inhabit Brazil.
I feel often as an outsider that there is a very one-dimensional view of Brazil – Samba, football, that kind of thing. I really wanted to somehow create this immersive experience in terms of the music. And that's where the idea of having visuals came in. Is there something that could envelop people? We approached this wonderful artist, Marcello Dantas, who put together all of these incredible images of Brazilian nature – most from the Amazon. Gorgeous images, and he captured them all.
When I was here [São Paulo], I started an academy because there was no training for Brazilian conductors. I've had several conducting students come to Peabody from there, and I have a special place in my heart for them. I got three of them together and asked them to help me put together a musical program, and they worked with me. I explained to them that I wanted it to express the broad spectrum – classical music, popular music – how can we do that? We came up with 75 minutes of continuous music that is excerpted from all kinds of places. We have music for full orchestra, we have solo piano music – a Villa Lobos piece – and we have a very cool percussion piece. And all of it is related to Brazilian nature. We even included a couple movements from a Philip Glass piece about the Amazon.
DS: What were the challenges for you as the conductor in how you would interpret such a work, and the pleasures as you worked with the orchestra?
MA: Great, yes. One of the great things about working here in Brazil is that they [the orchestra] are very flexible and malleable. They have a great sense of rhythm, but they also have a wonderful classical training and approach. They are fun! It's nice to capture the juxtaposition of all these different styles and see how we can go from one to another and make it cohesive. I think there are many Brazilian qualities to much of the music. There's an exoticism, of course, this rhythmic drive that's in almost every piece. There is a sensuality about it too that is quite indigenous to the country and the culture. We also have our 45-voice choir. They have to sing some very rhythmic, precise Villa Lobos, and then some very pop-oriented Jobim. They really had to grasp all these different styles.
DS: Did the visuals drive any of your interpretive decisions, or do they pretty much run separately while you focus on the music?
MA: The visuals were created to the music. About a year ago, we performed just the music. We were able to make a working recording for Dantas, and he matched the visuals to the music. It does match brilliantly, but it's not like a cartoon where you have to hit each part exactly. And it grew as I did it a few times. We started to get a flow going. And at the end of each section, whoever is manning the video has to weave in the next section so it is seamless. It's a partnership and very cool. The concert at Carnegie Hall is really the manifestation of this dream I had. They will be immersed and surrounded by these images. Dantas is mapping Carnegie, and the images will be all over the wall. Before, we've had a screen so it's been a little bit like a movie. There's going to be one section with a huge spider, and he said that it is going to be on the ceiling [she laughs]. I'm just having to imagine it. But that was my idea, so you feel, 'Oh my gosh, I'm here in the rainforest, or I'm here in the Amazon, I'm here experiencing this'.
DS: Throughout your career, you've been an advocate of new music, for education. How do you see it all coming together now in this new format?
MA: I think a lot of these elements are coming together for me. There's a lot of new music included. It starts with a piece by a dear friend of mine, Clarice Assad, who is Brazilian. I think it is this interdisciplinary quality that really appeals to me. This is a project where you don't have to know anything about classical music to be able to access it. For me, it is the blending – music becomes a vehicle to connect us to the broader world, to issues of our natural world such as how we are coping or not coping with climate change. It is mostly a celebration of Brazil. That's something that feels like an experience I want to share with people. When I came to Brazil, you know, when I first came to guest conduct, I thought, 'My god, why am I going to Brazil? What's in Brazil'. Then, I was so overwhelmed by the culture and the richness of the Brazilian people. It's really an effort to share these experiences with a broader public.
DS: At contemporary music concerts, more and more composers are turning to the theme of climate change and nature. As you've said, it's about Brazil, but also our identities and lives are going to be ever more connected to what is happening to our environment. How do you see the role of music continuing with this approach to climate change action or awareness?
MA: Art is really a messenger for broader societal themes or philosophies. I think it's important. When you think about composers and nature, you go back to Beethoven and you think of the Pastoral Symphony. Or Mahler and his symphonies, always bringing the natural world in. It's not at all out of step with the tradition of classical music.
DS: I know the concert Friday night focuses mostly on works by Villa-Lobos. For Saturday's Amazon Concert, each contemporary except is interspersed with Villa-Lobos. Is this to have mostly a focus on Villa Lobos? How did that come about?
MA: I don't know that it's mostly Villa-Lobos, but there is a good representation. Villa Lobos to Brazil is like Aaron Copland is to America. He is the voice of Brazil. He was able to capture the Brazilian spirit, landscape, character very much like Copland did. He was committed to the education of young people. He was the foundation to everything musical in Brazil. Very much like Copland, very much like Bernstein, he brought together a popular idiom and a folk idiom. He wove that into his works. He's the best musical ambassador for Brazil out there.
DS: I've read about how you love to conduct premieres. Does this new format of the Amazon Concert have a similar feeling?
MA: The more challenges, the better. That's the conductor's disease! It's not a static experience, it really does grow. Because Dantas didn't script exactly where things happen, I'm able to let it evolve. It has changed quite a bit within its parameter and is a real collaboration.
DS: What is ultimately the takeaway you want for the audience? Or anything else you would like to mention?
MA: I would like people to come away feeling moved by the Brazilian experience – that they were touched by the culture, by the music, by the imagery and by the wonderful musicians on stage. It was very cute today [when] we were rehearsing. They cordoned us off like at Carnegie Hall so we [laughs] were all squished together to have a feeling of the space. Of course, we have 45 singers! And it was really fun. I want people to have a curiosity and a sense of the deep emotion that exists here in this country.
DS: Thank you so much for taking the time to speak to us.