Tickets now on sale for Regents Opera intimate yet ambitious Ring cycle
FOR OUR FIRST NIGHT REVIEW OF DAS RHEINGOLD CLICK HERE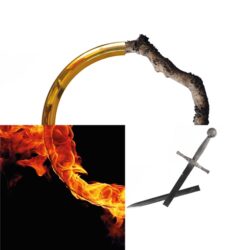 The Grand Temple, Freemasons' Hall, Covent Garden
November 2022 to December 2024
Ring cycle performed in the Round and arranged for 18-piece orchestra, conducted by Ben Woodward
Ring cycle stars Keel Watson as Wotan, Catharine Woodward as Brünnhilde, and Philip Modinos as Siegfried
Regents Opera sets a new bar for Fringe Opera Companies in 2022 with its new production of Wagner's Ring cycle, arranged for 18 orchestral players and performed in the round at The Grand Temple, Freemasons' Hall, Covent Garden.
Tickets for this ground-breaking production are now on sale at Ticket Source, the opening performance of Das Rheingold is on Sunday 13 November. Available by clicking here.
Ben Woodward, conductor and ingenious arranger of the score for the reduced forces said: 'Wagner's Ring cycle is the greatest work of opera ever written, usually far beyond the reach of fringe opera companies. As Fulham Opera we have already had successful performances, but this is on a new level, with greater vision and chutzpah than before. 
'The fact we are a fringe company does not mean it will be cut down in length at all, I have spent months working with the full score to condense it ensuring that we will perform every note and word of text that Wagner wrote.'
The venue for this new Ring is The Grand Temple at Freemasons' Hall Covent Garden. It will be a Ring in the Round, unusual, and perhaps even unique, it will build on the visceral, up-close-and-personal 2014 Fulham Ring on which the cast and creative team built their reputation. The perfect successor.
Director Caroline Staunton joins Regents Opera for this Cycle. Ben commented: 'Her knowledge of opera is encyclopedic, and her love of opera is total. Her desire for clarity of text, intention and expression is unsurpassed, and she adores this music. It's terrifically exciting to be working with her.'
Caroline recently co-directed a new production of Wagner's Tannhäuser with Kornél Mundruczó at Staatsoper Hamburg. Based in Berlin, she is a staff director at Staatsoper Berlin, regularly working with leading directors including Claus Guth, Dmitri Tcherniakov, David McVicar and Calixto Bieito, and is responsible for revival productions of the repertoire works.
Regents Opera (est. 2011) (for more information click here) specialises in the larger works of the nineteenth and twentieth centuries, offering emerging and established singers a platform to perform major repertoire not often staged outside the major houses. Its critically acclaimed immersive productions include Wagner's complete Der Ring des Nibelungen and Der fliegende Holländer, Verdi's Falstaff, Simon Boccanegra and Don Carlo, Donizetti's Lucia di Lammermoor and Johann Strauss's Die Fledermaus.
For this Ring cycle Regents Opera has assembled an exciting cast of international singers, led by Keel Watsonas Wotan, Catharine Woodward as Brünnhilde, Philip Modinos as Siegfried, James Schouten as Loge and Holden Madagame as Mime.