The London Opera Company will bring a new concert performance of Wagner's Tristan und Isolde to St John's Smith Square, London on Saturday 29 October 2022, featuring top-flight international singers and musicians.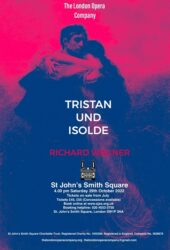 The London Opera Company formed in the summer of 2020 to give fellow musicians and international opera singers who had lost their work to the pandemic the opportunity to keep performing, and to give music lovers a first class treat after a summer devoid of live concerts.
In October 2020 they performed a sold-out and rapturously received chamber concert of Wagner's Tristan und Isolde at The Warehouse, London before going on to perform Die Walküre in 2021 and Siegfried (Act III) in April this year. The company gained support and sponsorship from The Wagner Society of London, The Pearly Kings and Queens of London and built-up a following of dedicated Wagner fans traveling from as far as Scotland and France to the capital to see The London Opera Company's performances.
The Company works with home grown world-class talent who have regularly performed at some of the most celebrated Wagner venues including The Royal Opera House, Covent Garden, English National Opera, Opera North and Longborough Festival Opera Company. Members of the cast can also be seen regularly performing a range of repertoire elsewhere including the BBC Proms, Glyndebourne Festival Opera and The Paris Opera House, Bastille, where Neal Cooper (Tristan) recently appeared in Tannhäuser and in January 2023 will appear in Tristan und Isolde.
Peter Selwyn will be Music Director for this project. Having assisted on productions of the Ring at Bayreuth in 2022 and the Covent Garden Ring cycle in 2018 and having also conducted the Jonathan Dove reduction ring at Grimeborn Opera, Peter is now excited by the challenge of conveying the beauty of Wagner's powerful score with a full scale and newly formed orchestra. The orchestra consists of a core body of top professionals alongside postgraduates from London's prestigious conservatories and excellent non-professional players drawn from London's top amateur orchestras.
Peter says, 'The challenge of getting together an orchestra capable of playing Tristan is a large one! There are 4 hours of intricate music to learn! Those that have signed up are all enthused by the project: the chance to play a full-length Wagner opera does not come along often. I am looking forward to the challenge, and we want this to be the start of an annual event, with the aim to start a Ring cycle in 2023!'
Cast:
Tristan – Neal Cooper
Isolde – Cara McHardy
Brangäne – Harriet Williams
King Marke – Simon Wilding
Kurwenal – Simon Thorpe
Young Sailor- James Robinson
Shepherd- James Robinson
Melot- Ben Thapa