United States Toshio Hosokawa, Hanjo: Soloists, Catapult Opera and Talea Ensemble / Neal Goren (conductor). NYU Skirball Center, New York, 30.9.2022. (DS)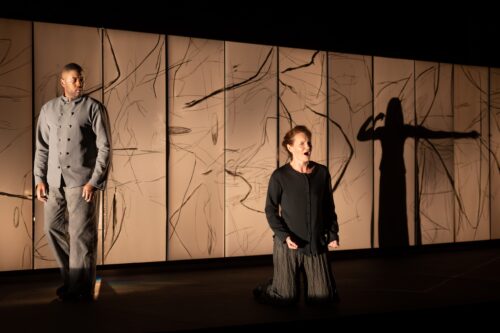 Production:
Director/Choreographer – Luca Veggetti
Sets and Lighting – Clifton Taylor
Costumes – Peter Speliopoulos
Set artwork – Moe Yoshida
Libretto – Toshio Hosokawa
Cast:
Hanako – Eri Nakamura
Jitsuko – Abigail Fischer
Yoshio – Adam Richardson
Silent Figure – Saori Tsukada
A simple, chalk-drawn outline of a box frames a spatial world inside an otherwise exposed black theater stage. Singers in crisp, autumn-colored fabrics move in carefully choreographed slow turns as they broach the themes of abandonment, love, possession, longing and derangement. This was the U.S. premiere of Hanjo – a Noh-inspired 'micro-opera' written by Toshio Hosokawa, a leading Japanese composer, and performed by Catapult Opera with the Talea Ensemble under the direction of Neal Goren.
The mood began much as it ended – melancholic, draped by a mantle of forlorn inertia. The atmosphere was gripping, and the score matched flawlessly. Hosokawa's composition brilliantly contrasts a fervent excitement in this highly characterized score with a sophisticated nod towards modernism, all against the frozen hope of emotions revealed by the figures on stage.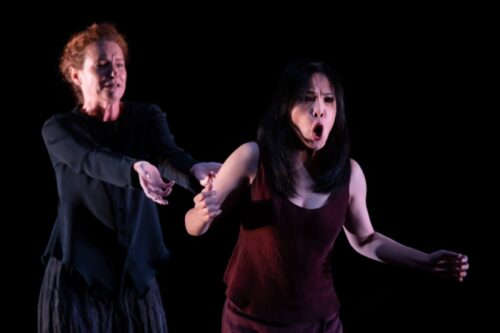 Talea Ensemble and Catapult's production interpreted the opera with an abstract delicacy that revealed meaning much more powerfully than previous, more visually aggressive stagings of the work. Eri Nakamura as Hanako sang the part of the abandoned geisha with a yearning fragility that she skillfully matured in texture as her character fell further from the realms of reality. She pulled us closer with every turn of phrase. Abigail Fischer's Jitsuko, the controlling female companion, struck a strong, metallic timbre that duly matched in tone the surging emotions of anxiety and bold manipulation harbored by this character. Adam Richardson appeared midway as Yoshio, the returning lover, and his smooth blend of lyrical line and agility of phrasing led to the climactic moment of a lover's disappointment with power and sensitivity.
A fourth figure adorned the stage. Saori Tsukada, a silent dancer, fulfilled the Noh role of narrator but expressed it through refined acrobatic movements that kept her close to the ground. She wove together the music, the story, the mood and the stillness of the singers – becoming an essential part of the narrative. One could easily focus on her for the duration and get an equally powerful expression of the play and the musical interpretation.
A few technical hiccups in NYU Skirball's operations mattered little. This miniature production of vast proportions was successful in its simplicity and clarity, and memorable for its breathtaking score with equally flawless performances. Hosokawa's work in the hands of the Catapult Opera is a testament against that brazen phrase: go big or go home. Quite preferable, in fact, to stay small and be bold.
Daniele Sahr