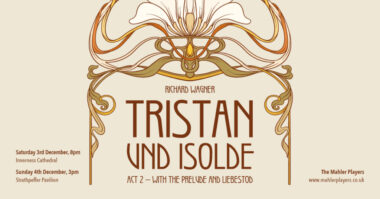 Critically acclaimed chamber orchestra joined by legendary soloists to perform Wagner in huge first for the Highlands
The Mahler Players, a chamber orchestra composed of professional musicians living in the Highlands, gives a concert performance of the complete Act II of Wagner's Tristan und Isolde, the Preludes to Act I and III, and the Liebestod.
The stellar cast of soloists includes the legendary Wagnerian Bass Sir John Tomlinson and acclaimed Heldentenor Peter Wedd.
The concert performances take place at Inverness Cathedral on 3rd December and Strathpeffer Pavillion on 4th December.
Tickets on sale now click here
The Mahler Players, the critically acclaimed chamber orchestra based in the Highlands, have announced two concert performances of the key moments from Wagner's Tristan und Isolde, visiting Inverness Cathedral and Strathpeffer Pavillion this December. Audiences will be treated to performances from a stellar cast of soloists, including the legendary Sir John Tomlinson and celebrated Heldentenor Peter Wedd.
The performance presents music fans in Scotland with the unique opportunity to experience Wagner from a cast of world-renowned soloists here on their doorstep, the culmination of which is rarely seen anywhere in the UK outside of London.
Legendary British bass Sir John Tomlinson CBE will sing King Marke, a role he grew very familiar with through his regular appearances at the Bayreuth Festival, a pilgrimage for dedicated Wagnerians.
Well-versed in the portrayal of Tristan is celebrated Heldentenor Peter Wedd, whose previous leading roles with the likes of Greek National Opera and Welsh National Opera have won him much affection for his sonorous voice.
Performing the titular role of Isolde is Scottish Soprano Lee Bisset, whose previous work spans globally from Ópera São Paulo and Opera Memphis to Opera North and Scottish Opera.
British Soprano Alwyn Mellor takes the role of Brangäne following extensive Wagnerian engagements worldwide, including with the Opéra national de Paris, Bergen National Opera, and Washington National Opera. Frederick Jones performs Melot, following appearances with Opera Holland Park, Glyndebourne On Tour, and New Zealand Symphony Orchestra.
Composed of professionally trained musicians who reside in the Highlands, The Mahler Players was founded by conductor Tomas Leakey in 2013 to foster high quality performance opportunities for the existing community of dedicated musicians who live in the area. The past few years have seen the orchestra focus on the work of Wagner, and this performance will be the first time that an act from Tristan und Isolde is performed in the Highlands. The orchestra will perform a specially commissioned chamber arrangement from acclaimed composers Matthew King, and Peter Longworth.
These rare performances will take place in Inverness Cathedral and Strathpeffer Pavilion, which little known to many, has its own fascinating connection to Wagner. Commissioned in the late 1870s, Strathpeffer Pavilion's architect was instructed to base the design on a casino in Baden-Baden, which in turn was based on the Festspielhaus, the theatre which Wagner built in 1876 for performances of his operas. Strathpeffer Pavilion was opened in 1881, the year in which several of Wagner's final symphonic sketches were written.
Music Director of The Mahler Players, Tomas Leakey said: 'We are thrilled to be giving the Highland premiere of Act II from Wagner's Tristan und Isolde and privileged in doing so to be joined by some of greatest artists of our time. This is an unmissable chance for audiences to experience one of the most powerful operatic scores in an intimate setting, physically close to the orchestra and soloists. Whether for seasoned Wagnerians or those totally new to his art, we hope these two performances will be special and memorable.
'We are also glad to be doing our bit to bring what we are passionate about to the region. There has been a substantial reduction in visits to the Highlands by the main national orchestras in Scotland, especially since the pandemic, so we feel these concerts are important and may be transformative for the Highlands in reigniting this aspect of the cultural landscape.'
Tickets are on sale now and can be purchased if you click here.