United Kingdom Drewett, Ravel, Shostakovich: Alice Sara Ott (piano); London Symphony Orchestra / Gianandrea Noseda (conductor). Barbican Hall, London, 24.11.2022. (CC)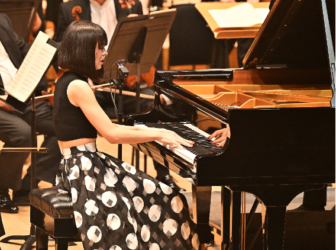 Louise Drewett – The Daymark (world premiere, LSO Panufnik commission, 2020/21)
Ravel – Piano Concerto in G (1930/31)
Shostakovich – Symphony No.11 in G minor, Op.Xx, 'The Year 1905' (1957)
On paper, this concert promised much. Shostakovich's Eleventh Symphony rarely gets out, and it is difficult for it not to have some sort of effect, given its dynamic extremes. A new piece is always an exciting prospect, and of course Alice Sara Ott has repeatedly shown herself to be a stimulating pianist. The concert was actually entitled 'Shostakovich: The Year 1905'. It was also one of three concerts this season that saw the London Symphony Orchestra in partnership with the Music Academy of the West in Santa Barbara, which has seen over 30 musicians join the LSO in November and work alongside the professionals.
I will leave it to you to decide if one out of three is bad or not. The bullseye was the Ravel, which from the very opening whipcrack was masterly from all concerned. Ott was in complete control throughout – this is music she not only knows but has inwardly digested to a profound level.
One could probably wax lyrical about Ott's stylish clothing (not that I am any sort of expert) and she seems to collaborate with significant jewellery firms and has also designed a range of bags, so her svelte demeanour comes as no surprise. But it was the musicianship that stunned. The first movement requires lightning reactions and communication between piano and orchestra, and Gianandrea Noseda, with his no-nonsense conducting, was absolutely there for her each and every time. Parts of this concerto – the outer movements, basically – are high-wire acts, and this was like watching expert acrobats. Ott matched her sound to Ravel perfectly, her phrasing impeccable, her staccato a joy, glissandos sparkling rainbows of sound. And how lovely were the harp and horn solos in the slower central section, Timothy Jones's horn almost impeccable (just catching a couple of harmonics on the perfect fourth leap from sounding C natural to F natural); Bryn Lewis's harp playing was mesmerising.
One of the greatest challenges of the G-Major concerto is the extended piano solo that begins the central Adagio assai. It needs to be light on pedal, exquisitely shaded, to keep its momentum yet feel like the pianist is whispering in every single audience member's ear, just to them. This is exactly what Ott achieved: I have not heard this played so well since Rostropovich brough his Washington orchestra to the Royal Festival Hall many years ago and they played this, with Martha Argerich as soloist. Together with Noseda and the LSO, Ott gave a performance that was the epitome of chamber music; Noseda ushering in the flute and strings gently, Jeremy Sassano offering a beautiful cor anglais solo later on. The madcap finale was everything it should be, Ott's sparkling fingerwork and lightness of touch (but with no loss of tone) a constant delight, while together orchestra and piano created wit in abundance. A truly special performance – no encore though.
The evening began with the world premiere of Louise Drewett's The Daymark, commissioned in 2020 via the LSO Panufnik Composers Scheme. Born in 1989, Drewett was a 2021/22 Manson Fellow at the Royal Academy of Music. One of her core ideas is of simple patterns that are misaligned (so if you have several players playing one idea, they do so in disjunct fashion) – and that is exactly how The Daymark begins, a seven-note descending scale in D-Major on three bassoons, which is then taken up by a trio of clarinets. Her new piece is in two movements, 'Luminous' and 'Spirited,' lasting around ten minutes combined. The piece is inspired by a stone beacon on the Devon coast dating from 1864, used as an aid for finding Dartmouth harbour from the sea. It stands on eight legs and is some 20 metres tall; as one approaches the landmark, it breaks up the light in various ways. Drewett's music is intended to represent this refraction of light. The descending scales of the first movement are mirrored by upward-moving ones in the second. The piece is certainly atmospheric: keening woodwind, an expansive cello melody. Muted brass are in play, but I could not detect any change to the sound or even their characteristic sound, and the first movement felt as if it meandered along. And indeed, as the first movement went down in its material, the second went up. But to what effect? This is a pleasant piece that rather outstays its welcome, unfortunately.
The post-interval Shostakovich offered a well-controlled, well played performance of Symphony No.11 ('The year 1905', inspired by the 1905 revolution). While there is a perception that this symphony is overly cinematic, certainly Rostropovich's performance with the LSO on the LSO Live label persuades us that is not so. Shostakovich's first movement is frequently quite bare in scoring and, as elsewhere in the symphony, Shostakovich uses revolutionary song melodies as material – material audiences at the premiere in 1957 would have known only too well. Noseda's fast tempo for the first movement ('The Palace Square') robbed it of some of its poignancy, although the actual performance standard was of the very highest, particularly from the trumpets. This first movement represents the eerie silence of the Palace Square prior to the morning of Bloody Sunday, when unarmed protestors were shot by the Imperial Guard. The scurryings of the second movement, 'The Ninth of January' represents that day, January 9, 1905, at the Winter Palace. Noseda's performance found some excitement via its seemingly superhuman accuracy but fell short of the sense of frenzy the music so requires, which probably explains why the symphony opening's frozen return also failed to make full effect.
The third movement is entitled 'Memory Eternal', a funeral march based on the revolutionary funeral march, "You fell as victims'. It is a massive contrast that one could hardly avoid feeling crushed by – and how well the long viola melody was controlled by the LSO players. The dolorous falling triplets, too, carried weight before 'The Tocsin' (The alarm bell) – the finale – took off. The opening was brilliantly disciplined – it needs to come as a massive shock, which is easier on disc than live (one can see a whole line of brass players getting ready to blow our socks off). This movement in this performance sagged a little in its middle, losing tension. The contribution of the cor anglais player cannot be ignored, though – heart-rending – while the relentless, pounding strings did make their mark.
Overall, though, this felt a little like a lost opportunity. Listen to the Rostropovich if you were there, for Noseda and you might see what I mean. It is possible to emerge from Shostakovich 11 emotionally shattered and drained – just not on this occasion.
Colin Clarke