United States Alma Deutscher, Cinderella: Soloists, Chorus and Orchestra of Opera San Jose / Alma Deutscher (conductor). California Theatre, San Jose, 17.11.2022. (HS)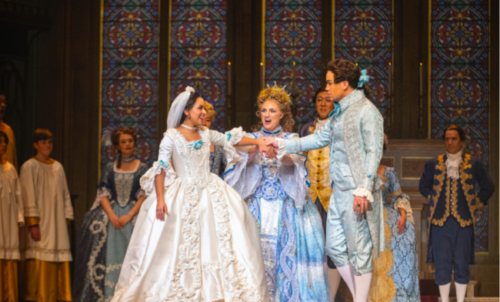 Production:
Director – Brad Dalton
Sets – Steve C. Kemp
Costumes – Johann E. Stegmeir
Lighting – David Lee Cuthbert
Choreographer – Richard Powers
Cast:
Cinderella – Natalia Santaliz
Prince – Joey Hammond-Leppek
King – Ben Brady
Griselda – Stacey Tappan
Zibaldona – Julia Dawson
Stepmother – Rena Harms
Fairy – Megan Esther Gray
Minister – Joshua Hughes
Flower Girl / Head Elf – Helen Deutscher
In her seventeen years on this planet, Alma Deutscher has stirred up much attention in the world of classical music. A child prodigy, she has been performing since she was six years old – including her own concertos for violin and piano – and has conducted her compositions with the Vienna Radio Symphony, Strauss Kapelle Vienna and Glenn Gould Festival Orchestra in Toronto. A full-hour documentary on the BBC and a segment on '60 Minutes' in the United States marveled at her and her work.
Her opera, Cinderella, is very much a musician's take on the familiar story. She is making her international opera-conducting debut in a seven-performance run of the piece at Opera San José, completely reorchestrated and revised from previous performances in Israel and Vienna. It is impossible not to be impressed.
Perhaps the best way to describe this musician is that she absolutely knows how music works, both in her writing and in her ability to draw what she needs from an orchestra and singers. The result was a highly enjoyable three-hour performance at the California Theatre in San José. Her music winked knowingly at familiar opera tropes but never lost sight of the romantic thread at the story's heart, expressing it with soothing tunes and easy-on-the-ears harmonies. The cast threw themselves into Deutscher's distinctive fairy-tale world, and a flexible set design moved things along nicely.
The first iteration of the piece debuted in 2014 with a small orchestra in Israel. Revisions in Vienna in 2016 and again for the U.S. premiere in San José in 2017 (under the baton of Dame Jane Glover, no less) led to a new orchestration for a larger orchestra and an added children's chorus. This version was to debut in Salzburg last year, but COVID-19 protocols limited the length and orchestra size. San Jose can thus boast the premiere.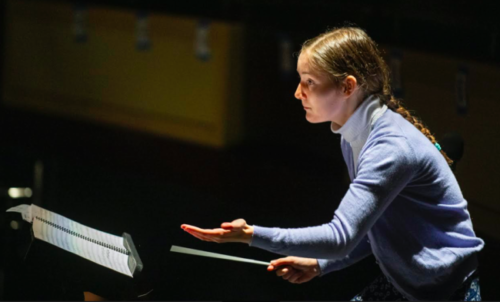 Deutscher's take on the story puts music at the focal point. Instead of fitting a shoe, the Prince finds Cinderella because she is the only girl in the kingdom who could possibly know what comes next in a melody she sang to him outside the ballroom before her midnight retreat. He is a poet whose responsibility to ascend to the throne frustrates him so much that he gives his private notebook away in the forest to a mysterious old woman who turns out to be a fairy. She ends up giving it to Cinderella, who wants to compose music but is stuck copying parts for her stepmother's second-tier opera company (with, of course, two evil and clueless stepsisters).
In the first scene, Cinderella is bored with copying the bass parts for the next day's opera (accented in the orchestral accompaniment). The stepmother and stepsisters bully poor Cinderella, all the while lampooning backstage opera behavior in this and every other scene they are in.
In Act II, confusion over the handwritten invitation to the ball and the king's medical prescription leads to more musical hijinks when the stepsisters try to impress the king by singing the prescription to one of Cinderella's tunes. Banned from the ball by her stepfamily, who call her a 'beggar girl', Cinderella sings a lament. This later becomes the song that intrigues the Prince and eventually unites them as a couple.
The score brims with familiar opera tropes, not just arias, duets and ensembles but sneaky allusions to iconic composers. References to Wagner inject themselves when the text turns to a wedding celebration (Lohengrin) and the appropriation of someone else's song (Die Meistersinger). A strain from Verdi's 'Sempre libera' interrupts another scene, and a fanfare dripping with celesta and trumpets finds its way into the moment that the Prince finds Cinderella (think Richard Strauss).
Melodies and harmonies, rooted in Romantic Era beauty, shy away from modern dissonances. (In interviews Deutscher says she simply writes music she wants to hear.) The arias struck me as pastiches, done not to mock but to fit familiar composers' styles to the moment. The stepsisters' scenes carried the whiff of a Rossini comedy, Cinderella's entrance song conjured Mozart, and the lovers' duet brought Donizetti to mind. There is also an entire national anthem for the story's imaginary country, which resembles at least a dozen other European anthems.
The best arias, however, owe much to Lieder by Schubert, whose knack for marrying words and music was completely appropriate for the one that sets a poem by the Prince to music, and for the lament about the beggar girl cast out into the frozen dark. These tunes return at key points.
The cast, whose bios are filled with references to covering big roles at well-known opera venues, shone too. With a sweet lyric-soprano and youthful charm, Natalia Santaliz made an ideal fit with Deutscher's musical palette and showed us why a shy prince might fall for her. Joey Hammond-Leppek's polished lyric tenor matched well with her voice. Mezzo-soprano Megan Esther Grey (who sang Mrs Lovett in Wolf Trap's Sweeney Todd last year) commanded the stage and showed both wit and poise as the fairy.
Soprano Rena Harms, who has sung lead roles at English National Opera, San Francisco Opera and Seattle Opera, spoofed an aging opera diva royally as the stepmother, blasting out ringing high notes along the way. As her energetic daughters, soprano Stacey Tappan (who had roles in the Metropolitan Opera's Eurydice and Marnie) teamed with mezzo-soprano Julia Dawson, a regular at Frankfurt Opera, to inject well-timed physical and musical humor as well as solid singing. Also of note was Joshua Hughes's preening King's Minister, whose fey responses added extra layers of grins in a speaking role.
By the way, that was Alma's younger sister, Helen, singing the roles of Head Elf and Flower Girl for the wedding, displaying a pure, appealing voice and some acting chops of her own.
The inventive production by Opera San José regulars Brad Dalton and Steve C. Kemp relied on dropped flats, a room at the palace that rolled out smoothly and a revolving staircase for the ball scene. That did the job with a reasonable amount of flair. Dalton got the most out of the latent comedy too.
Above all, this was about the fertile mind of an immensely talented young woman. She grew up in London, home-schooled by parents who are literature and linguistic professors, and now lives in Vienna where she studies music. Her next opera, The Emperor's New Waltz, debuts in March at the Salzburg State Theatre.
Harvey Steiman