United Kingdom Various: Leif Ove Andsnes (piano). Wigmore Hall, London, 20.11.2022. (CC)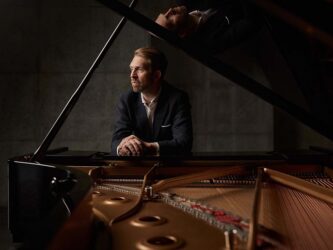 Aleksandr Vustin – Lamento (1974)
Janáček – Piano Sonata I.X.1905, 'From the Street' (1905/6)
Silvestrov – Bagatelle, Op.1/3 (2003)
Beethoven – Piano Sonata No.31 in A-flat major, Op.110 (1821/22)
Dvořák – Poetic Tone Pictures, Op.85 (1889)
Leif Ove Andsnes has been taking this programme around Europe: and from the Wigmore Hall, he goes to Bruxelles (November 23) and thence Bordeaux (November 25).
Andsnes is one of the most intelligent pianists on the circuit right now. It was clear how much thought had gone into this: the first half made perfect sense as it moved towards a commanding performance of Beethoven's Op.110. The tortured strains of the Janáček, the purity of the Silvestrov and the dolorous Vustin each examined aspects of emotional depth and pain before the solace of Beethoven's great A-flat major Sonata.
The basis of this first half was what Andsnes himself has called 'frighteningly relevant', with the Vustin and the Silvestrov acting as prelude and postlude to Janáček's astonishing sonata, written in response to the death of a Czech worker in 1905 at the hands of Austrian troops who were trying to quell a demonstration calling for a Czech university in Brno. Andsnes links that to events when he wrote his own programme note in late September 2022, when young Iranian demonstrators were being killed in Tehran, 'and brave Russians were out voicing their resistance to the devastating war that threatens their lives'.
Born in 1943, Alexandr Vustin (sometimes rendered as Wustin, sometimes Voustine), was a pupil of Grigori Samuilovich Frid (1915-2012). His music has been championed by Gidon Kremer's Kremerata Baltica. He was clearly fascinated by sonority – try his impressionistic Musique pour l'ange for saxophone, cello and vibraphone, as an example. One can hear that aspect also in Lamento, with its ostinato left-hand and aching right-hand melodies. Even consonances seem inconsolable. Andsnes's performance was perfectly judged, including a spectacularly even trill.
The Janáček was elegiac and beautiful. Andsnes also understands the need for pulse in this music that can otherwise seem too diffuse. Worth noting, too, the quality of the instrument he was playing, a perfectly prepared Steinway, particularly in its upper registers. The second movement contained what can only be called a pianistic Urschrei; The response was Ukrainian composer Valentin Silvestrov's Bagatelle, Op.1/3. The piece has a sublime purity but also a sense of melancholy that seemed to prolong the Janáček while simultaneously taking it heavenwards. The piece is effectively a four-minute slow waltz, out of which emerged Beethoven's sublime penultimate sonata. It was the timeless aspects of this that lodged in the memory: the rapt, hymnic opening, the sublime evenness of the arpeggiations, the blissful Adagio ma non troppo leading to a fugue that reached organ-like grandeur.
How to follow that first half? Well, Andsnes's resonance with Czech music (he had a Czech piano teacher in Norway) continued with Dvořák's 1889 set of 13 Poetic Tone Pictures. Andsnes's new Sony recording of this is a major achievement, convincing from first to last. Surprisingly, in an inversion of the expected, Andsnes was less persuasive live, despite many moments of magic and a technical level that was near-perfect. His touch in 'Toying' could not be bettered. But perhaps because he has been touring this, the recording actually sounds fresher. That is not to say there were not moments of supreme beauty. Most impressive was the penultimate piece, 'At a Hero's Grave', vast in scope and very much putting me in mind of Liszt's 'Vallée d'Obermann' from the Swiss year of travel. But he could also convey a sort of heady joy in the 'Peasant's Ballad' (No.5). We certainly heard the excellence of the piano's uppermost reaches again in the eighth piece ('Goblin's Dance'). The 'Bachanalia' (No.10) had character and virtuosity (although, again, more so in his recording). Fascinating, too, how the final piece, 'On the Holy Mountain', seems to refer to Chopin's C sharp minor Scherzo in its alternation of sonorous chords and filigree. How fitting that the composer opts to close the cycle in a meditative fashion – a cycle that, while containing some virtuosity, is instead a beautifully conceived whole that moves through a multiplicity of moods towards this glorious, glowing conclusion.
Leif Ove Andsnes did convince us that we need to hear more of Dvořák's solo piano music, certainly. And do search out the recording – it is very special.
Colin Clarke