United Kingdom Ivan Putrov's Men in Motion 10th Anniversary Gala: Paradisal Players / Samuel Burstin (conductor). London Coliseum, 6.11.2022. (JO'D)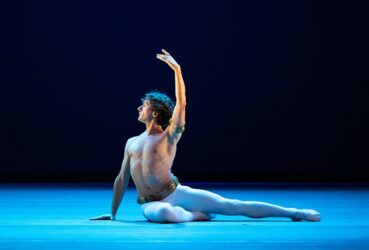 Starting with a work from 1911 and moving swiftly on to one from 2021, Ivan Putrov marked the tenth anniversary of Men in Motion with a 'gala' containing no fewer than twenty pieces of dance to trace the evolution of the male dancer from the twentieth to twenty-first century. Michael Fokine, Bronislava Nijinska, Serge Lifar, Frederick Ashton, Matthew Bourne, Edward Clug, Christopher Wheeldon…: a melange, even a surfeit, of choreographers and styles as male dancer after male dancer performed on the largely bare Coliseum stage. A melange in which some of the pieces inevitably fitted better than others and were best liked, so it is those I will focus on.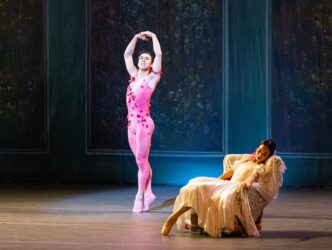 Pink-costumed Luca Acri, one of the evening's seven dancers from The Royal Ballet, showed remarkably delicate arms, shoulders and hands at the start of Le Spectre de la rose (the work by Fokine from 1911). His legs were powerful in the entrechats and arabesques en l'air as the dance, and Weber's music, developed. But it was the super-supple, contemporary torso of Birmingham Royal Ballet's Jack Easton in his own Fremd (the work that followed) which drew the first of the evening's really rapturous applause.
Rudolf Nureyev's Prince's Variation for Act I of Swan Lake, performed by Vadim Muntagirov, fell rather flat (the dancer was to appear much more at ease in Alexey Miroshnichenko's Adagio, later on). While an excerpt from Matthew Bourne's Swan Lake, with Matthew Ball and Luca Acri, caused audience members to stamp their feet and cry: 'Bravi!' Luca Acri has, I think, developed into a fine actor-dancer. I first got a sense of it when he was Alain in the 2016 production of La Fille mal gardée.
In the Men in Motion of 2014 Edward Watson brought the house down by revealing his torso at the end of Arthur Pita's then newly created Volver, Volver. This was wittily performed in the gala by Leo Dixon, but to less éclat. Perhaps because, with its gunshot wounds, the work has dated, or because it was wrongly placed in the running order (before, not after, the interval), or because in 2014 Edward Watson was a really experienced dancer, and Leo Dixon is a dancer not long into his career.
The éclat, though, was for Edward Watson still. Although retired as a dancer from The Royal Ballet, he returned to the dance stage ironically cross-dressed in strapless, silver-sequinned leotard and high heels for Arthur Pita's A Sheila Dance. Like much of Pita's work, this owed more to its initial, visual impact than to its choreography. But Watson retains his trademark flexibility and stage presence.
Ivan Putrov himself was much applauded for his performance of Frederick Ashton's Dance of the Blessed Spirits. As were Matthew Ball and The Royal Ballet colleague, Joseph Sissens, in Christopher Wheeldon's Us. Koyo Yamamoto, from Dutch National Ballet, gave off an infectious sense of enjoyment in Hans van Manen's 5 Tangos. A jacketed and trousered Isaac Mueller, also from Dutch National Ballet, prompted gentle laughter for Milena Sidorova's Rose (2021). In a gala that focused on the male dancer, this short piece by a female choreographer, with movement that is almost circular or spherical, could be said to focus on the male per se: 'Solo of a man walking into a bar…A glimpse of what might keep a man's mind busy'.
John O'Dwyer
Le Spectre de la Rose
Choreographed by Michael Fokine
Performed by Luca Acri and Fumi Kaneko (The Royal Ballet)
Fremd
Choreographed and performed by Jack Easton (Birmingham Royal Ballet)
SSS…
Choreographed by Edward Clug
Performed by Matteo Miccini (Stuttgart Ballet)
Swan Lake (Prince's Variation Act I)
Choreographed by Rudolf Nureyev
Performed by Vadim Muntagirov (The Royal Ballet)
5 Tangos
Choreographed by Hans van Manen
Performed by Koyo Yamamoto (Dutch National Ballet)
Gopak (Andriy's solo from Taras Bulba)
Choreographed by Rostislav Zakharov
Performed by Dmitry Zagrebin (Royal Swedish Ballet)
Swan Lake
Choreographed by Matthew Bourne
Performed by Luca Acri and Matthew Ball (The Royal Ballet)
Eightfold: LOVE
Choreographed by Peter Leung
Performed by José Alves (Ballet Black)
Originally commissioned as part of EIGHTFOLD, a film by Cassa Pancho's Ballet Black, and performed with special permission from the Company
Rose
Choreographed by Milena Sidorova
Performed by Isaac Mueller (Dutch National Ballet)
Dance of the Blessed Spirits
Choreographed by Frederick Ashton
Performed by Ivan Putrov
Volver, Volver
Choreographed by Arthur Pita
Performed by Leo Dixon (The Royal Ballet)
A Sheila Dance
Choreographed by Arthur Pita
Performed by Edward Watson
Bloom
Choreographed by Milena Sidorova
Performed by Isaac Mueller, Guillermo Torres, Koyo Yamamoto (Dutch National Ballet)
Le Train Bleu
Choreographed by Bronislava Nijinska
Performed by José Alves (Ballet Black)
Us
Choreographed by Christopher Wheeldon
Performed by Matthew Ball and Joseph Sissens (The Royal Ballet)
Originally commissioned by BalletBoyz
Suite en blanc, Mazurka
Choreographed by Serge Lifar
Performed by Dmitry Zagrebin (Royal Swedish Ballet)
Swansong – Solo
Choreographed by Christopher Bruce
Performed by Matthew Ball (The Royal Ballet)
Adagio
Choreographed by Alexey Miroshnichenko
Performed by Vadim Muntagirov (The Royal Ballet)
Äffi
Choreographed by Marco Goecke
Performed by Matteo Miccini (Stuttgart Ballet)
Lacrymosa
Choreographed by Edward Stierle
Performed by Dmitry Zagrebin (Royal Swedish Ballet)