United Kingdom Fauré, Debussy, Bartók: Jean-Efflam Bavouzet (piano). Wigmore Hall, London, 13.11.2022. (JC)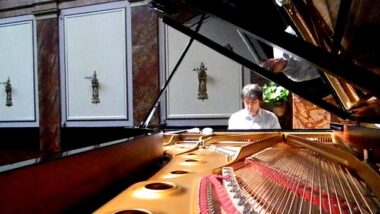 Fauré – Nocturne No.6 in D flat major, Op.63X
Debussy – Estampes; Images Book II; Préludes Book I  X
Bartók – Improvisations on Hungarian Peasant Songs, Op.20 No.7
Sunday was an absolute joy for me and many others at Wigmore Hall as we marvelled at the way Jean-Efflam Bavouzet conjured the magic of Debussy at the piano. The hall was filled to the brim that night, bursting with chatter—and, unfortunately, dotted with more polite coughs than was socially necessary—making a stark contrast to the dark and empty Marylebone streets on a chilly evening.
The bubbling Frenchman strode in, by way of overture gave a brief and humorous speech regarding the slight change in the order of the programme, sat down and…spread a D flat major chord? The casualness with which he opened the concert caught me by surprise, but this way of 'warming up' was in no way out of character with the style he brought to the opener of the newly amended programme: Fauré's Nocturne No.6 in D flat major. Reading from the score, of which he turned the pages himself while playing, Bavouzet gave us a glimpse of the possibility of fresh perspectives on well-known pieces with his interpretation of the nocturne; his rubato, in which the bass note is slightly out of sync with the melodic line, reminds one of the playing by the twentieth-century greats such as Arthur Friedheim and Alfred Cortot. His nocturne was anything but calming; it was full of colours and sudden contrasts, played with an improvisatory feeling. Fauré's nocturnes are very much different from Chopin's, where the bel canto soprano voice dominates the domain of the melody; Fauré's melodies are everywhere, from the top register of the keyboard to the bottom octaves, and Bavouzet clearly showed all that, playing with a great licence of freedom but not without a sense of where the music was heading.
Pagodes from Debussy's Estampes followed immediately and, just like its predecessor, was imbibed with an extroverted energy rather than a placid, calming one normally encountered in Debussy playing. I found Bavouzet's playing to be bold rather than subtle, yet also filled with many different layers. Listening to him, I thought of a palette of various colours rather than many shades of the same colour. La soirée dans Grenade, the second piece in the set of three inspired by wood-block prints of Japanese art, was similarly filled with bright and varied colours, enhanced by the Yamaha which Bavouzet chose specially for his recitals. I was entranced by the way he was able to juggle the many layers of sound simultaneously; it was as if his playing unfolded vertically, revealing layer upon layer, even as the music progressed linearly through time. Bavouzet's performance of Jardins sous la pluie, the final piece of Estampes and the only one among the three with a flavour of Frenchness, was crisp and clear, evoking the innovative side of Debussy in the way he handled his themes. I found it interesting that while the playing was unsentimental, concerned only with the production of sound and a whole range of it, it was nonetheless riveting and captured our full attention. With a flourish, Bavouzet abruptly stood up to take his first bow to resounding applause.
What followed was a cocktail of three-parts Debussy and one-part Bartók: an unorthodox performance of Debussy's Images Book II, in which Bartók's 'Improvisation on Hungarian Peasant Songs' was inserted between Cloches à travers les feuilles and Et la lune descend sur le temple qui fut, the first and second piece in Debussy's suite. Bavouzet's performance of Debussy's Images, published in 1907, showed a radically different side of Debussy compared to the writing in Estampes, published only four years earlier in 1903. The sense of mysteriousness and the ineffable pervaded Bavouzet's performance of Cloches, a contrast to the bright colours he evinced in Estampes. I was struck by the way Bavouzet managed to acquire great freedom in the motionless and calm Et la lune, even in the most fragile moments, adding small splashes of colour here and there without breaking the slightly pulsating atmosphere he had carefully created, commanding our attention with some delicate pianissimos. I wasn't so sure about the interpolation of the Bartók Improvsations after Cloches, but having it precede Et la lune did highlight some of the Debussyan chords afterwards, making them more poignant. Poissons d'or, the last piece of Debussy's Images, requires a playfulness combined with impeccable virtuosity, and Bavouzet was the perfect person to deliver that.
If there were anyone who was still on the fence about Bavouzet's creative imagination at the keyboard, the second half of Bavouzet's recital, dominated entirely by Debussy's Préludes Book I, would have convinced them entirely that his capacity for imagination is unmatched. This second half was filled with moments where I was on the edge of my seat, hoping for more and often disappointed that a certain Prélude had to end so soon. Bavouzet was just as entertaining a performer to watch as one to listen to, and his on-stage theatrics of air-conducting as well as bringing down his whole arm from a great height complemented the music he was producing. What I particularly enjoyed was the way he showed a quirky side of Debussy that only a performer of great virtuosity and imagination could reveal to his audience. I almost thought he was playing jazz in Les collines d'Anacapri, and when he performed La danse de Puck, juggling many characters simultaneously with his ever-varying sound, I thought I was watching a comedy unfold before me. He could also go wild at the keyboard, producing colossal sounds, such as he did in Ce qu'a vu le vent de l'ouest and the famous La cathédrale engloutie (me and my friends could not get enough of the satisfying bass C he played in that Prélude—simply ravishing!).
Joy and a sense of freshness pervaded the entirety of Jean-Efflam Bavouzet's concert; nor did his high spirits and energy fade away after the final Prélude, Minstrels, for he gave a delightful encore of his teacher Pierre Sancan's Mouvement, which was played impeccably and with a great sense of humour.
An unforgettable recital by a pianist whose sound reveals a French lineage rich with history, yet whose sound is also distinctly his.
Jeremy Chan