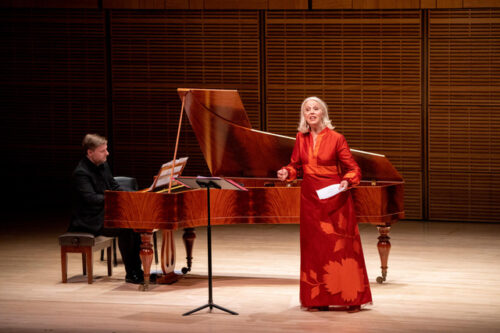 United States Various: Anne Sofie von Otter (mezzo-soprano), Kristian Bezuidenhout (fortepiano). Zankel Hall, Carnegie Hall, New York, 9.11.2022. (RP)
Lindblad – 'Aftonen'; 'Nattviolen'; 'Mån tro, jo, jo!'; 'Vaggvisa'; 'Bröllopsfärden'
Mozart – Rondo in A minor K.511
Schubert – 'Der Einsame' D.800; 'Die Liebe hat gelogen' D.751; 'Der Geistertanz' D.116; 'Der Tod und das Mädchen' D.531; 'Nur wer die Sehnsucht kennt' D.877 No.4; 'Heiss mich nicht reden' D. 877 No.2; 'So lasst mich scheinen' D.877 No.3; 'Der Vollmond strahlt auf Bergeshöhn' D.797 No.3; 'An den Mond' D.193; 'Nachtstück' D.672; 'Die Taubenpost' D.965a; Allegretto quasi andantino from Piano Sonata in A minor D.537; Andante from Piano Sonata in A major D.664
Anne Sofie von Otter returned to New York for a recital with Kristian Bezuidenhout on the fortepiano at Zankel Hall. Over her long career, Von Otter has embraced everything from opera to rock. For this concert, she sang songs by Franz Schubert and the Swedish composer Adolf Fredrik Lindblad, known as the 'Swedish Schubert'.
The passage of time has left von Otter with a voice that is still beautiful but limited in range and volume. Her communicative powers, however, are fully intact. The years have likewise not diminished either von Otter's estimable musicianship or her ability to sustain a musical line. By mustering these resources, the Swedish mezzo-soprano drew the audience into the intimate drama of each song on the program.
Von Otter made a wise choice to collaborate with Bezuidenhout for this concert. The instrument which he played was a six-and-one-half-octave fortepiano built by Rodney J. Regnier and modeled after instruments by Viennese craftsmen Conrad Graf and Ignaz Bösendorfer. Its silvery sound complemented von Otter's mezzo-soprano, as did the crispness and clarity of Bezuidenhout's playing. This was a recital of subtle but deep pleasures, to which both artists contributed equally.
Von Otter programmed songs that were mostly bittersweet in mood, which she signaled from the first one, Schubert's 'Der Einsame'. In spite of the jaunty, rippling accompaniment, it is nonetheless a song about a solitary existence brightened only by a cricket's chirping. Two songs by Lindblad, 'Aftonen' and 'Vaggvisa', were also lighter in mood due to the warmth with which von Otter sang them.
The singer's narrative skills were best displayed in Schubert's 'Der Tod und das Mädchen' and 'An den Mond'. In the former, Von Otter effectively replicated the fear in the young girl's heart, but it was her chilling impersonation of Death that gripped the audience with suspense and ultimately terror. In the latter, a song of unrequited love, the pensive mood was lightened by the crystalline delicacy of von Otter's voice and the manner in which she caressed a musical phrase.
Schubert's 'Nur wer die Sehnsucht kennt' revealed von Otter's ability to recast even the most familiar of songs. She expressed the longing that overcomes a young man when apart from his beloved, not only with deep understanding but also the slightest touch of irony. It was if she were saying this is one of life's pleasures, not sorrows.
In the final song of the recital, Schubert's 'Der Taubenpost', longing was again the theme. Bezuidenhout's sprightly accompaniment belied any deep sense of sorrow, however, as did von Otter's compassion and smile.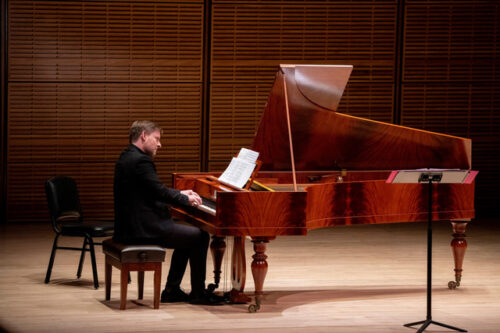 Bezuidenhout played Mozart's Rondo in A minor and the Allegretto quasi andantino from Schubert's Piano Sonata in A minor as well as the Andante from his Piano Sonata in A major. The three pieces balance longing and charm as effectively as the songs that he performed with von Otter did. These were spellbinding performances due to the combination of Bezuidenhout's immaculate musicianship and the emotion that he imparted in the music.
For encores, Von Otter and Bezuidenhout performed songs in a somewhat lighter vein, but they were nonetheless wistful. Von Otter emphasized the humor, or perhaps the irony, in Schubert's 'Lachen und Weinen', singing of the constant mood shifts prompted by being in love.
The second was 'Try to Remember' from the musical The Fantasticks. Alternating verses in English and Swedish, von Otter distilled the essence of life into sound, while gently reminding the audience of the cold of December to come on what was a particularly balmy November evening in New York.
Rick Perdian