United States Verdi, La traviata: Soloists, Chorus and Orchestra of San Francisco Opera / Eun Sun Kim (conductor). War Memorial Opera House, San Francisco, 13.11.2022. (HS)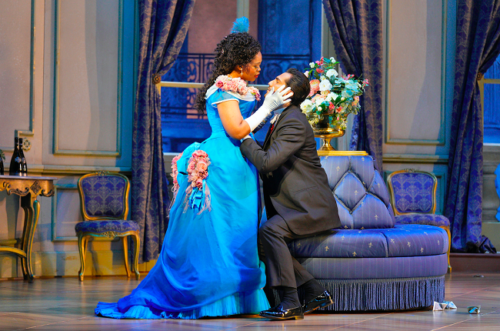 Production:
Director – Shawna Lucey
Production designer – Robert Innes Hopkins
Lighting – Michael Clark
Choreographer – John Heginbotham
Chorus director – John Keene
Cast:
Violetta – Pretty Yende
Alfredo Germont – Jonathan Tetelman
Giorgio Germont – Simone Piazzola
Gastone – Edward Graves
Baron Douphol – Philip Skinner
Marchese d'Obigny – Timothy Murray
Doctor Grenvil – Adam Lau
Flora – Taylor Raven
Annina – Elisa Sunshine
San Francisco Opera have rolled out a new production of Verdi's La traviata and introduced top-class singers to the company in the three main roles: South African soprano Pretty Yende, Chilean tenor Jonathan Tetelman and Italian baritone Simone Piazzola.
A fire alarm emptied the War Memorial Opera House twenty minutes before the scheduled curtain, delaying the start by a half-hour (it was quickly determined to be a false alarm). Once conductor Eun Sun Kim and the three debutants got started, the music caught fire, and everything unfolded engagingly in a colorful new production.
This is the second installment of the company's initiative to create long-lasting sets specifically designed to fit the War Memorial stage for 'legacy' operas. The first was Tosca, which debuted in 2018 and returned to open the 2021 season. Both are by director Shawna Lucey (a Broadway and opera veteran, recently named general director of Opera San José down the peninsula from San Francisco) and London-based designer Robert Innes Hopkins.
La traviata has more pizzazz, although it still sits comfortably in a traditional style. It even reproduces the view from the Rue de Madeleine apartment occupied by the nineteenth-century woman  (Marie Duplessis) who was the model for Marguerite Gautier, the heroine in Alexandre Dumas's La Dame aux Camélias, who in turn was the inspiration for Verdi's Violetta.
Houston-based Michael Clark's lighting design made the production come to life visually. Midday brightness outside the trellised background in Violetta's summer home in Act II turned to a burnished glow by early evening and underlined Violetta's darkening situation subtly. The grays of pre-dawn in Act IV, where Violetta lay gravely ill, picked up 'sunlight' through the windows when she believed, so briefly, that she was well again.
The lighting also enhanced the bold colors of Flora's louche party that followed the summer-home scene, providing a telling contrast with the relative simplicity of the previous domestic location. Costume colors made the lead characters easy to spot in crowded scenes, and the ladies' gowns were exquisite to behold.
Under Lucey's direction, everyone in the cast created distinct characters and interacted with a nice lack of artificiality. This was especially true of Yende's Violetta and her tragedy-destined relationship with Tetelman's Alfredo. Detail after detail made things feel real, and moments with Piazzola's Germont took on the right amount of gravitas.
If crowd scenes sometimes might have benefited from better traffic management, there were telling moments. One came in Act II, Scene 2 (Flora's party), after Alfredo disgraced himself and humiliated Violetta by showering her with his gambling winnings. One by one, the women detached themselves from their possessive male partners and surrounded Violetta in a quiet and effective demonstration of female solidarity.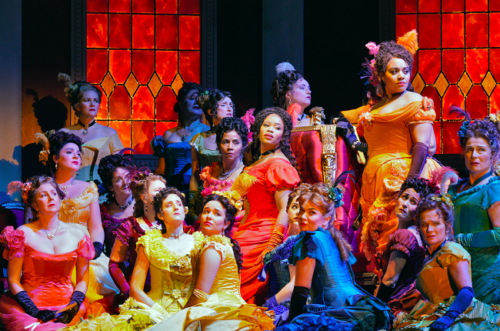 Other details meshed specifically with the music. For one, as Alfredo prepared to deliver his toast at the Act I party, he seemed deep in thought about what to say. A gesture was timed to the sudden stop Verdi wrote into the music, a moment that most productions don't capitalize on. A small thing, but it added to a sense that these were real people.
Vocally, Yende's Violetta glowed with a beautiful sheen to her voice, and she communicated a wonderful vulnerability with seemingly effortless acting. It was a distinctly human portrayal, enhanced by vocal nuances and welcome command of dynamics and subtle hesitations. If on occasion she slid up slightly into high notes, the traditionally interpolated high E-flat at the end of 'Sempre libera' rang out with startling clarity, exactly what one wants from Violetta at that moment.
Tetelman deployed a lyric tenor of fluidity and pinpoint clarity that made his Alfredo attractive, and he put enough energy into his high notes at several points in thrilling duets to match Yende's. Tall and lanky, with his assured presence and sound, he at times reminded me of a young Alfredo Kraus.
Piazzola played Giorgio Germont (Alfredo's father) in the usual stern tones, leavened by a lovely vocal timbre and rock-solid musicality. That could have led to an outpouring of warmth when the character sees Violetta's despair at what he asks of her, but the voice, and the demeanor, hardly changed.
There were no weak links among the rest of the cast. Standouts included the lively mezzo-soprano Taylor Raven as Flora, Violetta's gal pal, and tenor Edward Graves as Gastone. This character is usually a cypher, but here was a real presence, from the moment he introduced Alfredo to Violetta to when he tried to fend off the social disaster at Flora's party.
As Baron Douphol, Philip Skinner, a San Francisco Opera regular, lent his rich bass-baritone and deftly showed an old man's frustrations at losing Violetta's attentions. Bass Adam Lau created a sympathetic and smooth-voiced Doctor Grenvil.
Eun Sun Kim continues to lead the company's musical proceedings with uncanny consistency. Conducting her third opera in two months (previously John Adam's new Antony and Cleopatra and Poulenc's Dialogues of the Carmelites), she reestablished a knack for getting stylistically appropriate music out of the singers and the orchestra. Passionate love scenes reached thrilling climaxes, and angry clashes sent off electric musical flares. The final scene, with Violetta's death, could have throbbed a bit more, but it made its point.
As always, the chorus contributed a juicy sound and visual presence to the crowds in Acts I and II, and again in the offstage hullabaloo outside Violetta's apartment in Act III.
Harvey Steiman